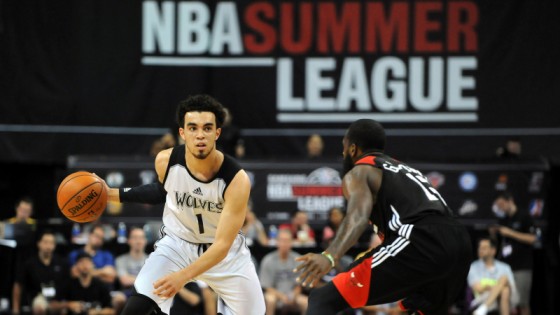 Photo courtesy of US Presswire: Tyus Jones
Tue, July 21, 2015
DURHAM, N.C. — With the NBA Summer League now over, a number of former Blue Devils made impressions on NBA teams.
For 2015 National Champions Quinn Cook, Tyus Jones, Jahlil Okafor and Justise Winslow, these summer leagues offered the first taste of what the NBA will be like. Pacing the returning NBA talent was Seth Curry, leading the league in scoring to land a spot on the All-NBA Summer League first team. Here is a breakdown of how each former Blue Devil performed this summer:
Quinn Cook – Cleveland Cavaliers
Cook played the first five games of his NBA Summer League career with the Oklahoma City Thunder before joining the Cleveland Cavaliers. With the Thunder in the Orlando Summer League, Cook averaged 10.2 points, 4.2 assists and 3.4 rebounds in just over 21 minutes per game.
In his final two games with Oklahoma City, the former Duke point guard combined for 37 points, 14 assists and eight rebounds while shooting 14-of-28 from the floor and 5-of-12 from deep. He finished with 22 points and nine assists in a win over the Los Angeles Clippers July 10, while scoring 15 points and collecting five assists and five rebounds against the Memphis Grizzlies July 9.
With the Cavaliers in the Las Vegas Summer League, Cook played 15.3 minutes per game in four contests, starting two, while averaging 5.0 points, 2.3 assists and 2.3 rebounds. Cook produce his best game with Cavaliers July 15 versus the Chicago Bulls, tallying 10 points while hauling in four boards and dishing three assists.
Seth Curry – New Orleans Pelicans
Playing in six games, Curry served as the primary catalyst for a New Orleans Pelicans team that reached the semifinals of the Las Vegas Summer League. Pouring in at least 20 points in each contest, Curry, who was selected to the All-NBA Summer League first team, led the Las Vegas league in both scoring (24.3 ppg.) and minutes (33.2 mpg.) while ranking second in steals (3.20 spg.).
One of the premier scorers in the D-League this past season, Curry showed his offensive arsenal by dropping a game-high 30 points against the Milwaukee Bucks July 10 to kickstart the summer, shooting 9-of-17 from the floor and 10-of-11 at the free throw line while dishing out four assists and recording two steals. Curry returned to the court against the Dallas Mavericks July 11 and scored a game-high 25 with five steals and seven rebounds. Facing off against the Washington Wizards July 16 and the Golden State Warriors July 18, the former Duke shooting guard combined for 50 points, 13 rebounds, seven assists and eight steals to lead the Pelicans to victory in each contest.
Andre Dawkins – Portland Trailblazers
Playing all six games for the Portland Trailblazers at the Las Vegas Summer League, Dawkins averaged 9.3 points in 16.3 minutes per game. The former Blue Devil proved why his spot-up shooting would be a great addition to any NBA franchise, leading the Trailblazers in three-pointers made by going 15-of-34 from deep (44.1 percent).
In his summer league finale, Dawkins exploded for 24 points against the Toronto Raptors July 17, draining 6-of-14 threes while grabbing four rebounds to go with a steal and an assist.
Hood played in and started two games for the Utah Jazz during the Utah Summer League, leading the squad in points (20.5 ppg.) and grabbing the second-most rebounds per game (7.5 rpg.). Hood notched a double-double by pouring in a team-high 23 points on 9-of-17 shooting to go with 10 rebounds, four assists and two steals in a victory over the Boston Celtics, highlighted by this floater in traffic:
It's summer league, but Rodney Hood is really rounding out his game tonight. https://t.co/5ur3RoTLbd
— Michael Gallagher (@MikeSGallagher) July 7, 2015
Hood followed that performance by knocking down 8-of-14 shots from the field for 18 points and five rebounds in a win against the San Antonio Spurs.
Tyus Jones – Minnesota Timberwolves
Kicking off his NBA Summer League career in Las Vegas, Jones played in four of the Minnesota Timberwolves' five games while drawing three starts, averaging 7.8 points, 2.0 rebounds, 2.0 assists and 1.0 steal per game. The Apple Valley, Minn., native started and scored 14 points, including 6-of-8 shooting from the free throw line, in a July 11 loss to the Chicago Bulls while adding three assists, two steals and two rebounds. Against the Cavaliers July 17, Jones handed out four assists and finished 5-of-9 from the field to total 11 points.
Jahlil Okafor – Philadelphia 76ers
The third-overall pick in the draft, Okafor started all three games for the Philadelphia 76ers at the Utah Summer League, ranking second on the team in both scoring (14.0 ppg.) and rebounding (8.3 rpg.), while pacing Philadelphia on the offensive glass, pulling in 4.0 offensive rebounds a game.
In his first game in a 76ers uniform, Okafor logged a double-double with a team-high 18 points on 9-of-21 shooting and 10 rebounds, including six offensive, while blocking two shots in a loss to the San Antonio Spurs. Okafor displayed his array of post moves that made him a force in the college ranks, splitting the double-team here for the fadeaway jumper:
Jahlil Okafor showed off his advanced post game in his first Summer League game. http://t.co/7Abf1Kmeze https://t.co/aefgA5fCeU
— SB Nation NBA (@SBNationNBA) July 7, 2015
Okafor again led Philadelphia with 13 points to go with nine rebounds in a win over the Boston Celtics, then totaled 11 points, six rebounds, three assists and two steals against the Utah Jazz.
Transitioning to the Las Vegas Summer League, Okafor notched another double-double in his first contest, registering game-highs in both points (19) and rebounds (11) while adding three assists and two blocks against the Los Angeles Lakers July 11, then totaled 18 points and six rebounds against the New York Knicks July 14 in his second and final contest in Las Vegas.
Winslow helped guide the Miami Heat to a 5-0 record at the Orlando Summer League, playing and starting in four games and ranking fourth on the squad with 11.5 points per game while shooting 70 percent (21-of-30) from the charity stripe.
Through the first three games, Winslow poured in 15.3 points a game, debuting with a team-high 15 points on 4-of-8 shooting to go with three assists and two steals against the Indiana Pacers.
The Houston product then netted a game-high 17 points and hauled in four rebounds in a win over the Detroit Pistons, then stuffed the stat sheet against the Brooklyn Nets, tallying 14 points, five boards, two steals and four assists, including this game-winning alley-oop:
Justise Winslow finds Tyler Johnson on the lob for the game winner http://t.co/gqHlaIZjaO | NBA
— Fresh NBAnews&Rumors (@GetNBAUpdated) July 6, 2015
Playing in two games in Las Vegas, Winslow saw just 23 combined minutes of action, totaling eight points and four rebounds against the Denver Nuggets July 13 and the Boston Celtics July 14.
#GoDuke