Duke in the NBA: Blue Devils Roll into 2015
Courtesy Duke Sports Information
Wednesday, January 07, 2015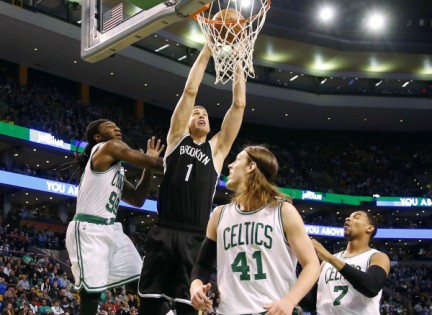 Photo courtesy of USA TODAY Sports Images
Mason Plumlee
Kyrie Irving – Cleveland Cavaliers
Irving leads all former Blue Devils in points (20.4) and assists (5.2) per game this season. He stuffed the stat sheet Dec. 30 against the Atlanta Hawks, notching 35 points, nine assists and six boards.
Known for his playmaking ability, the Dallas Mavericks were his latest victim with this behind-the-back dime. Kyrie Irving tricks the D early w/ a behind-the-back dish for a bucket. Irving suffered a back injury against the Mavericks in the third quarter and missed Monday night's game against the Philadelphia 76ers, but will return to the starting lineup against the Houston Rockets Wednesday, January 7.
Mason Plumlee – Brooklyn Nets
Plumlee has been a solid force inside for the Brooklyn Nets this year, averaging 9.4 points and 6.6 rebounds in 21.4 minutes per game. Over the last 10 games, Plumlee has seen an increase in minutes and production, posting 14.2 points and 8.7 boards in 30.2 minutes per contest.
He scored 18 points on 9-of-10 shooting and pulled down nine boards in Friday's 100-98 win over the Magic, throwing down these two fastbreak dunks in the process.
Mike Dunleavy – Chicago Bulls
Dunleavy has been a reliable scorer for the 25-10 Chicago Bulls, coming off the bench to average 9.3 points. The 12-year veteran scored 23 points and buried five three-pointers in last Tuesday's game against the Nets, including this one off of a couple tipped passes by himself. Dealing with an ankle injury suffered New Year's Day against the Denver Nuggets, Dunleavy will miss his third straight game Wednesday night against the Utah Jazz.
Gerald Henderson – Charlotte Hornets
Averaging 9.1 points per game this season, Henderson has played even better over the past five games, scoring 14.2 and pulling down 4.8 rebounds per contest during the stretch.
He turned in a complete game against the Cavaliers on Friday, netting 14 points, grabbing eight rebounds and dishing out four assists. The former Duke standout also showed that he still has the same vertical from his days in Cameron Indoor Stadium, dunking over fellow Blue Devil Kyrie Irving on a fastbreak.
Other Notes
Lance Thomas, formerly of the Oklahoma City Thunder, was traded to the New York Knicks as part of a three-team trade with the Cavaliers.
In the NBA D-League, Seth Curry has been dominant for the Erie Bayhawks, averaging 28.1 points per game. He scored 43 on 8-of-13 shooting from deep Jan. 2 against the Delaware 87ers.
#GoDuke