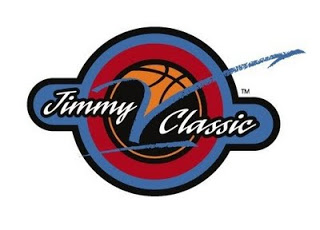 #5/4 Duke Blue Devils [7-1, 0-0] vs. #21/21 University of Florida Gators (UF) [7-1, 0-0]
December 6, 2016 • 9:30 PM ET • New York, NY • Madison Square Garden
Media: ESPN, Local Radio, Watch ESPN app
By Randy Dunson [Note: Please direct comments, suggestions, etc. to @RandyDunson]
Team Overviews
Duke
No. 5/4 Duke will face Florida for the first time in more than a decade when it takes on the No. 21 Gators at the Jimmy V Classic.
Florida head coach Mike White is the son of Duke Vice President & Director of Athletics Kevin White.
The Blue Devils own a .769 winning percentage (247-74) in neutral settings under head coach Mike Krzyzewski, including two wins at the Jimmy V Classic (1998, 2001).
Coach K-led teams are 28-10 (.737) at Madison Square Garden and have won four of their last six games at "The World's Most Famous Arena".
The Blue Devils have won the third-most games (218) and have the fourth-best winning percentage (.820) in the nation this decade.
Notables:
Amile Jefferson is coming off of a career-high 20 points against Maine and has averaged 16.8 on .667 shooting in Duke's last four games. He ranks 18th nationally with four double-doubles.
Luke Kennard has been on a tear to open the season, leading Duke, and ranking fourth in the ACC in scoring (19.4). He has four 20+-point games on the year and 11 in 45 career games.
Grayson Allen has scored more than 20 points in his last two games to increase his scoring average to 17.1 for the year. He shot .529 (9-of-17) from outside the arc in those two contests.
Matt Jones has logged 37+ minutes in six games this season and is averaging 35.4 per contest. For the year, Duke is +197 with Jones on the floor and +4 with him on the bench. He is an average of +21.9 per game, best on the team.
Probable Starters
Guard – Sophomore Grayson Allen
Guard – Junior Matt Jones
Guard –Sophomore Luke Kennard
Guard – Freshman Frank Jackson
Forward – Grad Student Amile Jefferson
Florida
Florida returns to Madison Square Garden and the Jimmy V Classic for the first time in three years, last appearing at the venue for the 2013 event, and posting a 77-75 win vs. Memphis.
This marks the Gators' first meeting with Duke since knocking off the top-ranked Blue Devils in the 2000 NCAA Sweet 16 in Syracuse en route to Florida's first national championship game appearance. UF is 4-12 all-time against Duke.
Florida comes in off a 91-60 road win at North Florida in which the Gators shot .585 from the field, the team's best single-game field goal percentage under Mike White.
UF bounced back from its first loss of the season to defeat Miami after coming up short against 11th-ranked Gonzaga. The Gators posted a 31-17 advantage over the final 15 minutes to win the game, sparked by Keith Stone's 15 points and team-high eight rebounds off the bench.
The Gators posted a hard-fought 81-76 win vs. Seton Hall, with KeVaughn Allen (21) and Canyon Barry (20) both topping 20 points. Barry scored six points during a 10-0 second-half run that turned a five-point UF deficit into a five-point lead.
While the Gators' home is renovated, their first seven games and nine of their first 11 will be neutral-site contests this season, along with road games at Florida State and North Florida. The $64.5 million renovation of Exactech Arena at the Stephen C. O'Connell Center will be complete in December, with the Gators slated for their home opener on Dec. 21 vs. Little Rock.
Six different players led the team in scoring within the first eight games of the season, and eight players had at least one double-figure scoring game in that time.
Devin Robinson has emerged as a more consistent performer and vocal leader in the early going of his junior season, while Canyon Barry gives the Gators a scoring threat at all three levels off the bench.
John Egbunu has had a remarkable emergence as a more proficient shot blocker recently, swatting four in each of the Gators' three AdvoCare Invitational games.
Preseason All-SEC guard KeVaughn Allen leads the Gators in scoring, with the ability to score in bunches when he makes himself the aggressor on the offensive end.
Justin Leon continues to be a steady effort and hustle guy, while also providing great consistency as a spot-up 3-point threat. Kasey Hill became the 10th Gator in history to reach 400 career assists, recently passing Taurean Green in the record books. Despite coming off the bench, Chris Chiozza has provided a steadying veteran presence in the backcourt with the ability to make an impact on the game whether scoring or not. Kevarrius Hayes has grown into a capable reserve post player, who is especially effective defensively and gives consistent effort. Keith Stone broke out for 15 points and eight rebounds in the win vs. Miami.
Notables:
Florida's 39-year-old head coach Mike White was three years old when Mike Krzyzewski was hired as Duke's head coach. White's father Kevin was a track and cross country coach at Gulf High in New Port Richey, Fla. Kevin is, of course, now the athletic director at Duke University.
Two Gator staffers have family members in the Duke athletic department. In addition to the well-known White family ties, Florida director of basketball operations Kyle Church is the son of Duke women's soccer head coach Robbie Church.
Eight games into the 2016-17 season, the Gators have had six different players lead the team in
scoring.
Canyon Barry is 10 points away from hitting 1,000 career points, including his 893 points at College of Charleston.
Chris Chiozza posted his fifth career game with an 8/1 or better assist-to-turnover ratio with nine dimes to just one giveaway at UNF. He leads all active SEC players in such games, and Kasey Hill ranks second with three. Among all SEC players since the start of the 2013-14 season, only Alex Caruso (8) and Tyler Ulis (7) have more 8/1 or better A/TO outings than Chiozza.
Probable Starters
Guard – Sophomore KeVaughn Allen
Guard – Senior Kasey Hill
Forward – Junior Devin Robinson
Forward – Junior Justin Leon
Center – RS Junior John Egbunu
Last Time Out
Duke
Luke Kennard is ready for Duke to finally resemble the team that was picked No. 1 in the preseason.
The fifth-ranked Blue Devils welcomed two key big men to the rotation — but also played without two starting guards.
With Kennard scoring a career-best 35 points, Duke routed Maine 94-55 on Saturday in the long-awaited debut of freshmen Jayson Tatum and Marques Bolden.
Amile Jefferson added a career-high 20 points and Tatum finished with 10 for the Blue Devils (8-1), who shot 60 percent while playing without a true point guard.
Preseason All-America Grayson Allen and freshman Frank Jackson — their starting backcourt for the past four games, were held out. Allen has been dealing with a lingering toe injury, while coach Mike Krzyzewski said Jackson has "a little bit of a sore foot".
Krzyzewski says both players should be back for Tuesday night's game against No. 21 Florida in New York.
Ilker Er scored all 20 of his points in the first half for Maine.
The story of this one was who finally played for Duke, as well as who did not.
Duke has been without three injured five-star freshmen all season, with Tatum out since spraining his foot during an October practice in front of NBA scouts and Bolden sidelined since injuring his leg before the regular season started.
Tatum wound up starting and scored his first basket on a banked jumper about 7 minutes in. Bolden was the first man off Duke's bench and his first points came when he stuck back Tatum's missed layup with about 7 1/2 minutes until halftime.
Tatum played 20 minutes and left after catching a leg cramp in the second half. Bolden logged 12 minutes off the bench and Krzyzewski said he "just got tired."
Notables:
Injury Status

Now that two of their injured key players are back, the focus shifts to the two other players who sat this one out. Neither one took part in pregame warm-ups, both stood standing next to injured big man Sean Obi on the baseline, and they were on the bench in their warm-up gear throughout.
Krzyzewski says Allen has turf toe that's "not on the main part, it's on the side part" and probably needs the extended rest that will come during exam week and over the holidays to approach 100 percent. Duke plays only two games between December 11-30.
Krzyzewski said he's "just trying to deal with the bottom line that eventually, everybody gets well… Just kind of running motion offense here."
Jackson had a sore foot and was simply rested for that game.

Stat Line

Kennard was 11 of 16 from the field, tied a season high with four 3-pointers, and was 9 for 9 from the free-throw line. He scored Duke's first nine points and had 20 at halftime.
Florida
In its last game, Florida routed North Florida, 91-60, in Jacksonville as the Gators forced the Ospreys into 20 turnovers compared to just two assists.
The Gators shot .585 (31-for-53) from the field, the team's best field goal percentage under head coach Mike White. All 11 active scholarship players scored from the floor and ten of them made multiple
field goals.
UF shot 9-for-19 from 3-point range as Chris Chiozza and Justin Leon each knocked in a trio of treys.
Chiozza led the Gators with 16 points and nine assists with just one turnover. Justin Leon scored 13, while Canyon Barry had 12 and Devin Robinson chipped in 10.
The Gator bench was prolific with a 51-16 scoring edge. Dallas Moore had a big night for UNF, totaling 31 points on 12-for-21 shooting, including 6-for-12 from 3-point range.
Notables:
Head-to-Head
Florida holds a 4-12 all-time record vs. Duke, but 12 of those 16 meetings came before 1975.
The teams have split a pair of NCAA Tournament meetings with Duke winning in the 1994 Final Four and Florida winning in the 2000 Sweet 16, which was the last time the Gators and Blue Devils
squared off.
UF is looking to end a five-game skid against non-conference top-5 opponents. The Gators' last such win came vs. #2 Michigan State on November 27, 2009, in Atlantic City.
Statistics
In terms of overall statistics, Duke has a significant edge in most all categories. Some stats of note include scoring margin, rebound margin, & most particularly TO/GM (Margin) where UF far excels as they protect the ball much better.
| | | |
| --- | --- | --- |
| Duke | 2015-16 Regular Season Key Stats Comparison | Florida |
| 22.4 | PPG (Scoring Margin) | 13.4 |
| 63.2 | Opponents PPG | 63.6 |
| 55.7 | Effective FG% | 49.0 |
| 49.0 | FG% | 44.0 |
| 39.6 | Opponent FG% | 40.5 |
| 35.5 | 3PT FG% | 31.5 |
| 26.2 | Opponent 3PT FG% | 33.3 |
| 8.2 | RPG (Rebound Margin) | 1.8 |
| 32.2 | Opponent RPG | 35.5 |
| 72.7 | FT% | 75.7 |
| 14.0 | APG | 11.5 |
| 6.4 | SPG (%) | 6.7 |
| 2.7 | Turnovers Per Game (Margin) | 5.6 |
| 12.3 | Opponent TOPG | 8.2 |
| 5.0 | BPG | 6.2 |
| 17.0 | Fouls Per Game | 18.4 |
Four Factors to Winning
[If you wish to learn more about how the four factors are calculated and implemented, a description can always be found here,
https://www.dukeblogger.com/four-factors-winning/
.]
Duke
| | | | |
| --- | --- | --- | --- |
| eFG& | TO% | OR% | FTRate |
| 55.7 | 16.1 | 34.5 | 42.9 |
UF
| | | | |
| --- | --- | --- | --- |
| eFG& | TO% | OR% | FTRate |
| 49.0 | 16.3 | 36.4 | 45.1 |
When analyzing the 4-factor data, both teams are evenly matched except for eFG%. Duke has been very efficient in shooting the ball all year and they just keep getting better. This stat alone could be a tell for this game.
Summary
No. 5 Duke takes on unranked Florida in the Jimmy V. Classic from Madison Square Garden in New York City. The Gators have won two straight after suffering their only loss of the season to Gonzaga on November 25 (77-72). Duke has won six straight games and they are starting to get healthier. Freshman Jayson Tatum made his season debut in their 94-55 win over Maine, scoring 10 points and grabbing eight rebounds. Freshman Marques Bolden (7 points, 5 rebounds) also played his first game coming off an injury.
Florida does not do anything special to win games. They are shooting just 44 percent from the field and 31.5 percent from beyond the arc. Therefore, defense and rebounding are extremely important. That defense was on display last Thursday, when they beat up on North Florida on the road. Junior guard Chris Chiozza led Florida with a season-high 16 points and nine assists off the bench. Sophomore Justin Leon (6-8 206) added 13 points in just 17 minutes of action. The Gators shot 58.5 percent from the floor and 9-19 (47.4%) from beyond the arc. They held the Osprey to just 37.7 percent shooting from the floor and forced them to commit 20 turnovers.
The Gators have not exactly played a tough schedule, but they have taken care of business against the better squads. In the AdvoCare Invitational, they beat Seton Hall (81-76) and lost to Miami-Fla. (65-56), but fell to Gonzaga in between on November 25. Sophomore guard KeVaughn Allen leads the team with 12.4 points per game, while shooting 41.4 percent from the field. Grad transfer Canyon Barry (from Charleston) adds 12.1 points and shoots 41.9 percent from the field.
Even though Duke coach Mike Krzyzewski was probably thrilled to get Tatum and Bolden back from injuries, he had to be happy with the way Duke played in their domination of Maine on Saturday. Wing Luke Kennard led the way with 35 points and eight rebounds on 11-of-16 from the field. Duke shot an incredible 60 percent from the field and only attempted 6-of-14 from 3-point range. That is because they had a huge size advantage and took advantage of by outrebound the Black Bears, 46-19. The additions of 6-11, 245-pound Bolden, Tatum (6-8, 205) along with Amile Jefferson (6-9, 230) and Chase Jeter (6-10, 230), gives the Blue Devils some much-needed size.
Jefferson had a strong game with 20 points and nine boards on 9-11 shooting. They also won without guards Grayson Allen (toe) and freshman Frank Jackson (foot), but they did not really need them. Allen is shooting just 37.1 percent on the season and 33.3 percent from beyond the arc. He appeared to be finding his range in their last two games against Appalachian State (21 points) and Michigan State (24 points). Duke is averaging 85.7 points per game and shooting 49 percent from the field and 35.5 percent from beyond the arc. They allow just 63.2 points per game and teams shoot just 39.6 percent from the field against them (26.6% 3 PT).
Notables:
INJURY REPORT

There are a few notes on status in the Duke Last Time section.
At the time of writing this preview, status has remained unchanged.
Endgame
Duke will obviously do that they need to in order to win the game but more importantly for Duke, in my opinion, is the further integration of Jayson Tatum and Marques Bolden into the lineup effectively. Making sure they are able to manufacture some report with fellow teammates. With Grayson Allen and Frank Jackson back in the lineup it will be interesting to see how Duke comes out especially on offense. Florida is a formidable opponent and now has cracked the top 25 and rolling. Duke will have the advantage but Duke is also in a transition period.
Florida is facing a Duke team that is close to being 100 percent healthy. Tatum and Bolden add more size and depth to a team that was playing with six and seven players. Florida does not have the offensive firepower to keep up with a team that is loaded with talent and experience. Therefore, I see Duke pulling away for a 78-65 victory.