This preview is dedicated to Senior Forward (& Captain) Amile Jefferson ( @AmileJefferson ) who suffered a foot injury today. Our thoughts and prayers go out to Amile for a steady recovery.
Game Preview

Duke Blue Devils (8-1, 0-0] vs. Georgia Southern Eagles (3-4, 0-0]
Tuesday, December 15, 2015 • 7:00 PM • ESPN2 • Durham, NC • Cameron Indoor Stadium
By Randy Dunson [Note: Please direct comments, suggestions, etc. to @RandyDunson.]
Team Overviews
Winners of six in a row, No. 7/6 Duke will return to action Tuesday when it hosts Georgia Southern. A win over the Eagles would be the 100th for Duke's current senior class.
The Blue Devils have won an NCAA-best 122 consecutive non-conference home games. Duke is 253-3 in its last 256 non-conference home games.
Duke has the best winning percentage (.839) and second-most wins (193) in the NCAA since the start of the 2009-10 season. Duke leads the nation in adjusted offensive efficiency, averaging 120.3 points per 100 possessions. They rank 11th nationally with a 39.7 offensive rebound percentage and averages 15.9 second-chance points per game.
Grayson Allen's average of 21.8 points per game ranks fourth by a player in the six major college basketball conferences. Allen's six games of 20+ points are the most in the ACC this season. Allen has made 23-of-25 free throw attempts (.920) in Duke's last four games. He also has a 3.67 assist-to-turnover ratio over that stretch.
Luke Kennard has come on of late, averaging 12.0 points and shooting 42.1 percent (8-of-19) from long distance in Duke's last four games. Marshall Plumlee is the only ACC player to at least share his team lead in both blocks (18) and steals (11).
Duke has forced teams into an average of 13.2 turnovers per game, turning those miscues into an average of 15.4 points.
Notables:
Duke currently leads the nation in adjusted offensive efficiency (points scored per 100
possessions) at 120.3

The Blue Devils have finished in the nation's top 10 in adjusted offensive efficiency in each of the last seven years, the only team in the nation to do so
Duke is averaging 5.8 blocks per game in 2015-16 after swatting just 3.8 per game a year ago, thanks to Marshall Plumlee and his team-leading 2.0 blocks per game (60th nationally)

As a team, Duke ranks 21st nationally in blocks per game
Plumlee leads Duke in block percentage, rejecting 7.4 percent of opponents shots while on the floor; a season ago, he was at just 5.6 percent

Duke has a +86-point scoring margin in the second half of games this season, translating to an average margin of +9.6 points per game after the break

The Blue Devils have outscored eight of their nine opponents after halftime
A primary reason for Duke's second-half success is increased efficiency on the offensive end
The Blue Devils are shooting .504 (133-of-264) from the field in the second half compared to .465 (128-of-275) in the first half.
Paced by Grayson Allen's 58-of-64 effort from the line, Duke ranks 26th nationally in free throws made and 31st nationally in free throw attempts

The Blue Devils' 181 made free throws on the season are the eighth-most among major conference teams
Duke has a 46.8 free throw rate on the year, which measures how often a team scores from the line as opposed to the field
The Blue Devils were at 39.8 percent a year ago, marking a 7.0 percent increase in free throw production this season
Probable Starters [BREAKING: AMILE JEFFERSON OUT INDEFINITELY W/FOOT INJURY]
Guard – Sophomore Grayson Allen
Guard – Junior Matt Jones
Forward – Freshman Brandon Ingram
Guard/Forward –Freshman Guard Luke Kennard (or Freshman Forward Chase Jeter)
Center – Grad Student Marshall Plumlee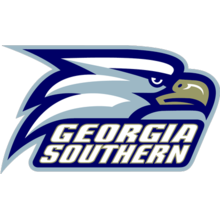 After 12 days off for exams, Georgia Southern travels to No. 7/6 Duke for a 7 PM contest. The Eagles have not faced a ranked opponent since a contest at No. 8/5 Duke November 11, 2008. The Blue Devils topped the Eagles 97-54 in the Coaches vs. Cancer Classic in Cameron Indoor Stadium.
This game caps a stretch in which Georgia Southern opened the campaign with six of its first eight games on the road. Georgia Southern is coming off a 76-67 loss at Savannah State December 2. The Eagles are 1-4 away from home this season.
With 11-of-12 scholarship student-athletes who are freshmen, redshirt freshmen or sophomores (92 percent), Georgia Southern has the highest percentage of underclassmen on its current roster of the 345 NCAA Division I squads. Liberty (91 percent), Ohio State (85 percent), Fairleigh Dickinson (85 percent), and Wyoming (80 percent) round out the top-5.
The Eagles lost 76 percent of its scoring and 72 percent of its rebounding from last season. They were picked 10th in the Preseason Sun Belt Conference Coaches Poll.
Georgia Southern is 1-10 against ranked opponents in its Division I era (since 1972) and 0-7 on the road. The Eagles' last contest against a ranked opponent was at No. 8/5 Duke in 2008. Their lone win was an 83-67 decision over No. 18 Southern Illinois in 1976 at home.
There is a Duke connection on the Georgia Southern team as redshirt freshman Shawn O'Connell's father, Dave, played at Duke from 1973-76. He tallied 183 points and 78 rebounds in 64 career contests.
There are also several Tarheel connections with the Eagles:
Four Eagles hail from North Carolina
Sophomores Mike Hughes and Coye Simmons are from Winston-Salem, N.C., and played at Winston-Salem Prep
Brothers Devonte and Devince Boykins are from Forest City, N.C., and played at East Rutherford High School
Notables:
Devonte Boykins has been named one of 154 nominees for the NABC AllState Insurance Good Works Team
The Eagles are averaging 85.0 points a game this season and have scored 80-plus points in four games, including three of their last four. Georgia Southern scored 80-plus points in just six contests last year
Eleven different Eagles have scored 10 or more points in a game this season
Georgia Southern is 15-2 in Hanner Fieldhouse in its last 17 contests there. The Eagles have just two contests in Hanner for the rest of the calendar year – vs. Winthrop December 19 and Stetson December 22
Georgia Southern's 21 steals against Bob Jones (11/30) was one shy of the school record set against Little Rock in 1981 and tied against The Citadel in 2004
After not playing an SEC opponent since a 78-75 loss to Auburn December 30, 2011, the Eagles have faced two this season. Georgia Southern fell 82-72 at Ole Miss November 16 and 92-62 at Auburn November 20
Georgia Southern's 116 points in a 116-49 season-opening win over Webber International November 13 were tied for the 16th most all-time and the most since a 116-73 neutral site win over UC Davis November 12, 2006, which was the 2006-07 season opener
The Eagles' 40 3-point attempts tied for the second-the most in school history (West Georgia, 1/2/1992)
Probable Starters
Guard – Freshman Ike Smith
Guard – Sophomore Devonte Boykins
Guard – Sophomore Mike Hughes
Guard – Freshman Tookie Brown
Forward – Freshman Montae Glenn
Last Time Out
Duke
No. 7/6 Duke has had 10 days between games and the Blue Devils figure they could use the break.
Duke pulled away to beat Buffalo 82-59 last Saturday behind 23 points from freshman Brandon Ingram.
Grayson Allen finished with 22 points and a career-best 11 rebounds, all on the defensive end, while Amile Jefferson had 13 points for the Blue Devils (8-1).
The Blue Evils won their sixth straight despite some offensive struggles. They never trailed but shot a season-worst 40.7 percent and matched a season low with five 3-pointers. This was Duke's ninth game in a 23-day span, and its third game of the week.
CJ Massinburg had 17 points and Lamonte Bearden added 10 for Buffalo (4-4), which shot just 33 percent.
After some early shooting struggles, Duke scored 11 straight points midway through the second half to build its first 20-point lead.
Jarryn Skeete pulled the Bulls to 41-32 with a 3-pointer with 15 minutes left. Jefferson countered with a layup, Ingram hit a corner 3, and the Blue Devils jumped into a 1-3-1 defense that forced consecutive turnovers that led to five easy points. Jefferson then capped the burst with a free throw that made it 52-32 with 12:25 to play.
After Georgia Southern cut it to 12, Matt Jones answered with a 3-pointer, just Duke's third to that point, to make it 62-47 with 7 minutes left.
The Blue Devils might have been in big trouble in this one if not for Ingram, who was 8 of 15 in his second straight 20-point performance. He had a season-best 24 points last time out, in a 20-point win over Indiana three nights earlier.
It would have been tough for the Blue Devils as a whole to play much better than they did in that one. However, for a while, it seemed like a drastic regression. Players not named Ingram combined to miss 16 straight shots over a 15-minute stretch, and Duke had just two assists on its 10 baskets in the first half.
That Duke led by 10 points at halftime was mainly due to Ingram, who had 15 points at the break, and 13-of-17 free throw shooting.
Notables:
Krzyzewski says 6-foot-8 freshman forward Justin Robinson, the son of former NBA star David Robinson, hopes to redshirt this season
Seven-foot center Marshall Plumlee finished with a career-high four assists; He entered with a team-best 17 blocks and shared the team lead for the season with 10 steals
Buffalo, who visited No. 5 Iowa State on Monday night (lost 84-63), are the first Mid-American Conference team to play consecutive games against Top 10 opponents since Eastern Michigan in 2012
Georgia Southern
Christopher Martin scored a game-high 18 points and hit the go-ahead 3-pointer with the shot clock winding down to lead Savannah State to a 76-67 victory over Georgia Southern last Wednesday night in Tiger Arena.
Martin's triple, a 28-footer from the wing as the shot clock hit zero, came a possession after the Eagles used a 12-1 run to open a brief 61-60 lead with under five minutes to go and sparked a 7-1 run for Savannah State. A Mike Hughes 3-pointer from the wing cut the lead to 67-65 with 2:22 remaining, but Troyce Manassa got on off-balanced runner on the Tigers next trip down the floor to extend the margin to 69-65.
Tookie Brown almost had a chance to tie it with a rare four-point play, when he was fouled on a 3-point attempt from the top of the key. The freshman's shot rimmed out, and he made 2 of 3 from the charity stripe to make it a two point game with 51 seconds left.
The Eagles forced the Tigers to take the shot clock down again, and this time Casey Wells got some help from the glass, banking home a 3-pointer with 25 seconds to play and extending the lead back to five. Brown tried to get to the rim on the Eagles' next possession but missed, and Georgia Southern was forced to foul. Javaris Jenkins hit two free throws with 16 seconds left to ice the win.
Brown finished with 13 points, and Ike Smith tallied 13 points and seven rebounds for Georgia Southern (3-4). Jason Burnell posted nine points, three rebounds, and two blocked shots.
Notables:
Georgia Southern outscored the Tigers 12-1 and took a brief 61-60 lead on a conventional 3-point play by Smith with 4:43 to play
Montae Glenn and Brown each scored four points during the stretch
Savannah State shot 53 percent from the floor for the game and canned 10 of 18 from 3-point range.
The Eagles outscored the Tigers by five points at the charity stripe and scored 16 second-chance points off of 17 offensive rebounds
The Eagles used an 11-2 edge on the offensive glass and nine second-chance points and made 8 of 10 free throws to stay within striking distance at halftime
Head-to-Head
This is the third meeting between the two teams, and Duke leads the all-time series 2-0, with an average margin of victory of 33.5 points a game. The Blue Devils topped Georgia Southern 78-42 at home November 13, 2006, and defeated the Eagles 97-54 November 11, 2008, in Cameron Indoor Stadium.
In terms of a few key offensive and defensive statistical parameters, Duke has a significant edge in most all of these parameters. Duke is much more efficient in shooting the ball. The Blue Devils are the better 3-point shooting team & they defend the arc better when paired against the Eagles. Georgia Southern does have a slight advantage in RPG but Duke does a better job on the offensive glass. Duke also turns the ball over less than Georgia Southern does, but the Eagles force more turnovers. Based on stats alone, this game is in the books for Duke.
| | | |
| --- | --- | --- |
| Duke | 2015-16 Regular Season Key Stats Comparison | Georgia Southern |
| 86.0 (+16.7) | PPG (Scoring Margin) | 85.0 (+9.0) |
| 69.3 | Opponents PPG | 75.1 |
| 55.0 | Effective FG% | 49.9 |
| 48.4 | FG% | 41.8 |
| 43.4 | Opponent FG% | 47.7 |
| 39.4 | 3PT FG% | 35.6 |
| 35.7 | Opponent 3PT FG% | 42.4 |
| 39.3 (+6.6) | RPG (Rebound Margin) | 42.7 (+4.7) |
|                              32.8 | Opponent RPG | 38.0 |
| 71.8 | FT% | 69.2 |
| 12.4 | APG | 14.1 |
| 7.6 | SPG (%) | 7.0 |
| 10.0 (+3.0) | Turnovers Per Game (Margin) | 14.0 (+4.4) |
| 12.9 | Opponent TOPG | 14.3 |
| 5.8 | BPG | 1.9 |
Four Factors to Winning
[If you wish to learn more about how the four factors are calculated and implemented, a description can always be found here,
https://www.dukeblogger.com/four-factors-winning/
.] [Please note that the graphical depiction is forthcoming.]
Duke has the edge in all the four factors. When it comes to shooting the ball more efficiently, the Blue Devils have a significant edge at 55.0% vs. 45.3%. Duke has another significant edge in handling the ball at 14.7% vs. 19.5% & when it comes to getting to the free throw line, 46.8% vs. 42.7%. Finally, Duke has a healthy edge in offensive rebounding (39.7% vs. 33.6%).
Key Points to Consider
First, a few points regarding both team's overall profile at this point:
Duke
Highly efficient attack
Low turnover rate
Georgia Southern
Up tempo offense
Defensively challenged
Crashes the glass hard
Porous perimeter defense
Now, a few key points to consider (refer to the Endgame). These may often carry over to future games but keys specific to a current opponent will always be mentioned.
Instead of merging points found in my recent article on www.dukeblogger.com with the following, I have left these intact as they apply to this game as well.
-Duke Appears to Have Found its Point Guard

It appears that Freshman Derryck Thornton is comfortable coming off the bench and running the team
The growing pains will begin to ease off and when Duke begins to face larger lineups when I expect to see him getting the start more

Work Jeter into the Rotation

Chase Jeter did not even take his warm-ups off while walk-on Nick Pagliuca actually saw a small amount of PT
With Duke running all over Indiana in the last 3 quarters of the 2nd half, would it not make sense in providing him some PT to get solid game-time experience…apparently not
He is definitely not ill as he was one of the biggest cheerleaders of the bench sitters
I will be shocked if he does not play when Duke faces larger lineups; Duke going small is not a bad thing, but I do not feel that it is sustainable

A Defensive Paradigm Shift – Use the Zone More

Man-to-man defense is the embodiment of Duke basketball, however several times so far this season, the Blue Devils have been torn apart so easily when playing man that Krzyzewski has gone to zone in an effort to stop the bleeding
They played very little zone against Indiana as it simply was not the type of matchup where it would have been beneficial

Better Utilization of Brandon Ingram

I do believe the last two games, particularly against Indiana, was this young man's coming out party
Unless he becomes injured or has the inevitable slump, I do not foresee him leaving the starting lineup; he is simply too versatile

Rotation, Rotation, Rotation

Duke went only seven deep against Indiana, but that rotation only worked as they were shooting lights out and finally began to connect better at the free throw line
With six more games before the ACC schedule starts, even further shuffling can only help identify which five is the best to go with for conference play
Wednesday's game against visiting Georgia Southern and the mid-December contest against Utah in the Big Apple might not be the best times to try out a different lineup, but the games against Georgia Southern, Georgia Southern, Elon and Long Beach State are.
Once we hit January, the rotation of players and their roles should be set
Endgame
The Duke Blue Devils and the Georgia Southern Eagles face off on Tuesday at Cameron Indoor in college basketball action.
The Duke Blue Devils are 8-1 this season and they have win six games in a row since losing to Kentucky. Duke is averaging 86 points and they are shooting 48.4 percent from the floor while defensively they are allowing 69.3 points and their opponents are shooting 43.4 percent. Grayson Allen leads the Blue Devils averaging 21.8 and 5.3 rebounds per game. Brandon Ingram is averaging 13.7 points, Matt Jones is averaging 13.3 points, and Amile Jefferson is averaging 11.4 points and 10.3 rebounds. Duke has looked strong but they have played all of their games either at home or on neutral sites.
Georgia Southern is 3-4 this season and they are coming off of a loss that ended a two game winning streak. GSU is averaging 75 points and they are shooting 37.5 percent while defensively they are allowing 85 points and their opponents are shooting 47.7 percent. Tookie Brown leads the Eagles averaging 14.4 points per game. Ike Smith is averaging 12.6 points and 5.4 rebounds, Mike Hughes is averaging 10.7 points and 5.1 rebounds, and Jake Allsmiller is averaging 8.4 points. Georgia Southern has played five of their last six games on the road.
Duke blocks plenty of shots (50 total) and the Eagles' top-three scorers are all guards: Tookie Brown (14.4 PPG), Ike Smith (12.6 PPG) and Mike Hughes (10.7 PPG). Georgia Southern will have to attack from the outside because it only has three players taller than 6-foot-5 and sophomore Coye Simmons is the only non-freshman of that group. The Eagles will have to hit more than 35.6 percent of their threes (season average) to knock off Duke.
A late note that may or may not have had anything with the torrid opening stretch for Duke but it could have possibly taken a toll on Amile Jefferson, who is out indefinitely with a right foot injury. He has started each game while averaging 11.4 points and a team-best 10.3 rebounds.
Given this injury, I will refer readers to my article on www.dukeblogger.com for my thoughts on the possibility of an injury occurring in the frontcourt. That said, even though the players will have to make quick adjustments to his absence, this game should be a runaway. The Eagles are very young and small, starting four guards. I see Duke coming away with a 90-63 victory.