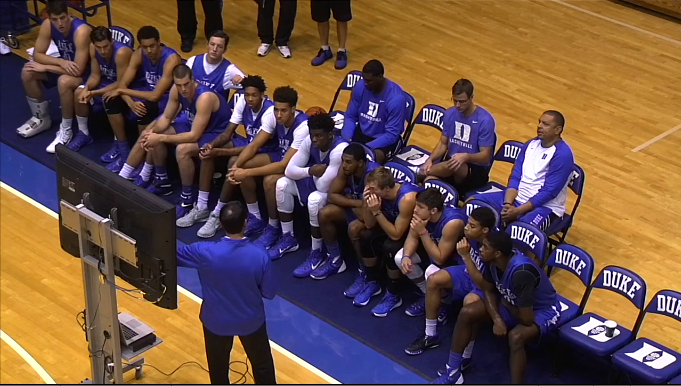 Greetings, fellow Duke fans. I am a college student in Massachusetts and will be providing some coverage from up North here on the Duke Blog every now and then this season. I am extremely excited to interact with you guys throughout the year and hopefully can provide a different perspective on the team that we all love. Now while we all can still take the time to gloat about the magical year that was the 2014-2015 season, it is also the time of year that we should start seriously looking forward to next season. In this post I will preview some items regarding this upcoming season

Leadership, Leadership, Leadership:
First, let's look at some familiar faces that will hopefully be big in a few different ways in 2015-2016. One of those faces that we should all be excited to have back is Amile Jefferson. Amile is going to be looked at by Coach K to lead this group of mostly young guys, and rightfully so. Last year, one of the most special things that we saw with Duke was everybody's commitment to the team. After Rasheed Sulaimon left, it almost felt as if the team saw it as more of a building experience than one that would tear them apart, like many people expected. From that point forward, it felt as if the team unity was stronger than it has been in years, and a lot of this credit has to go to Quinn Cook and Amile Jefferson. While Cook is now gone (ugh), Amile's return should make Duke fans more comfortable, knowing that we have an able leader with some experience as a captain. Along with Amile, we should look at Marshall Plumlee, another big man to provide some leadership. Plumlee has been providing energy for the Devils for years, and although he may not have the pure talent that his brothers before him had, he usually provides a good spark when the team needs it most.
Can Grayson Allen Build on his National Championship Performance?
When Duke was seemingly down and out last year against Wisconsin, they looked upon an unlikely hero, Grayson Allen. While he was an unlikely hero then, he did a pretty good job of giving the people much higher expectations for this upcoming season. He is an extraordinary shooter, with "sneaky" athleticism that at this point, is not so sneaky. Grayson is going to need to score this year, especially at the beginning of the season when the likes of Brandon Ingram, Luke Kennard, Chase Jeter and Derryck Thornton get acclimated to the college game.
Speaking Of Freshmen
Duke pulls in another great recruiting class this year. Although I am not one to get too excited about the rankings of classes because I am a firm believer that you never know how good a recruit is until they face college competition, many are calling this the top class in the nation. Ingram seems to be a freak athlete that will provide some highlight reel plays throughout the season. Kennard is billed as a lights out shooter, and seems to be an underrated play-maker and slasher. Duke will look at Thornton, the point guard who decided to reclassify to this season to distribute the ball. Jeter seems to be a force down low, with a vast variety of moves that Coach K will look to improve on during his time in Durham. (Sidenote: As a lifelong Red Sox fan, it is VERY weird to be rooting for a guy with the last name Jeter. In fact, it may be a little harder for him to win me over. That is only half joking) Along with Antonio Vrankovic and walk-ons Justin Robinson and Brennan Besser, Duke will look at an exciting class to do damage this season. This is obviously a scary prospect. While it is exciting to have so much fresh young blood on the roster, there will almost definitely be some growing pains that will frustrate fans at times. The freshmen strategy has been both good and bad for programs recently, but in this new age of college hoops, this is the direction that big time schools like Duke are heading.
I am very excited to write about this team throughout the year. It seems to be a good mix of familiar faces and new talent and we can only that it will lead to some more banners hanging in Cameron Indoor. Please follow me on Twitter @MADukeBlog and interact with me throughout the year. Fair warning: I am also a diehard Boston Sports Fan. If you are scrolling through my timeline during a Bruins or Patriots game, it is very likely that you will find a lot of tweets from me bragging about/defending Tom Brady and swearing about the Bruins young core of defense-men. However, I thank you all for following and will do my best to provide some fun commentary throughout the year.