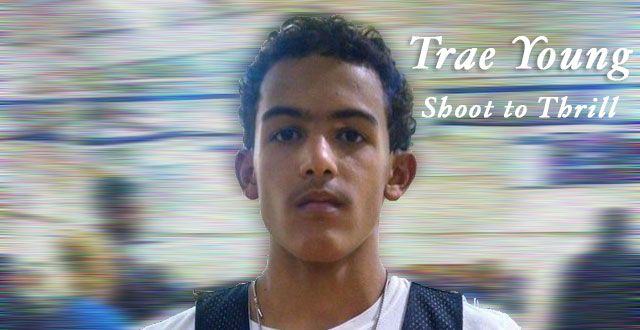 I caught with 2017 point guard Trae Young out of Oklahoma who's been blowing up the circuit as of late. Here is what Trae had to say:
Dukeblogger: I notice as I watch you play you don't seem to shy away from contact is that intentional? Something you work on?
Trae Young: Yea I've been working on playing thru contact. One of my biggest goals is to get bigger and stronger this off season.
Dukeblogger: You are known as one of the deadliest shooters in the class do you consider that the strongest part of your game?
Trae Young: Definitely the strongest part of my game is shooting. It opens up my ability to drive and find others. But shooting is my passion.
Dukeblogger: What do you want to improve on before getting to the next level?
Trae Young: I want to improve my ability to change the game on defense. I'm good defensively but I want to be great. It'll take me to the top
Dukeblogger: Is there a player that you either emulate or pattern your game after?
Trae Young: I try to pattern my game after a lot of point guards. My favorites are Kyrie, Steph, Steve Nash, and Tony Parker. I watch film on them.
Dukeblogger: How did you enjoy the UCLA visit? I know that campus is pretty nice?
Trae Young: UCLA was awesome. Great campus and staff. Their tradition is 2nd to none. I had a great time in LA and just learning about their program.
Dukeblogger: When do you think you'll get out to Duke, I think I heard June?
Trae Young: I'll be in Virginia in June at the NBA Top 100 camp. Hopefully I'll get to visit the campus then, I'll be visiting North Carolina as well.
Dukeblogger: Do you think they'll likely offer you then?
Trae Young: I'm not sure if they'll offer me when I visit. I don't stress over that because I know I'm not ready for Duke right now. I have a ton of respect for the Duke program, and I know they won't offer until they feel I'm ready. But just being on their radar is an honor to me. That makes me want to work even harder and show them that I'm worthy.
Dukeblogger: You seem to play pretty well with Michael Porter Jr. another Duke recruit are you guys friends off the court as well?
Trae Young: The secret has kind of gotten out that Mike and I want to attend college together. We are great friends off the court. I think we are the high school version of the SPLASH BROTHERS..lol…and we want to be able to win on the AAU circuit and College Level together. We've talked about being like Tyus and Okafor and winning a title together.
Dukeblogger: Have you guys talked about playing together at the next level at all?
Trae Young: Hopefully I answered that question earlier. We definitely want to team up on the next level.
Dukeblogger: What music are you bumping lately? What gets you hype before going on the court?
Trae Young: Honestly, I listen to SLOW JAMS before games….I like old school groups like Boyz to Men and New Edition……..but if it's a BIG GAME
I always go with the greatest rapper of ALL TIME…….Jay Z…..
Dukeblogger: Ha Ha I hear that, I appreciate your time man I know you have a lot going on.
Trae Young: Lol No Problem anytime.
[x_video_embed type="16:9″][/x_video_embed]
[x_video_embed type="16:9″][/x_video_embed]