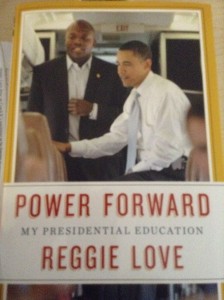 After reading Power Forward, My presidential Education by Reggie Love I have to admit I was pleasantly surprised. This isn't solely a book detailing his journey from Duke to the Presidents doorstep but also a journey from student to man. How the leaders in Reggie's life (his parents, Coach K, President Obama) helped to shape who Reggie is now is a more apt description.
The lessons contained are universal – whether it's making the most of a given opportunity, knowing your strengths and weaknesses or making yourself indispensable where ever you end up professionally. Speaking as a huge Duke fan but also as someone who lives in the Washington, DC area – in the thick of what goes on politically, this book really speaks to both audiences. The nuances of what goes on behind the political process are most interesting but honestly the mistakes and missteps that Reggie speaks of and learns from are invaluable. The humor is genuine, the lessons are timeless and the book is well worth the time.
With the release of Reggie's book dukeblogger.com is having a contest to win a copy of "Power Forward, My presidential Education by Reggie Love" later on today.
The book in available today!! Follow @ReggieLove33 and catch Reggie as he promotes the book nationally.
2/4                   ABC-TV/ "Good Morning America"
2/4                   MSNBC-TV / "Morning Joe"
2/4                   CNBC-TV/ "Squawk Box"
2/4                   Bloomberg-TV/ "With All Due Respect"
2/4                   CNN-TV/ "The Lead with Jake Tapper"
2/4                   CNN-TV/ "CNN Tonight with Don Lemmon"
2/5                   NPR/WNYC/ "The Takeaway"
2/5                   MSNBC-TV/ "Politics Nation with Al Sharpton"
2/5                  MSNBC-TV/ "Lawrence O'Donnell"
2/7                  NPR/ "Weekend All Things Considered"
2/24                MSNBC-TV/ "NOW with Alex Wagner"
2/24                Comedy Central/ "The Nightly Show"