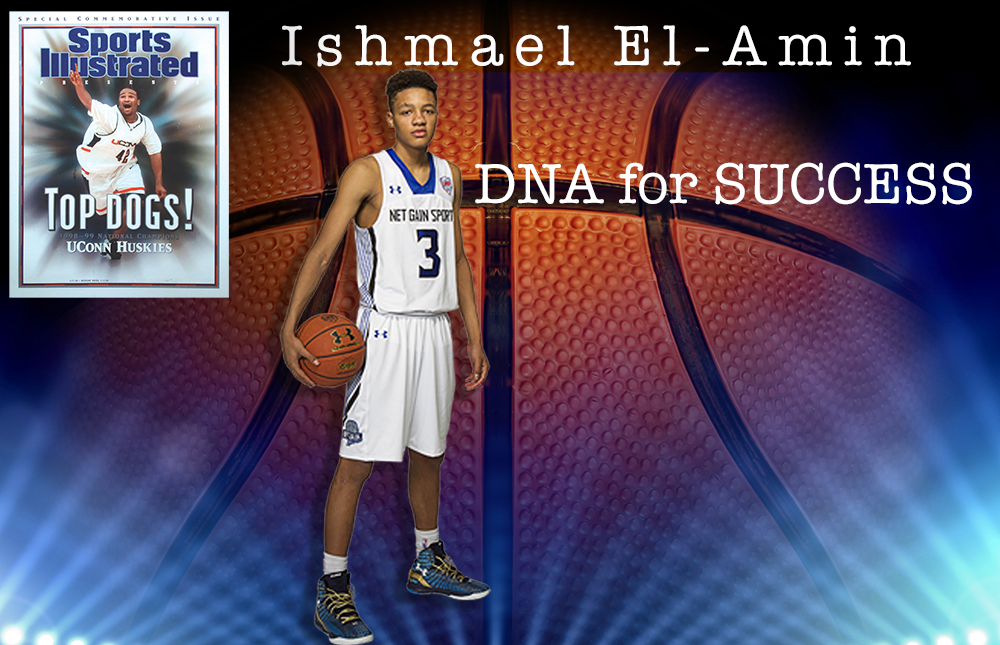 I recently caught with guard Ishmael El-Amin out of Minnetonka, MN – Duke fans will know the name El-Amin. Ishmael is the son of former University of Connecticut guard Khalid El-Amin for those of you who watched the 98-99 season you know the story and how El-Amin and Richard Hamilton were able to take down Duke in the National Championship game (77-74). The elder El-Amin had 12 points and 6 assists in the game.
Cut to present tense Ishmael El-Amin (2017) is now making a name for himself and is garnering interest from some big schools. Here is what Ishmael had to say.
Dukeblogger: For those that don't know how do you describe your game?
Ishmael El-Amin: I describe my game as a knock down shooter, who can hit the open shot from anywhere on the floor. But I can beat you off the dribble and tear the defensive up with my passing ability and my high IQ for the game. And me having that leadership trait in my genes from my dad, I am able to run a basketball team for a very good college program.
Dukeblogger: Obviously being a Duke fan there is a special place in my heart, or rather a hole in my heart as your dad stole Dukes hopes for a title in 99'. I'll just put that out there…aside from that game I've always liked how he ran a team. He had a definite feel for his teammates and how to get the best out them.
Ishmael El-Amin: Yes my dad is something special I tell you. I've watched that game so many times and I get the chills and I'm not even playing ha ha, it's just we both have a deep passion for the game and we both can just sit down and critique the game play by play.
Dukeblogger: What do you think you bring to the PG position that maybe differs from how your dad played it?
Ishmael El-Amin: There's not a lot of difference. I'm a lot longer and taller then my dad but we both have the basketball IQ, we both can make shots, we both can defend so there's not a lot.
Dukeblogger: Do you feel any pressure considering he was a national champion, gold medalist and played in the NBA?
Ishmael El-Amin: I don't feel a lot of pressure but there is some. He has a lot of achievements, I know that. A lot of players can't say they have done what he has done. But also that's his career, I'm trying to create my own story so I'm known as Ishmael El-Amin and not Khalid El-Amin's son.
Dukeblogger: Do you see yourself more as strictly a 1 or a combo guard?
Ishmael El-Amin: I feel like I'm a combo guard because I grew up playing the 1 but as I started to get longer and taller I started playing the 2. This summer I played mostly the 2 and I had to guard taller players, but I still have the point guard genes so I say combo guard.
Dukeblogger: You seemed to standout in the Under Armour Association and you lead Net Gains in scoring this past season, what do you credit for your rising star status?
Ishmael El-Amin: I credit my past summer work ethic to become a better scorer. My 6am shooting workouts with my dad. Then going back to get my lifting workout in.

Dukeblogger: Obviously your recruitment has begun to heat up and will most likely blow up soon, what schools have been getting at you early?
Ishmael El-Amin: Well, I currently hold 3 offers from DePaul,Texas Tech, and Nevada but I am receiving interest from Minnesota, UNI, Alabama, Illinois, Uconn, Wisconsin and Creighton.

Dukeblogger: Tyus Jones, Reed Travis, Rashad Vaughn and now players like you, Amir Coffey, Tre Jones, Gary Trent Jr. coming up it feels like MN has become a new talent pipeline lately can you feel that being from that area?
Ishmael El-Amin: Yes, I feel like Minnesota is rising with basketball talent and a lot of players will be playing and very good programs when it's time to commit and continue there education and their basketball careers.

Dukeblogger: I really appreciate your time man, thank you so much.

Ishmael El-Amin: Yes no problem, Thank you as well.
[x_video_embed type="16:9″][/x_video_embed] [x_video_embed type="16:9″][/x_video_embed]