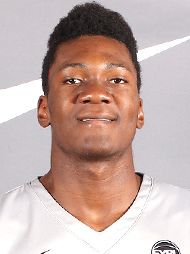 With Duke in the market for another big in the 2016 class one of the names mentioned in the search is 2016 Center Bruno Fernando out of Montverde Academy in Florida. I recently got some questions in with the 6'9 center prospect.
Dukeblogger: What do you think are the strengths of your game?
Bruno Fernando: Just playing hard no matter what.

Dukeblogger: What do you think you need to work on before you get to the next level?
Bruno Fernando: I really need to work on my game offensively I think I need to get a lot better, it's good but isn't where I want to be yet so I just keep getting better and ready for the next level, and my body I feel I need to get stronger & consistent.

Dukeblogger: Obviously in the past few months of so your name has been all over the place, are you getting used to the attention?
Bruno Fernando: Well it's something that I didn't ask for but I earned that attention from the people by doing what I do best , so it doesn't bother me. I just gotta keep being the same person I was when I didn't have people looking at me, and keep grinding.

Dukeblogger: Who is the toughest matchup you've faced recently?
Bruno Fernando: I don't know. We have a lot more games coming.

Dukeblogger: Are you still considering a prep year?
Bruno Fernando: Not really thinking about a prep year, I think I can make it to college this year.
[x_video_embed type="16:9″][/x_video_embed]