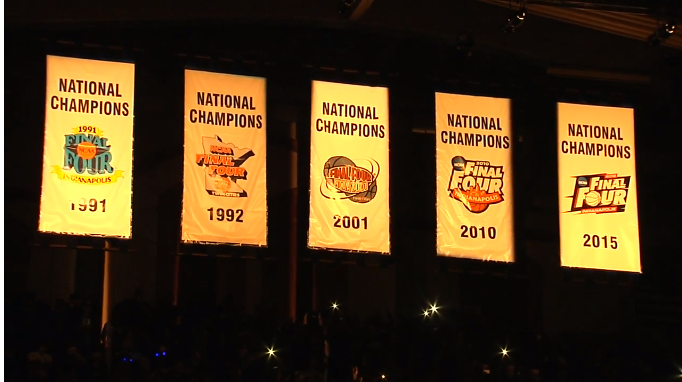 So Countdown to Craziness ends and I've never seen such doomsday predictions from a scrimmage. I get it that last year was a different kind of year, we were spoiled with a team that was far and away the perfect storm. The perfect confluence of intellect, skill, talent and togetherness. For some reason we as a fan base are beginning to measure every practice, every scrimmage every recruiting class against last year – it's not only unfair it's not smart.
Teams and players need time to grow, they need to opportunity to learn. No player from yesterday is the same player he will be a week from now, or a month from now. You truly do yourself a disservice as a fan by painting a teams season with hot takes and glimpses.  Not only are you saying that you know more than the coaches that recruited these players but that you also are better judges of talent and have a complete grasp on how this team will play and be coached. Stop it.
What I did learn is:
1. Yes this team is a work in progress, but honestly what team isn't this early? Curb your enthusiasm but also curb your pessimism as well. If this is the snapshot that you judge an entire season by please go watch another sport. You've leveled up too much to be bothered with following a team throughout a season.
2. Marshall Plumlee is important. He looked comfortable, but of course time will tell. He along with Amile Jefferson looked very poised and comfortable with Amile handling the ball with aplomb and Marshall being a lot more aggressive.
3. Brandon Ingram can be a stud. I say can be because obviously talent isn't enough. Sometimes versatility is a blessing but there can also be side-effects. Shot selection will be important to the freshman and also recognizing his limitations. He's not at the point in his development where we can take a bump. He's obviously not as strong as he will be so that will be a huge part of his development as well.
4. Luke Kennard seems to be the most poised of the freshmen. I think he's the new addition that looked the most comfortable out there. He can shoot from anywhere and really has a Scheyer-esque ability to get balls on the rim in traffic. His shot is a thing of beauty and doesn't need much room to get it off. He is much more of an option at PG than I expected. He plays behind his years, especially when coming off screens. He is the most ready at this point. Also seems to be a vocal leader even as a freshman.
5. Derryck Thornton will be ok. There is a learning curve for a freshman point guard and that position above any other is the toughest to inherit. Tyus Jones is a tough barometer to measure a player by especially when he came in with 2 guys he who he had played with before and had a familiarity with their game and style. Thornton has a lot to learn but he's like a natural resource that needs to be cultivated. He has a lot to soak up and with a team of PG's on the bench he will get the best possible tutelage there is. Piggybacking on that is Chase Jeter, it will take the youngster some time for him as well, he is playing against guys that have been in the Duke system and the Duke weight training program for years and are full-grown men. The physicality can be jarring at first but that is part of the learning curve.
6. Focusing on defensive intensity and principles as a strategy will pay off for this team. Obviously Duke will need to score points but as the offense slowly rounds into shape Duke will need to rely on its defense. Each phase of the game as coach would put it, runs its own race so utilizing the length, quickness and versatility that this team has is a definite plus.
We do sort of have a decent coach and coaching staff so there's that, just breathe people.
[x_video_embed type="16:9″][/x_video_embed]