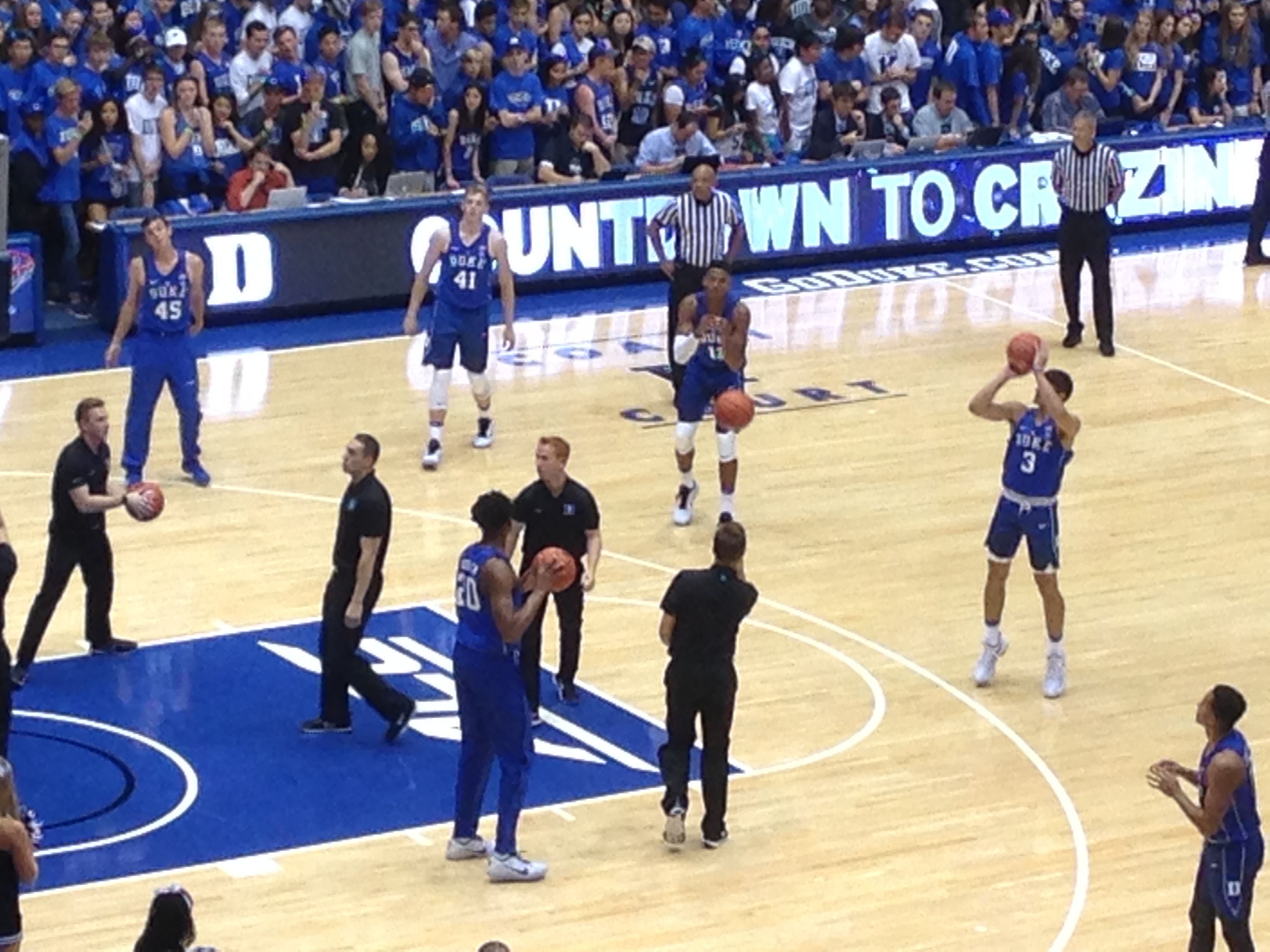 Despite not being able to attend Countdown live, I did watch the scrimmage and have a few major takeaways:
1. Jayson Tatum is as good as advertised
I've read tons about Tatum and watched plenty of highlights, but never seen him in a game environment. The hype is entirely accurate. Tatum can flat out score. He also boasted some pretty nice passes, but his game is centered around putting the ball in the basket, and I was thoroughly impressed. I also think it's time to stop doubting his athleticism…
2. Marques Bolden is huge for this team
Although Bolden's points did not come with ease, he displayed plenty of skills that Duke fans should be pleased with. First off, he is a low post presence. Many skinny bigs have trouble adjusting to the college level. I don't think this is the case for Bolden. Marques showed impressive physicality. That being said, the speed of the game may merit an adjustment period, but Duke fans should be pleased with the presence that Bolden will bring on the low block. This is big for a Duke team that may be missing Harry Giles for a good chunk of the season.
3. Three point shooting
Frank, Jayson, Matt, Grayson, Luke, White… that is a lot of three point snipers. If you watched this scrimmage, you had to be impressed with the three point shooting of this team. And don't sleep on Jack White. If opposing teams don't pressure outside the arc, they will get burned. Zone defense shouldn't be too effective against this Duke team.
4. Amile is back
Amile looked better than ever. He ended the scrimmage with 7 points and 5 assists. There is reason to believe he will thrive in the Draymond Green role on this Duke team. He even took the ball down a couple times. His jump shot seems much improved, and he quite possibly is the best defensive player on this roster (I say "quite possibly" because of Matt Jones).
5. Depth
This team is absolutely loaded in depth and this should not come as a shocker to anyone. You have the natural scorers: Grayson, Tatum, Frank, Kennard. Then you have a much improved big man in Chase Jeter, a coveted big in Marques Bolden, and an active spark plug in Javin DeLaurier. You got the pesky, veteran defenders in Matt Jones and Amile Jefferson. And who knows what Duke will get from Jack White and Sean Obi. If that's not enough, Duke should have the #1 recruit, Harry Giles, returning from injury at some point in the season.