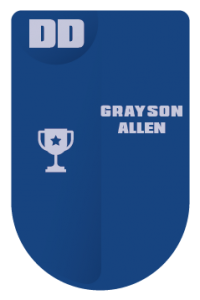 It wasn't too difficult to choose the Devil of the Day for Duke against the Michigan State Spartans. It goes to the player who put the young Duke Blue Devils on his back, the player who played at a different level than any other player on the floor. Grayson Allen. Simply stated he had the fire Tuesday night and would not be denied.
Allen played all 40 minutes, scored 37 points and shot 11 of 20 from the field and 7-11 from 3-point range. Duke's lone senior admitted how much he benefited from freshman Trevon Duval and the attention the Michigan State defense had to pay to his ability to drive to the bucket but Allen hunted for his shot, taking advantage of any sliver of daylight with his ultra quick release and ability to square his body quickly.
Clearly Allen was on a mission in this game. He played like an All-American and he played with the confident swagger of a leader. At one point in the game, Wendell Carter turned the ball over and on the way back to the defense end, Grayson made sure to calm the young power forward down, Grayson talked to him the entire way back on defense – not yelling but making sure Carter was ready for the "Next Play". Much like Quinn Cook mentored and made sure Allen stayed ready, he realizes that he alone cannot take Duke to the promised land. Grayson was scoring, but Grayson was also leading. He's the Devil of the Day.