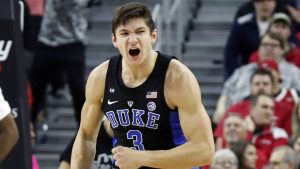 With a healed Coach K back and the team riding a 2 game winning streak Duke took the court at Cameron Indoor Stadium against the Pitt Panthers. Pitt has been an enigma this year even with a 7 game losing streak coming into the game, it was clear that this Pitt team was talented as evidenced by their victory over a very good UVA team and barely losing to UNC their last time out. What most of the ACC knows is that this current iteration of the Blue Devils has a very small margin for error and after losing their last home game against N.C. State even at Cameron Duke was beatable.
For most of the game it was a back and forth affair with Pitt answering every Duke run with a run of their own, driving against the Blue Devils and getting shots at the lane. Duke had opportunities early to put this game out of reach but for the Devils mistakes are the killer of effort. It was either shot selection, turnovers or on one series letting a rebound on free throw go to the shooting team. All momentum killers that helped keep the game close.
Duke could not hit from deep in the first half going 3-13, settling for the long-range shot was evident in Dukes lack of free throw attempts going 1 of 1 from the charity stripe. Pitt and Duke battled to a 28-28 tie to end the half.
It was more of the same in the second half with both teams trading leads until a Grayson Allen 3 pointer with 7:23 left in the second half seemed to spark the Blue Devils. Allen would score 18 of his 21 points in that final 7:23 stretch to end the game.
Allen paced Duke with his 21 points on a night when Luke Kennard was stifled only going 4 of 12 for 10 points. Allen also added 6 assists and 6 rebounds. Duke's Amile Jefferson added 15 on 6-12 shooting, nearly notching a double-double with just one rebound shy of 10. Freshman Jayson Tatum added 12 points and 6 rebounds.
After a woeful shooting performance from beyond the arc in the first half, Duke shot 53% from 3 in the second. While some predicted a Duke blow out because of the emotion of Coach K's return what occurred instead was an emotional and hard-fought victory where Duke showed resilience and patience. A game that saw 6 ties and 8 lead changes ended with a small Duke run and an 8 point win 72-64.
Pluses:
Duke with 19 assists in the game, if that isn't a season high its gotta be close
Pulling out a tough win is always good for team mojo
Grayson Allen coming alive for 18 second half points
Minuses:
being out-rebounded by Pitt
Pitt having a 40 to 20 edge in points in the paint