[x_video_embed type="16:9″][/x_video_embed]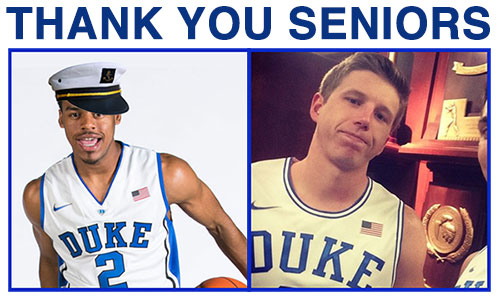 Tonight marked the final night that senior guard Quinn Cook would suit up in Cameron Indoor Stadium. His growth from freshman year to senior year has endeared #2 to the Duke faithful. Quinn did not have his most impressive game of the season but this might have been Duke's most impressive game of the year. Duke demolished the Wake Forest Demon Deacons 94-51. Duke was in point in nearly every facet of the game. Defensively Duke was sharp, they got into the passing lanes, they defended the post and perimeter well and did not allow dribble penetration to be a huge factor in this one. Duke dominated in points in the paint 24 to 8 despite big man Jahlil Okafor only scoring 6 points in the game and playing just 19 minutes. Duke also had a huge advantage in points off of turnovers (26 to 10) and in bench points (35-13) with the bulk coming from freshman guard Grayson Allen. Duke out-rebounded Wake Forest 38 to 22 despite not having a double figure rebounder and only getting 6 from center Jahlil Okafor.
Quinn Cook career record at Cameron: 63-4. Not bad

— #Dukefam (@BleedDuke) March 5, 2015
Dear @QCook323, #DukeNation cannot thank you enough for your determination, perseverance, and hard work these last 4 years. We will miss you — Duke Fans (@LifeOfADukeFan) March 5, 2015
Quinn Cook, one of my absolute all timers. Gonna miss you, Q.

— Joshua Flanagan (@YeahFlanny) March 5, 2015
Duke got off to a fast start against Wake getting out to a 18 to 5 lead in the first half and never looked back, Duke had two double figure scores (Justise Winslow & Grayson Allen) before halftime with Allen outscoring the entire Wake team for the half 19-15.
Thank you @QCook323 for all the memories in Cameron! Continue to lead, and lets get that Championship! — Duke Nation Fans (@duKenation4) March 5, 2015
Quinn Cook was the epitome of a sr. leader this season. Saw him grow a lot from freshman yr til now. Still has plenty of leading left to do

— Duke Blog Daily (@DukeBlogDaily) March 5, 2015
Thank you seniors #GODUKE — Duke Advocate~~ (@DukeGal4Life) March 5, 2015
Thank you @QCook323 one of my favorite players to wear a Duke jersey! #NoMee

— Duke Nation (@Dukenation5) March 5, 2015
The man of day, Quinn Cook scored 13 points and pulled down 5 rebounds in his Cameron swan song, hitting on 4 of 12 and 3 of 7 from beyond the arc. On Cook's senior night, freshman Grayson Allen had his coming out party, Grayson could had his best game as a Blue Devil scoring a game high 27 points on 9 of 11 shooting. Grayson scored off the bounce, from beyond the arc and from offensive rebounding stick backs. Justise Winslow, who still seemed a little off with a rib injury, still managed to have a monster game scoring 13 to go along with 7 assists, 6 steals and 6 rebounds. Matt Jones also had a big game scoring 17 points and played impressively on the defensive end as well. Tyus Jones rounded out the double figure scorers with 10 points, the freshman guard also added 5 assists to only one turnover which is impressive considering the blistering pace that Duke played at for most of the game.
.@QCook323, thank you for giving Duke and us fans an amazing 4 year ride. It's not over yet, but you have served Cameron well, Captain. — Laiken (@laikenmichelle) March 5, 2015
"@BlueDeviIs: What a year for this man. Gonna miss seeing you on this floor, @QCook323. #ThankYouQuinn pic.twitter.com/2m8I1vTBZj" ❤️❤️❤️❤️

— erin howe ❁ (@erinhowee) March 5, 2015
Great Job ! Hell of a 4 years at Duke! @QCook323 — Swaggy N (@NoahGMoore2) March 5, 2015
THANK YOU QUINN
[x_video_embed type="16:9″][/x_video_embed]
Quotes: Duke 94, Wake Forest 51
Wednesday 03/04/2015  –  Duke Sports Information
Duke Head Coach Mike Krzyzewski
Opening Statement:
"What a great way for Quinn [Cook] to go out. Our defense was so good in the first half; I was obviously surprised with that. To have Grayson [Allen] and Matt [Jones] get 44 of our points was very good. We got a chance to rest Jah[lil Okafor] tonight. We got a couple more sprained ankles. They were able to come back in the game, so we have to do a good job with that. Just a really good performance by my guys. Just so you know, Quinn has been so good for us and what a fabulous year it's been. It was seven years yesterday that his dad had passed, so he has had an emotional 48 hours here. For him to have this type of game and to go out this way was very good. We secured the second spot for the ACC tournament, which is great, and a big game on Saturday. Let's get healthy and go for it."
On the sprained ankles:
"Our trainer said it didn't seem bad; although, when Amile [Jefferson] came back in I thought he was favoring it. We'll see tomorrow. I don't think it's long lasting; I hope everyone is ready for Saturday because we only have the eight guys. So, that is not a good thing. But, we're concerned. The good thing is ankles are better than knees, so let's hope that it works out that way."
On maintaining momentum and playing a complete game:
"I thought this was a lot like the Notre Dame game in the first half, where everything went well and they couldn't hit a thing. They go 0-5 from the free throw line and 1-9 from the three and 16 turnovers. Part of the turnovers was us. [Codi] Miller-McIntyre pushes the ball better than anybody in the league, so we went to our 2-2-1 three-quarter court, mainly so when he got it he wouldn't get it on a run and would face that zone pressure. That worked. They never really got transition and that is a big part of their game. He is one of the best players in the league, especially when he gets that run. I think because the bench played so well, Marshall [Plumlee] and Amile and Grayson, they played so well tonight. No matter who we had in the game, it was a very good functioning team."
Duke Senior Quinn Cook
On what was different tonight that allowed Duke to keep the pressure on for all 40 minutes:
"[We're] just getting better and not getting complacent and keeping the foot on the gas.  We know we've had some leads and let up and gave teams confidence, and then they made it a game.  We wanted to keep pushing and keep playing our tempo.  If we play defense the way we're supposed to, great things will happen.""We won it with our defense.  We hit shots and we got some easy baskets in transition, but it led from our defense.  That's the way you want to win the game – defense.  That was a perfect ending for me in Cameron."
On his emotions during Senior Night:
"It's surreal.  Just to be here at Duke and lead these guys, it's been a great year for me.  I'm at a loss for words right now.  I'm not a really emotional guy.  I don't really cry and stuff.  My mom was like, 'You're going to cry."  I just wanted to have fun.  That's what I think Duke fans and people who follow the program know me as – a guy who's always trying to have fun, smiling, and just playing the game with his heart on his sleeve.  I tried to do all of that tonight, and it was just a great ending for me."
When asked what Coach Mike Krzyzewski said to him when he came out of the game for the final time:
"[He said] that he loved me and he was proud of me, and that we're not done.  And he's exactly right.  That's it."
Duke Freshman Grayson Allen
"[Quinn Cook] just told me to keep being aggressive, keep going out there and just stay hungry, keep looking to score.  It was a really emotional night for him, but he just stayed on me to keep looking to score."
When asked how he was able to dominate tonight:
"I wouldn't call it dominating, but it was just hitting open shots.  And when the shots started falling, everything else fell into place."
On how he can continue to contribute for the remainder of the season:
"I think I can come in and knock down open shots like I did tonight.  Another thing about tonight was that I got a couple of offensive boards and that's really what I want to do.  I want to be able to crash the boards offensively and defensively, and just making little plays like that, getting deflections on the defensive end, that also helps the team out as well."
When asked if Coach Mike Krzyzewski has talked to him about his enthusiasm:
"That was kind of a beginning of the year kind of thing.  I've learned to let out all of the emotions inside me now, just jumping up and down and going crazy out there."
Duke Freshman Tyus Jones
On the play of Grayson Allen:
"I personally had a feeling he was going to kind of explode and get going one game, just because in practice he's been on fire.  He's been shooting the lights out, and I see each game he's getting more confident.  In the game at Virginia Tech, he hit a three and hit a couple of shots.  Against Syracuse, he was playing really confidently.  I knew it was coming and he's just getting better and keeps improving.  He works his butt off, so I'm very happy for him."
On playing for senior Quinn Cook on his Senior Night:
"It just meant a lot.  We wanted to do it for Quinn tonight really.  Obviously, Quinn, being the team guy that he is and the leader he is, told us just to focus on the game and do it for each other.  But we knew we wanted to have a good Senior Night for Quinn and we played well.  He played extremely well and it was just a good team win."
On how close this team is compared to other teams he's been on:
"It's definitely, if not the [closest], it's one of the closest teams I've ever been a part of.  Each one of these guys in this locker room I consider my brother.  It's just really a lot of fun to be a part of, and it's just something special where everyone has bought in, everyone gives it their all and is in it for the right reason."
"We do have a lot of energy left.  We're coming every day and preparing, locked in and ready to get better.  That's what we're trying to do."
Wake Forest Head Coach Danny Manning
Opening Statement:
"Kind of a simple game to talk about; Duke came out with a lot of energy and a lot of effort and played exceptionally well and we had a very disappointing showing."
On Wake Forest's turnovers:
"I think you have to give them some credit, but you know I think we should have handled it a little bit better."
On three starters playing their first game in Cameron:
"I don't think that had much to do with it."
On playing Boston College next week:
"I think we have to get back and look in the mirror and figure out what we can do to help our team bounce back from this and what we can do to make our team better and go from there. That's what you have to do, and as I said this was a very disappointing showing. We can talk about what we are going to do, we can say what we are going to do in practice; we have to have some carry over to our next game."
On take-aways from the UVA game in order to bounce back:
"It's the same thing. We have to have some carry-over, from drill to drill, from practice to practice, from practice to game. We will see once the Boston College game is over how we bounce back."
On leadership during the game:
"When you have a game like this, in my book, even take away this game, everyone has a hand in leadership. Everyone can be a leader in his own way, whether it's by example, whether it's vocally, everyone has a hand in that. All year long we have had a junior class that has played a lot of minutes, but we have played a lot of freshman. To me, you have a voice as long as you are going out there and working extremely hard and doing the best you can each and every possession, then you have a voice, and you have to display your leadership in that way."
On Wake Forest's 14 turnovers in the first half:
"A lot of the times the pass was the right idea.  We didn't go meet the ball, or it was just a careless pass. We just have to handle it better. We have to do a better job of getting three outlets when they commit two guys to the basketball, and being able to make ourselves available, and we didn't do that tonight."