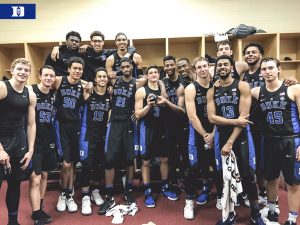 The only constant for this year's Duke team has been the play of sophomore Luke Kennard. Duke has been sub-par for most of the year on the defensive side of the ball. They are far from locked in and generally confused – other teams can smell it and are taking full advantage. Wake Forest, a team like Duke, desperate for a win took advantage for nearly the entirety of the game. In fact Wake held the lead for 30:21 minutes of the 40 minute contest. They seemed to score easily in the paint 26 of their 83 points were in the paint.
Duke as in most of the games they've played recently went in at the half with a deficit. This time the number was 10. The question was would this game go the way of the Miami game or the N.C. State game and more most of the second half it was really hard to tell. Duke did put forth a better defensive effort but unforced errors and timely buckets by Wake made a relatively small lead seem like an impenetrable one.
Duke battled foul trouble the entire game forcing Jeff Capel to look outside of his normal rotation. Using Jack White for 3 minutes and Antonio Vrankovic for 6. That 6 minutes from Vrankovic may have been one of the most important moves Capel made because he was able to spell Amile Jefferson who was saddled with 4 fouls.
There were only 2 players for Duke that scored in double figures. Grayson Allen and Luke Kennard carried Duke through this game offensively and kept Duke within striking distance. Allen went 5 of 13 for 19 points and Kennard went 11 of 14 for 34 points. 30 of Kennard's 34 were in the second half where he was for all intents and purposes the Duke offense. Duke would battle Wake shot for shot in the second half and in the waning moments were finally able to string together stops. Luke scored 12 of Dukes last 15 points in the game and capped off his impressive performance with a 3 pointer with 6.6 seconds left in the game to put Duke ahead by 2 and effectively steal Duke's first road win 85-83.
The pluses:
Duke did outbound Wake 36-29
Duke did not panic and calmly stole this game
Luke Kennard asserts himself as the clear offensive leader
The minuses:
Duke is still a team in complete disarray on both ends of the floor
Duke cannot defend without fouling (some of the fouls called off of rebounding position were bad calls to be fair)
15 turnovers and many other unforced errors
At least 2 rebounds off of free throw misses by Wake that Duke could not gather
Duke did not get to the line enough times