Not for one minute before Duke took the floor against Florida State did I think this would be an easy game. Teams just have a habit of bringing all they got for a high ranked Duke team. Florida State brought it and with it an impressive 11-1 record. This was set to be a battle. The deficiencies that the Blue Devils have could play perfectly in the Seminoles favor and it did, but it led to one great game to watch. Duke would prevail 100 – 93 but it was a drama filled game that included 14 lead changes and 7 ties. A top 25 matchup that did not disappoint.
Hot first half shooting from both 2 and 3 point range (50% from both) gave the Seminoles a 5 point half time lead. While Duke struggled from 3 only shooting 3 of 12. Duke also struggled from the free throw line in the first half going 7 of 14. Even with an improved defense Florida State still found seams for open looks and frankly some of their looks were guarded. The Duke gameplan went out the window early with 2 early fouls from freshmen Trevon Duval.
The second half was a game of runs with Duke reclaiming the lead 3 minutes into the second half on a Bagley 4 point play. Duke would hold that lead until an FSU run capped off by a Braian Angola 3 pointer to give FSU the lead. The teams would volley back and forth until a Wendell Carter Jr. Dunk gave Duke a 95-93 lead with 2:30 left in the game. Duke closed the game on a 9-0 run, holding the Seminoles to 1-10 shooting to win this one.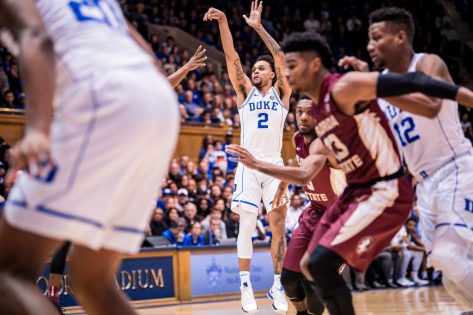 Duke was paced by a monster game from Marvin Bagley Jr. who scored 32 points and pulled down 21 rebounds. Bagley was sensational in early every phase of the game scoring nearly at will shooting 13-17 from the floor. The only area needing improvement from the freshmen was the charity stripe where he went 5-11. Wendell Carter did not score as much as Bagley but his 14 points were needed as were his 16 rebounds. Carter had the go ahead dunk that put Duke on top for good and the freshmen also dished 4 assists and blocked 4 shots on the defensive end.
Florida State used 28 points from Phil Cofer and 23 from Braian Angola to give Duke all it could handle. The Seminoles shot 15-32 from beyond the arc with Angola and Cofer combining for 11 of 22.
Trevon Duval was having another off game as a Blue Devil, in the first half the much maligned point guard picked up two early fouls and sat the majority of the first half. In the second half he remained in foul trouble making some poor decisions on both ends of the floor. Dared by the Seminoles to shoot open 3's Duval missed, missed and missed yet again. But he did manage to knock down a big 3 to help spark a Duke run. The freshman only hit on 1 of 5 from downtown but found other ways to affect the game. His play in the last 3-4 minutes of the game were key for Duke. Duval went 5-10 from the floor in the second half and dished 4 assists. Duval ended the game with 16 points.
Grayson Allen had a quiet 22 points for Duke today only shooting 8 of 19 and 3 or 10 from beyond the arc. Allen also was the high assist man with 6, having to take over main ball handling duties while Duval sat in foul trouble.
THE GOOD:
Duke dominating points in the paint 56 – 28
Duke 28 – 12 advantage in 2nd chance points
Duke outrebounding FL St. 53 – 26
THE BAD:
Shooting 26.7% from beyond the arc is never a pleasant thing
Defensively still giving up a few open looks to good shooters, some was a lack of defensive communication and awareness
Giving up 93 points
Atrocious free throw shooting (56%)
3 points from bench players