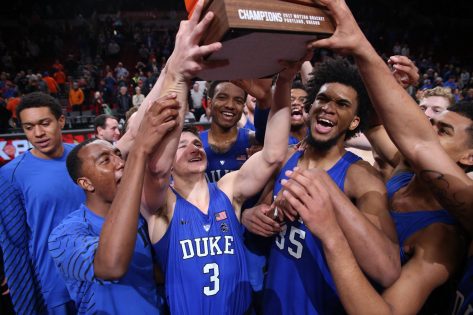 In a most improbably comeback – unless you missed the first 2 games in Portland that Duke played – the Duke Blue Devils become the inaugural PK-80 champs of the Motion Bracket, joining Michigan State who won the Victory Bracket. By Coach K's own admission Duke had not been playing well, seemingly leaving the bulk of defensive principles either in Durham or perhaps within some lost luggage. Somehow through three games of being outplayed through the vast majority of minutes the young Devils prevailed. Last night or rather this morning it was in the championship with Duke taking down a VERY good Florida Gators team 87-84.
Florida led by as many as 17 points midway through the second half after Duke battled back from a 15 point deficit in the first half. Duke led at one point in the first half by as many as 7 point until a 14-2 run by the Gators took them to a lead of 53-49 at the break. Down 10 with 5:30 left in the second half duke went on a 15-4 run to regain the lead from the Gators capped off by a pair of free throws from Gary Trent Jr. who ended the game with 15 points on 4-9 shooting. Duke would go to their freshmen phenom Marvin Bagley early and often, Bagley was an efficient 10-20 from the field scoring 30 points and pulling down 15 rebounds. In an unBagley like stat, the freshmen big went 9-10 from the free throw line after shooting 50% up to this point in the season. Trevon Duval did not have a spectacular shooting night against the Gators, he struggled shooting 3-10, taking some ill-advised shots and often dribbling into trouble – he still ended with 11 points, 6 assists and only 2 turnovers. Despite his bad shooting night Duval did have one of the plays of the game with a late steal on the Gators' Chris Chiozza that helped turn the tide for Duke late in the second half.
[x_video_embed][/x_video_embed]
Duke trailed in each of the 3 games they played in Portland in the second half including down by 16 to Texas and 17 to the Gators.
Duke had a game plan of going in to Marvin Bagley and Wendell Carter consistently but Carter picking up 3 fouls in the first half took the freshmen out of the game and out of rhythm. Carter played 21 minutes and scored 6 points but was never truly effective enough having to curb his aggressiveness for most of the game. Duke needed Grayson Allen to hit shots in this one and for spurts, Allen looked like his old self. Guarded by Chiozza, Allen seemed to struggle but did go 4-8 from beyond the arc, coming on late to help Duke rally. Allen finished with 14 points and 7 assists, going 5-12 from the field overall.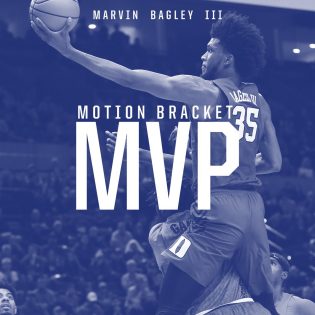 Duke struggled in the early going in its man-to-man defense but a change of personnel and a switch to the vaunted 2-3 zone seemed to spur Dukes first half rally. Once again Mike Krzyzewski was not afraid to use the bench getting 11 points and 9 rebounds from Javin DeLaurier, Alex O'Connell and Marques Bolden. While they did not have eye-popping numbers they filled in and helped right the ship. Utilizing the bench has seemed to be a mainstay for Coach K this year and while he did use 15 less minutes last night, I believe it was situational in this case. I don't t think this particular game called for that, I think putting players in a position to fail might not have been the move. Duke needed it's best horses in this game.
Marvin Bagley III was named the PK-80 Motion Bracket MVP. Bagley averaged 27.3 point and 13.6 rebounds in the three games in Portland.
The Good:
The grit to come back against a top-10 team ( and Florida is a legit top 10 team ) from 17 down in the second half.
Free throw shooting – Duke shot a spectacular 19-20 with Marvin Bagley shooting 9-10.
Three point shooting, Duke despite some bad attempts shot a respectable 43.5% from beyond the arc and held Florida to 40% and only 14.3% in the second half.
After allowing the Gators to shoot 50% in the first half from the field, Duke stepped it up defensively only allowing 34% shooting in the second half.
The Bad:
Slow starts are great fuel for comebacks but eventually that snake will bite this team.
Only out rebounding a much smaller Florida team by 1 in the first half.
Shot selection – on occasion the shot selection from the young Devils and some older ones who should know better was atrocious. Recognizing what is and isn't a good shot, and what shots make sense is something hopefully this team will learn.