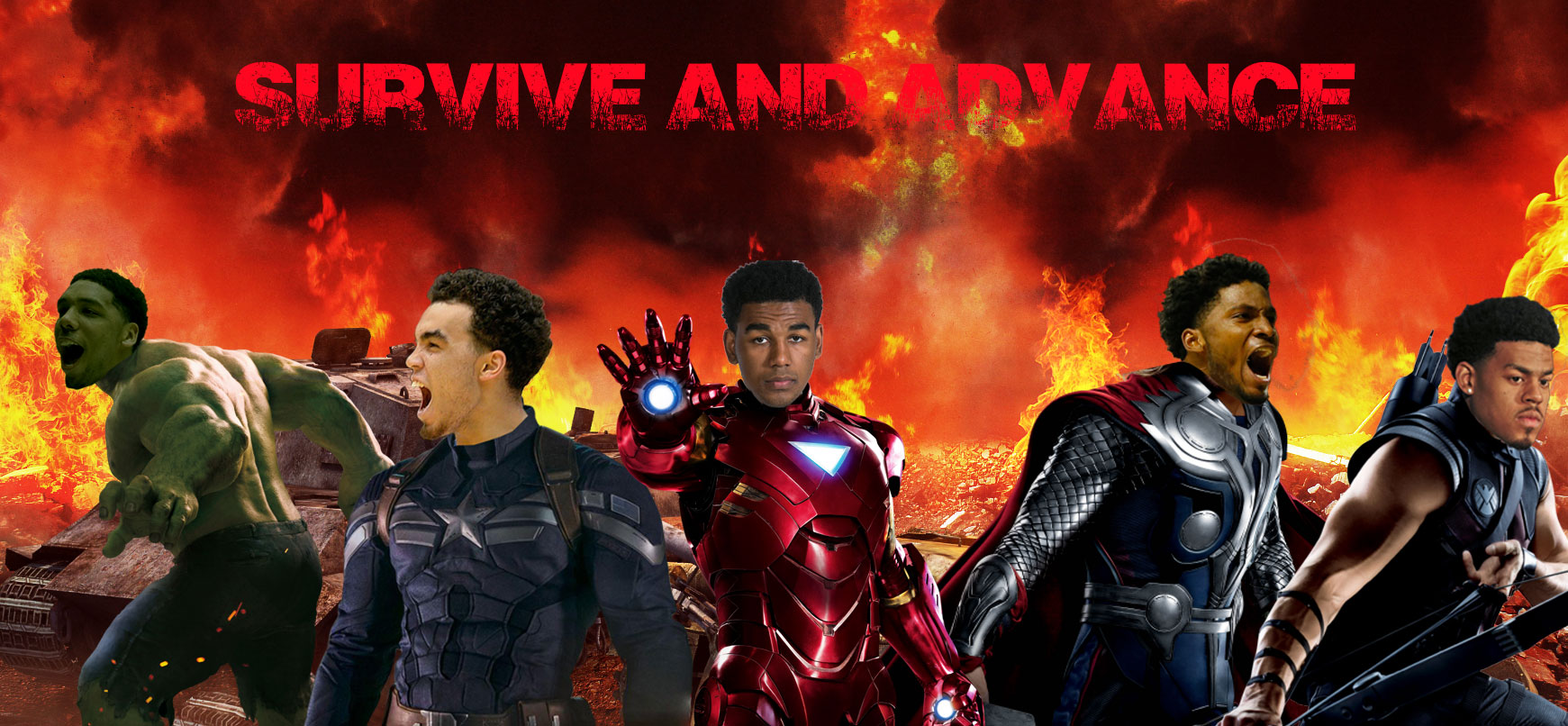 Man oh man, words escape me right now but wow, what a game for Duke. Duke was able to blow out the Michigan State Spartans 81-61 to earn a trip to the championship game against the mighty Wisconsin Badgers who ended the magical run of John Caliper and his Kentucky Wildcats. It's extremely rare to see Duke score 81 points but only make 2 three pointers but such was the case against the Spartans. Duke went 2 of 10 from beyond the arc but did not force shots – instead Duke ran good offense through it's big man Jahlil Okafor and by driving the ball to the basket. Duke had a 42 to 26 advantage in points in the paint. 18 of those points would come from freshman big man Jahlil Okafor who went 7 of 11 from the field. Okafor also pulled down 6 rebounds in the game. Duke also got a huge game from freshman Justise Winslow who scored a team high 19 points while pulling down 9 rebounds. Winslow also went 9 of 11 from the free throw line. Duke finally saw captain Quinn Cook put some points on the board with 18. Cook shot 6 of 12 from the field redeeming his last to outings where the senior guard went 2 of 5 and 2 of 10. Freshman guard Tyus Jones did not score in double figures (9) but did have a good floor game for the Devils with 4 assists to only 1 turnover.
After the initial run in the early moments of the game where Michigan State hit its first 4 three pointers to take an 8 point lead on Duke, the Devils never looked back. Duke shored up it's defense and locked in on Michigan State, forcing them into 7 first half turnovers and taking an 11 point lead into the half, even with foul trouble for several players. Duke continued it's staunch defensive pressure in the second half and never allowed Michigan State to get any closer than 13 points off the lead. Important for Duke in this game was their bench. Grayson Allen had wild drives at the rim and only shooting 2 of 6 but his aggressiveness turned into 6 attempts at the free throw line, where the freshmen went 5 out of 6. Duke was able to get 10 big points from it's bench and also 10 rebounds from its big men off the bench, Marshall Plumlee and Amile Jefferson was huge for Duke. Michigan State did not have the offensive firepower to stay with the Blue Devils and the suffocating defense made things that much worse for the Spartans. Next up return to the scene of the crime, where the Butler didn't do it and a date with the very well coached and disciplined Wisconsin Badger team.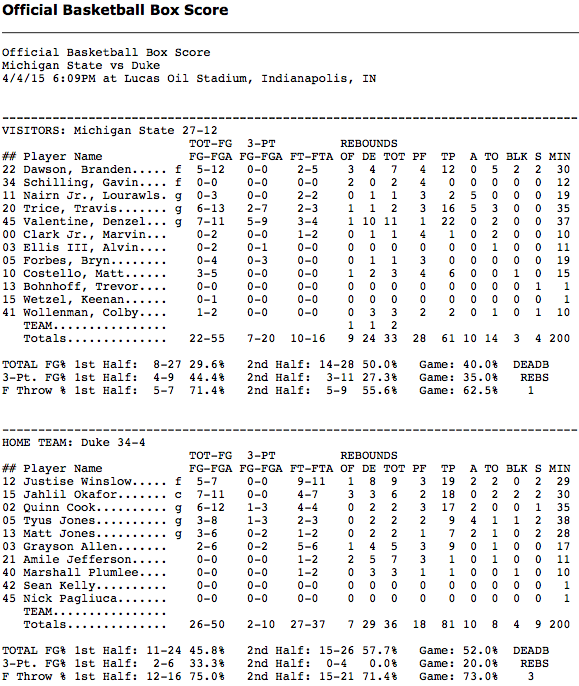 Tale of the Tape:
Points in the paint-MSU 26,DU 42.
Points off turnovers-MSU 13,DU 19.
2nd chance points-MSU 11,DU 9.
Fast break points-MSU 6,DU 8.
Bench points-MSU 9,DU 11.
Quotes: Duke 81, Michigan State 61
Saturday 04/04/2015 – Duke Sports Information
2015 Basketball Championship
Final Four, Indianapolis, Indiana
Saturday, April 4
Duke 81, Michigan State 61
Duke
THE MODERATOR: We've been joined by Duke University. Coach, we'll ask you to make an opening statement.
COACH KRZYZEWSKI: Well, we beat a heck of a team, a championship team, championship program in Tom's program. Our guys knew how difficult a game it was going to be. After the first four minutes, we found out it was going to be more difficult than we even thought. Our kids for the next 36 minutes, they played lights-out basketball. The defense was terrific. We drove the ball with such strength. I actually think our offense gave our defense a push in how hard we were taking it to the basket. Our bench, all eight guys, played really well tonight. Yeah, the last 36 minutes, we played great basketball. That's the best we've played in a tournament, and we've played really well in the tournament.
THE MODERATOR: We'll take questions for the student-athletes.
Q. Justise, did you feel the matchup played into your hands with Michigan State, the way you had the ability to beat them inside?
JUSTISE WINSLOW: Well, it was never just one matchup. It's five guys playing for each team. So Dawson, he's a very strong, physical player. So I just tried to do my best to make him earn everything on the opposite end, to try to body up and stay solid. On the opposite end on my part, try to attack, stay aggressive, make plays for my teammates.
Q. Quinn, how much better is this team defensively now than you were early season, even mid-season?
QUINN COOK: A lot better. Week by week, I felt that guys were making tremendous strides on the defensive level. It was fun to string some stops together. Coach always stresses great defense lead to great offense. It's a habit that we've developed, which guys are liking. It's been paying off for us.
Q. Quinn, it seemed like everybody was getting to the rim. Coach talked about how strong you guys drove the ball. Was that the goal from the outset?
QUINN COOK: I mean, yeah, just make reads. We have a lot of weapons beyond the arc, so guys were staying home. We saw seams we could take advantage of. Coach gives us the freedom to make the right read at the right time. Guys played confidently out there.
Q. You have beaten your opponents by an average of 17.6 points per game. Do you feel because of Kentucky's undefeated run, how well you played in the tournament has gotten overlooked?
JUSTISE WINSLOW: We're just very happy with the way we played. Kentucky is a great team, but so is Wisconsin. That should be a great game tonight. Overall we've been trying to hang our hats on the defensive end and stay strong and play tough. That's been the key to our run in the tournament.
Q. Quinn, what did you do differently defensively or was it just a matter of committing to it differently?
QUINN COOK: I don't think we started the game out with the intensity that we needed. A couple times, I know myself, I try to cheat a ball screen, Trice and Valentine make you pay. We got down early, coach got on us. The last 36 minutes, I mean, we played one of our better games, just defensively, which led to great offense. With Trice, Valentine, Forbes, those guys can shoot with the best of them. It was definitely hard out there. We just had some stops together and we were communicating well tonight which led to great offense.
Q. Justise, I'm sure you anticipated they would try to make a run early in the second half. You took control. What made it happen that way, that you dominated in the paint?
JUSTISE WINSLOW: We knew how we started the last half against Gonzaga. We came out with a lot of energy. We just wanted to execute and get some buckets. The offensive end took care of itself. But we always say it's the defensive end. We play with a lot of energy and compete on that end of the floor, the game comes so much easier for us.
Q. Justise, you and Jahlil, you're freshmen, but you don't act like it, play like it. A stage like this, didn't look like there were any nerves. Why is that?
JUSTISE WINSLOW: Because coach never treat us like freshmen since we been here. He gave us all this confidence. He believed and trusted in us. When you have that belief from your coaching staff, all your teammates, yourself, out there having fun, playing the game you love. Since we've been on campus, coach never treated us like freshmen, I think that's why we've been playing so well lately.
Q. Grayson Allen gave you a couple great plays. What is it like to see you guys have a freshman that maybe doesn't get quite as much pub?
QUINN COOK: Grayson, he used today as a chip. I know personally I have to guard him every day in practice. He's fearless. To see him being out there playing fearlessly, playing together, it just says a lot about his character because, you know, he gets overlooked by our great three freshmen. But he brings it every day. He has a great attitude. He's all in about the team, all for winning. He showed some things out there tonight, just not on the offensive end, but defensively, which we needed tonight.
Q. You lost back-to-back games in mid January, a long time ago. Kind of a tough month. Looking back at the gauntlet of the ACC schedule, how did that get y'all ready for where you are now?
QUINN COOK: It's definitely one of the best conferences in the country, just every game you have to bring it. Doesn't matter what your record is and what your opponent is, everybody's bringing it. I can remember losing to NC State and Miami, going into Louisville when they were a top-five team. Coach told us we were going to win this game. When you have that confidence coming from your coach, you feel like you can beat anybody. That game really changed our season around. Guys, our freshmen, our sophomores, Amile, everybody stepped up in a big way.
THE MODERATOR: Thank you, guys. We'll continue with questions for Coach Krzyzewski.
Q. You may only have eight, but it seemed like every single player tonight contributed in some way.
COACH KRZYZEWSKI: They did, and you need it. We have confidence in all of them. Our team looks different when we have different combinations. I think Marshall has played so well over this last month and a half. When he's in for Jah, we have a little bit more of an open court. We can drive the ball more. We're looking to drive the ball more. Actually, Marshall's better on ball screen defense than Jah. So sometimes our defense on ball screens picks up, then our ability to drive is there. A lot of times Grayson is in during that time. He's our best driver. Amile has just been solid. So they've all been good. They've all been good. Our team takes on a little bit different character, personality, when we make the subs.
Q. You said the last 36 minutes were maybe the best basketball of your tournament. This team even this late in the year takes these steps forward. Does that surprise you at all? Is there more untapped potential you can get to in the next two days?
COACH KRZYZEWSKI: I wish they gave us a week to get ready for the game, I think we would improve. Look, we've gotten better. We keep getting better. It's because our guys are paying attention, they want to learn. A big thing is that they've become smarter together. In other words, they talk about the game more while the game is going on, in preparation, than they did earlier in the year. They understood, but they weren't using it together as much. Now they are. I mean, when we go through our game plan, defense, guys are talking, giving instruction. When one guy's out, they're saying, Remember, you got to do this. They've been great. They've been focused on basketball. They've been really good kids to coach. They've gotten better. I mean, they were sensational in the last 36 minutes. In this stage, in this game, for them to be like that after getting down 14-6, I'm really proud of them, really proud of them.
Q. You guys didn't shoot a lot of three-pointers, especially in the first half. Was that the strategy going in or just a reaction to the Michigan State defense?
COACH KRZYZEWSKI: Yeah, a little bit more of a reaction to what was there for us. I think they came into the game taking away our threes. They did a good job of it. But it opened up some driving lanes. Once we started driving, you know, we put them in some foul trouble because we were trying to drive every time. We got a few steals where they fouled us in transition, which got us into the bonus earlier. But it changed. We didn't come into the game thinking we would drive that much. But we came into the game thinking we could drive. It just worked out that way.
Q. You said they kind of have come on together, talking and everything. Was it a factor of them growing up because they're so young?
COACH KRZYZEWSKI: Yeah, because they played 38 games. Four of them have just played 38 games, so they're still learning. Our upperclass has been so good with them because they don't treat each other like freshmen and upperclassmen. They've just been so close. They're all smart players. We don't have positions on our team. They don't look at one guy being ahead of you or anything like that. We only have eight guys, so it wouldn't be a big depth chart anyway. They're very supportive of one another. Somebody mentioned about Grayson, the reaction to Grayson. That's how they are. I mean, they love Grayson. So Grayson does that. He does something better than any of them. He drives the ball harder than any of them. So when he did that, boom, they're all happy and they feel energized with it. They're like the ultimate good team (laughter). I wish I was more responsible for that. I think they are really responsible for that.
Q. Was there a point in the year where you saw Jahlil start to kind of understand the high ball screen defense a little bit more?
COACH KRZYZEWSKI: Well, he was understanding it in February, and then he got hurt. For three and a half weeks he was playing with a sprained ankle. His conditioning, also his practice habits. By the time the ACC tournament started, he's getting a little bit better, but we still weren't as good. The week that the NCAA tournament started, he had great practices. He's gotten in better shape. He's done it better. He can defend the ball screen. I mean, he doesn't have deficient ball screen defense genes; he can do it.
Q. When you won here in 2010, your roster, you didn't have any players that left early for the NBA draft on that team. In that time college basketball has changed a lot. You're very freshmen-reliant at this point. Can you talk about the evolution of the game in these five years now and, Kentucky, making four of the past Final Fours, has had any influence on how you've had to operate from the program's standpoint?
COACH KRZYZEWSKI: We really haven't looked at anybody and said, We have to do it like someone. It's just who you end up having the opportunity to recruit. We're going to go after the best players that fit the profile for Duke, our basketball program and our school. There seem to be more guys like that. Really, Grayson is going to be a pro someday, all these guys really fit our profile. It just worked out that way. So I'd rather have a veteran team who is really good. The talent, you have to go after the best players. I mean, we have an opportunity to get some of them, so that's what we should do.
Q. What does it mean to you to be back in a championship game, also in a city that already has so many special memories for you?
COACH KRZYZEWSKI: The city's great. Even if we didn't win tonight, the city would still be great and the venue would be great. Being in a national championship game, it's crazy how lucky you are. This team has really earned it. A couple times we've been in it, and we were lucky. A couple times we've lost, one time in particular we lost a really tough game. This team, though, has deserved to be in it, so it makes it feel even better. They've been so good in this tournament, so good. Except for a few moments against Utah, to start out the game, they have not been nervous. The lights and the stage have not been too big for them. They felt like they could sing their song and do their dance, and they've done it, they've done it really well.
Q. At what point did you start to think this group had the chance to be this good defensively? At what point did they actually start to be this good defensively?
COACH KRZYZEWSKI: I thought we would be really good defensively at the start of the year. We started with 10 guys. I thought we could press more. But it didn't work out. It wasn't working out, even before we had the transfer and the dismissal. Then we changed during January, adding some zone. We played some zone tonight. We started doing a few more things. But now these kids have picked it up. But they've really picked up on man-to-man. They've played great man-to-man defense in this tournament.
Q. When Jahlil made the two free throws with like 3:35 left, you jumped about as high when he made the first one as any of us have ever seen.
COACH KRZYZEWSKI: Well, you don't watch me all the time (smiling).
Q. Why that reaction? You guys are up 18. I know he has struggled with free throws?
COACH KRZYZEWSKI: He's worked so hard. I thought they were going to do Hack-a-Okafor at that time. If he could, I just wanted to give him as much love and support as I could during that time. I'm not saying he got it because of that. But then he hit them. He's been working so hard at it. It's big. Those are two big free throws. Who knows, on Monday night, he might be in a position where he goes 10 for 12. We believe he can do that. That's how we'll play him, like he can do that.
Q. When you coached the national team, it's a circus of distractions. You had some stuff happen this year you haven't had to deal with before. Addition through subtraction, being able to coach the team since then one-on-one, you're talking about the different types of defense you were able to implement, being able to get to this point, the national championship game, you've had a tough year and some different stuff.
COACH KRZYZEWSKI: You know, we haven't had a tough year because we had one kid transfer and we had a dismissal. You know, our kids have been great. I haven't even had a tough year. It's been a great year. But we've had to adjust to the numbers that we have. I think you just need to adapt. But these kids have been really good to coach the whole year long.
Q. I've talked to a couple of coaches this week who have coined this season your best coaching job ever. I know you're going to put that on the players. As someone who has reached the pinnacle of the college level, coach of the national team, how does a season like this prolong your coaching longevity?
COACH KRZYZEWSKI: Well, my wife and daughters want me to keep coaching for a long time. The main reason is because they've seen how much I've enjoyed this year, how much I love this group. Not that I was going to give it up if they weren't that way. But we get kids like this, then you love to do this every day. Really in reference to your question, too, put both of them together. Every night when I'm watching tape or I'm doing stuff, getting prepared, I never worry about attitude. I never worry that my guys aren't going to come. So you can be a little bit more creative. You can study the opponent a little bit more. You can look at positive things that you can do for your players as they're developing. I believe in constantly adapting to the development of my players, not having my players adapt to the system that I put in. There's tremendous room for growth when you do it that way. That's what this team has done. It's incredibly exciting. It's not a little exciting; it's incredibly exciting. Now they've got a chance to play for a national championship. Damn, how exciting is that? I mean, it's great. It's just great. So happy for them.
THE MODERATOR: Thank you, Mike.
COACH KRZYZEWSKI: Thank you.
Michigan State
THE MODERATOR: We're joined by Michigan State student-athletes. We'll start with questions.
Q. Denzel, when you came off the court there, you had a conversation with Coach Izzo for a little bit right at the end of the game. What was talked about there?
DENZEL VALENTINE: I just looked at him, I said, I'm going to get you here next year, coach. It was a heck of a run. I'm just mad we lost because of BJ, Trav, what they've been through, what we've been through as a team this season. We got to tip our hat off to Duke. They were the better team today.
Q. Denzel, you came out so hot, then one field goal attempt over the next 12 minutes. What was going on?
DENZEL VALENTINE: They did a good job of taking me away. I got hot. They started denying a little bit, started forcing us to take bad shots. Next thing you know, they had a lead.
Q. After that hot start, what did Duke do different defensively?
BRANDEN DAWSON: I think as far as Travis and Denzel and Bryn, they were just running those guys off the screens. I know they — they just played great defense, like Denzel said. In the first half, the opening of the game, he had some great looks. They came back and played good.
TRAVIS TRICE: They were denying us on the wings, kind of turning us down. Any time they had an opportunity, they switched. That's what made it rough for us to get it on the wings.
DENZEL VALENTINE: They did a good job of denying us, forcing us out. We took some bad shots, had some bad turnovers. That was the difference in the game.
THE MODERATOR: We're joined by Coach Izzo. We'll ask coach for a statement.
COACH IZZO: Well, we got beat. Unfortunately I thought Duke played awfully well, but I thought it wasn't one of our better games. I think they deserve some credit. Yet I feel bad because I didn't think people got to see the team that has won 12 out of the last 15 games. Give Duke credit and give our seniors credit for getting us to a place that most people didn't think we'd get to.
THE MODERATOR: We'll go back to questions for the student-athletes.
Q. Branden, what made Okafor so effective today?
BRANDEN DAWSON: You know, just his position in the post. Jahlil, he's an elite player. Every time he got the ball, he just made a great move. Everyone talk about what can we do to stop him. He's a good player so he's going to score. He established position in the post and he made some great post moves.
Q. Denzel, did the early success you had from deep play a factor in the way you approached the game the rest of the way?
DENZEL VALENTINE: I had some great looks in the beginning of the game. After the first media timeout, they did a good job of making adjustments of taking me out. It forced us to shoot some bad shots. We had some bad plays, led to turnovers. You know, we kind of beat ourselves in the first half.
Q. Travis, as the game was unfolding, what kind of adjustments did you try to make in terms of handling the pressure? Did the halfcourt pressure surprise you at all?
TRAVIS TRICE: Our main problem in the first half was we were starting our offense out too far. Most of that was my fault. It was kind of getting us out of our rhythm. It forced us into bad shots because we were so late in the shot clock, we're 40, 50 feet from the rim. We got pushed out too far. We should have started our offense in closer.
Q. You were talking about the turnovers you had. The most you had since January. Talk about why this team has been successful without the turnovers and really what happened with the turnovers that led the other way?
TRAVIS TRICE: I think trying to force the issue. A lot of our turnovers were really unforced. They were kind of on us trying to make the extra play or make the home run play. I think that came to bite us tonight. Usually we don't do that.
DENZEL VALENTINE: Yeah, you know, they did a good job of taking us away, denying us. I think we got kind of frustrated the first half. We didn't keep our cool a little bit. Led to turnovers and bad shots.
Q. How much has Duke improved since you played them back in November, and what things specifically?
BRANDEN DAWSON: Well, I think Duke, since the first time we played them, I think they got a lot better defensively. They really don't make a lot of mistakes. They take care of the ball. Like coach said, we play a good team like this, you just have to play smart. I think as far as them being a lot better, I think they're the same. I think they're playing a lot better defensively.
Q. Branden, those two quick fouls in the second half, how frustrating is it to, bang bang, have to be out of the game for a stretch there?
BRANDEN DAWSON: It's frustrating. I mean, to pick up two quick fouls, you know, it just hurt. We fouled way too much. It really just was frustrating.
Q. Trav, what impressed you the most about Winslow and Okafor? The stage didn't seem to bother them at all.
TRAVIS TRICE: I think just their maturity. They didn't get rattled at all, even when we went on our run early on. They just kind of stuck to their game plan.
Q. You probably thought you'd need to have maybe your best game to beat a good Duke team. How far was this, in your opinion, from your best game?
DENZEL VALENTINE: We could have played better. But honestly it was just the times that we made bad plays that hurt us. You know, in the first half, we had turnovers and then some bad shots, then they go on a run. Then it was right before half. They had all the momentum. Then in the second half, they came out and scored a quick bucket and we missed a shot. They came out and got a bucket. It was just bad timing of how we played, you know, that hurt us.
TRAVIS TRICE: Yeah, I don't think we had our best games all around. But like Denzel said, they capitalized on our mistakes. Anytime we made one, they made us pay for it.
THE MODERATOR: Thank you, guys. Questions for Coach Izzo.
Q. As Denzel came off the court, you talked for a while. He said it was about promising to get you back here. What did you talk to him about?
COACH IZZO: It's interesting to listen to the questions. You know, you can blame me for Okafor, because personally that's exactly what we wanted to do, if we could hold him to under 20 points, take away their threes, we did exactly what we wanted to do to be honest with you. He got a couple, the two breakaway ones. In the halfcourt, I thought we did a decent job on him. This whole game came down to two things in that first half, we took a couple bad shots, those were like turnovers. We didn't do as good a job in our transition D and we got in foul trouble and we had different lineups in there. The foul trouble, I got to do a better job of coaching. It's the way it's going to be called. I got to do a better job of recruiting because I'm just going to get guys that can drive. That's the way the game has changed. I give Winslow credit. But he's five for seven. It's the free throws that killed us. So I wouldn't change how we guarded him as far as what we wanted to do. We didn't double much. We dug a little bit on him. Considering we had some guys in foul trouble and we had our doctor, Colby in there, the kid is a player. That's not what beat us. What beat us is the free throws and the turnovers. At halftime, we had two assists. We've been ranked in the top of the country in assists all year. I thought that was our fault. We moved the ball good early, a lot of good things happened. We got caught making a couple of unforced plays, that was the difference in the game.
Q. Tom, you mentioned the foul trouble, particularly with your bigs. Can you delve a little bit into how that impacted what you wanted to do against Duke.
COACH IZZO: Well, we wanted to take better shots. We had a hell of a week of practice. Went into this game believing we could win, thinking we were going to win, just because the way we practiced. You're not going to give up 37 free throws. Let's be real, at the end we fouled some. At the heart of it, the 12 for 16 in the first half, we're just not deep enough with talent that we could overcome that. Trav has been so good all year. I think he was being modest. I did not think we played very well. I think Duke had something to do with that, and Michigan State had something to do with that. You can't sit there, and the way we played these last 15 games, we moved that ball early, we got a lot of good shots. We just kind of settled. We kind of settled. That was disappointing. But we got beat by a good team, too.
Q. You said you're going to have to recruit different players if this is the way the game is going to be called.
COACH IZZO: I think it's just a drive and get fouled. You know, you're not allowed to touch anybody anymore. I was here when we had smash mouth basketball. I totally agree. I don't think that's the right way to do it. But I also don't think — I don't think anybody wants to see the best players on the bench. I mean, I don't blame the officials. I blame me. I'm on the board. It's not as much fun to coach when you're constantly telling guys, Don't touch 'em, don't move. We had some fouls we deserved, but there were to me probably some right calls, but bizarre. I don't want to complain about the fouls anymore. We got our butts beat. I still say most of it was our fault. They didn't turn the ball over, the officials or the rules. They didn't take bad shots. That was us. We did. As proud as I am of my team, I'm disappointed about that. That's just the way it is. I'm not wired real good to say that we did everything right and Duke just played good. Duke played good, Michigan State didn't play good. There are reasons both ways.
Q. After your hot start, Duke started switching defenses, they went some zone, some press. Do you think that led to a little bit of confusion? Did that hurt your offense and stagnate it a little bit?
COACH IZZO: It might have. If that's what led to the bad shots, then I'd say yes. Three of those shots were with 30 seconds left on the shot clock. We weren't forced to do it. It was our choice. I felt like we panicked a little bit because maybe certain guys that had been shooting well didn't get shots. I thought they did a good job of taking that away. I don't know. You know, the changing defenses didn't really bother us. I mean, team presses, you can't take the ball out and say, Here, and throw it to them. That's kind of ridiculous. I think it caught up with us a little bit. We're not real deep in talent. But we'll get more. We'll be better.
Q. What was the message right after the game to the team?
COACH IZZO: How proud I was of them. This team, you know, they took a lot this year, from our own fans at times, from people. I understand why. But this team played pretty well all year. We just missed a lot of free throws early. I kept saying that. I don't think anybody was drinking the Kool-Aid, but I was. And thank God I was, because I think that kept our head above water to be able to explain that. We've done this right, this right, this right. By the way, this really wrong. Not wrong, really wrong. You know, I think our defense let us down a little bit today. Maybe it's because of their good offense. I love Okafor. I think Winslow. But my favorite player on the team is Cook. He had a couple of breakaways, too, where they just threw it long. He didn't hit many shots in the corners. The things we wanted to take away, I think we did a decent job of. We just fouled too much. That put us in foul trouble. They didn't miss many free throws in the first half, and that was the difference.