Did the First Win Over Louisville Foretell the Remainder of Duke Basketball's Season?
By Randy Dunson (@RandyDunson)
[Writer's Note: The majority of this article was written soon after the first Louisville game, which they won. However, many of the sections have been brought up to date after the Tuesday night win over Wake Forest.]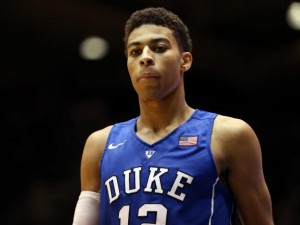 Prior to playing Louisville for the first time, the last three games to that point had been a step by step confidence boost for the young Blue Devils (currently 21-8, 10-6) in comparison to the treacherous five game stretch prior, perhaps the worst stretch in the Coach K era at Duke. It has definitely not been the season many Duke fans were anticipating fresh off of the National Championship run produced by the fabulous freshmen Jahlil Okafor, Justise Winslow, and Tyus Jones, along with senior leader, Quinn Cook.
With the hype around the incoming recruiting class, who was rated the number one overall class by ESPN with the late additions of potential number one pick, Brandon Ingram, and the reclassified point guard, Derryck Thornton, many believed there would not be an issue staying atop the college basketball world. However, this has not been the case for Coach K's inexperienced squad.
With an extremely poor start (in Duke's [fans] standards) in ACC play, Duke found out the hard way that Amile Jefferson was the one player Duke could ill-afford to lose, especially with a thin frontcourt. With tough losses to Clemson and Notre Dame, along with one of the ugliest shooting performances in Duke's recent memory against Syracuse, it could be argued that it was a bit of humbling for these young Duke players who know just about anything but losing. Over that five game stretch, Duke definitely learned a lot about itself as a team and Coach K is no dummy, he knew this team was simply not that good, again up to Duke (fans) standards, and that adjustments and learning experiences were bound to run their respective courses.
What Duke did develop during its up and down ACC schedule is a loss for complacency and somewhat of an edge that was nowhere to be found in the last few minutes of tough losses to Notre Dame, Clemson and Syracuse (or even in the loss to Miami on the road). Wins in the ACC are at a premium and definitely not easy come by. This team learned that it simply cannot just show up and win like the great Duke teams before, but a level of contribution must come from all six, rarely seven, guys in the rotation.
The win over then No.13 Louisville was no fluke. This Duke team proved that it could play with anyone when the pieces come together. NBA-bound Brandon Ingram, along with Grayson Allen and Marshall Plumlee are about as consistent as they come. You know what you are getting from these guys every night, though Ingram did go through a period of inconsistency. It comes down to the play of Matt Jones, who recently missed the rematch against Louisville due to an ankle sprain, who has been inconsistent with his offensive game, and whether or not Luke Kennard can consistently knock down the open shots created by the likes of Ingram and Allen. He has suffered on both ends of the court after several games of putting up big numbers.
The real key for Duke down the stretch is whether Derryck Thornton can take care of the ball and run the offense efficiently. People completely forget that Derryck should be a senior in high school; that is why he sometimes plays as young as he looks.
Thornton is no Tyus Jones, but he has shown improvements with little glimmers of hope against a tenacious Louisville in the first of two games. While the stats may not have been there to prove it, Thornton handled the tempo rather well in spots and made a huge bank shot as the shot clock was running down towards the end of the game, essentially sealing the Duke 72-65 victory. Every great Duke team has had a point guard to run the show and to help take over games, I am not sure Thornton can do that on his own but he has the talent around him to make things happen.
Actually, and I fully admit that I was guilty of this up until recently, is that the Most Important Player on this team right now is Marshall Plumlee. Throwing the Pitt game aside, he has been a beast for this team, and make no doubt it, he simply cannot be replaced.
The thing about this Duke team is that they have the talent to make a serious run. The depth? Maybe not so much without Amile Jefferson in the picture, whose season could become tarnished to a lengthy foot injury with still no timetable of full recovery.
Just take a second to think about "underperforming" regular season teams that have made longer-than-expected tournament runs in recent years. This Duke team could be compared a lot to the likes of the 2014 Kentucky team who underachieved during the regular season, losing its fair share of games in a weaker SEC. That Kentucky team found its stride just in time for the tournament, while putting all the growing pains aside to eventually lose to the Shabazz Napier-led "team of destiny" Connecticut Huskies.
Am I saying this Duke team will find itself in National Title contention? Not at all. However, this Duke team has grown at a fast pace. Maybe not as fast as many Duke fans would hope for, but after wins over then No. 7 Virginia and then No. 9 North Carolina, there was certainly renewed hope. Then, things came to an abrupt end again after losing the rematch with Louisville, but the growth was/is there when looking back to a week or two prior. The second game was somewhat unique in that Matt Jones was out with an injury then Thornton missing most of the second half with a shoulder bruise. This essentially left them with a five-man squad. The reality, albeit some questionable officiating, this team was simply too tired to close out another close game with a win. It has been evident in the last several games that Duke will be right back in the thick of things.
So, let us quickly summarize what has happened since the Louisville rematch then we will look at some scenarios as Duke moves into postseason play. Duke first came back to Cameron to win by 15 points over Florida State. Just three days later, Duke literally ran into a brick wall in the form of the Pitt Panthers. The 76-62 score did not even do justice to the method that Pitt completely decimated the Blue Devils. A mere two days later, Duke had to mount a furious second half comeback against a feisty Wake Forest team. Leading up to the final regular season game of the year, against UNC at Cameron, the Blue Devils did a good job of playing a brutal schedule in the face of continuing adversity.
Now, let us look at some best- and worst-case scenarios for the rest of Blue Devils' season.
When they had the 63-62 win over Virginia, Duke had thrown itself back into the race for the ACC title only a few weeks after it seemed like the 2015-16 season was headed for disaster.
That doesn't mean all will go well from here on out, though, as we've seen how quickly things can go from good to bad (or vice versa) for the Blue Devils and almost every other top college basketball program.
So much can still happen, not just in the regular season but also once the postseason begins.
Based on what has occurred to this point and how things are trending, here are some potential scenarios that explain the best or worst for Duke over the remainder of 2015-16.
Regular Season – Best Case
With just one game left in regular season, against UNC, Duke is 21-8 overall and 11-6 in the ACC, in solo fourth and two games back of first-place North Carolina, who are tied with Miami first. With a win over UNC, this Saturday coupled with a Miami win over Virginia Tech would drop UNC to second in the race for the regular season title.
We can look at this in retrospect just to see what have might have been when this article was first being drafted…Duke's remaining six regular-season games were equally split between home and the road, with three of four away from Cameron Indoor Stadium and then two straight in Durham. Three of the games were against teams the Blue Devils are either tied with or trailing in the ACC standings, which meant the opportunities were there to challenge for the conference title.
The key games were the two against North Carolina, on the road, and to finish things out on March 5 at home.
Win both of those, and Duke had a real shot to win the league, but without a second game against Miami, which beat the Blue Devils on January 25, it would need the Hurricanes to lose at least twice to finish ahead of them in the standings.
A 6-0 finish would have put Duke at 14-4, which would guarantee a top-four finish and a double bye in the ACC tournament. Going 5-1 would have likely done the same since Louisville will be removed in the final standings, and thus being in the top, five at the end of the regular season would have allowed the Blue Devils to get the first two days of the tourney off.
Having that extra day to rest before playing up to three straight days would have been essential for the thin Blue Devils.
Regular Season – Worst Case
We are still looking at this section retrospect fully as above, but the scenarios are telling.
Duke is 4-2 on the road this season, which is the best mark by percentage of any team in the ACC. However, the two most difficult road games to that point, at Clemson and Miami, resulted in losses, while the Blue Devils' road wins were over the bottom four teams in the conference.
What remained on the road were trips to Louisville, North Carolina and Pittsburgh, teams that are 41-4 at home. Expecting Duke to be able to win in all three of those locales was asking a lot of this thin team, and losing at least two of them is very likely, which is what happened.
Therefore, too, could fall to North Carolina at home to end the regular season, which would have leaded to no better than a 3-3 finish down the stretch. That would put the Blue Devils at 11-7 and have them finish somewhere between sixth and ninth place.
Even with removing Louisville from the equation, since the Cardinals are not eligible for the ACC tournament, Duke would still have to play on the second day of the tourney and thus would be facing as many as four straight days of games.
ACC Tournament – Best Case
The Blue Devils head to Washington, D.C. as one of the hottest teams in the conference, a roll that continues in the ACC tournament. They can get an added boost with the return of senior forward Amile Jefferson, who hasn't played since mid-December because of a foot injury, but given recent information his return at all this year is doubtful. That scenario has led to him possibly redshirting but I will cover that separately.
The run will end in that title game, though, with Duke losing to North Carolina, Miami, or Virginia. , the momentum will remain heading into the NCAA tourney.
ACC Tournament – Worst Case
Regardless of Duke's seed in the ACC tournament, it will be coming in with three or four days of rest before that initial game. However, that time off will not be enough to counter the desperation mode that its first tourney opponent is in.
While the Blue Devils should be safely in the field, others such as Clemson, Florida State, Pittsburgh, or Syracuse will all enter on or near the zone. Winning that first game will be critical for their NCAA chances, and that sense of urgency will lead to a spirited performance that Duke cannot counter.
An early exit will not bode well for NCAA seeding, though in reality the extra time off will help Duke rest up and be better prepared for March Madness.
NCAA Tournament – Best Case
Leading up to the Carolina game, the latest projections tabulated by BracketMatrix.com have Duke looking at a No. 4 seed for the NCAA tournament.
However, a hot finish to the regular season and a strong performance in the ACC tourney raise the Blue Devils to a No. 3, which is good enough to keep them from having to leave the state for the opening weekend of the Big Dance.
A pair of wins in Raleigh, North Carolina, will send the Blue Devils to their 29th all-time Sweet 16 and sixth since 2009. However, that next round will find Duke, no longer the higher-seeded team, as an underdog for the first time in the tournament.
The Blue Devils will have one more victory in them, pulling an upset to reach their 21st Elite Eight and be the first defending champion since Florida in 2006-07 to get past the Sweet 16 the following season.
Going further will not be in the cards, though.
NCAA Tournament – Worst Case
With an overall record that includes 10 losses, its most since 2006-07, a No. 6 or 7 seed will put Duke in a position in March that it hasn't been in for some time; that of a non-contender. And though the wide-open nature of the 2015-16 season has made it so there are no sure bets for the Final Four, the Blue Devils won't be included in that mix.
Duke will get shipped out of the region, to either Denver or Oklahoma City, and its season will end in that locale.
The Blue Devils go down in the first round, their third exit that early in the last five seasons. Within days of the national title defense coming to an end, freshman forward Brandon Ingram definitely declaring for the NBA draft and the outside possibility that sophomore guard Grayson Allen follow. Personally, I do not see the latter happening. While it may mean nothing, there has been little chatter that Grayson will leave.