Game Preview
[Note: Please direct comments, suggestions, etc. to @RandyDunson]
Duke Blue Devils (5-1, 0-0] vs. Utah State Aggies (4-0, 0-0]
Sunday, November 28, 2015 • 12:30 PM • ESPNU • Durham, NC • Cameron Indoor Stadium
By Randy Dunson

1. Team Overviews
Winners of three in a row, No. 6/3 Duke will look to remain undefeated at home when it hosts Utah State in the schools' first-ever meeting. Duke has the second-best winning percentage (.837) and second-most wins (190) in the NCAA since the start of the 2009-10 season. Duke has won 282 of its last 301 games at Cameron Indoor Stadium and is 98-4 (.961) at home this decade. The Blue Devils have won an NCAA-best 119 consecutive non-conference home games, a streak that started in November 2000. Ranked sixth by the Associated Press, the Blue Devils have been ranked in the AP poll an NCAA-best 158 consecutive weeks, the seventh-longest streak in NCAA history.
Led by Grayson Allen's ACC-leading average of 22.7 points per game, four Duke players are averaging double figures and the Blue Devils lead the nation in adjusted offensive efficiency (118.3). In three games with freshman point guard Derryck Thornton in the starting lineup, Duke has averaged 81.7 points and 31.3 free throw attempts per game. Amile Jefferson ranks fourth nationally in offensive rebounds per game (5.3) to lead a Duke squad that boasts a 39.4 offensive rebound percentage. Matt Jones is the only Duke player to score in double figures in all six games. For his career, the Blue Devils are 12-1 when Jones scores in double figures
Probable Starters (The starting lineup has changed in each of the four three games so this is my best guess)
Guard – Sophomore Grayson Allen
Guard – Freshman Derryk Thornton
Forward – Freshman Brandon Ingram
Forward – Senior Amile Jefferson
Center – Grad Student Marshall Plumlee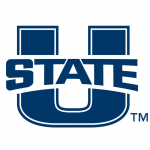 Utah State will take its second road trip of the year and face defending national champion Duke on Sunday, November. 29 at 12:30 PM ET.
Duke is the third of five first-time opponents for Utah State this season. The Aggies posted victories over Adams State (83-68) and Union (Tenn.) (73-49) and will face Missouri State and North Dakota State on December 1 and December 23, respectively. The game with Duke marks the second time that the Aggies have faced the defending national champion, falling to UConn (75-67) in the opening round of the NCAA Tournament in 2000.
Utah State is 2-7 all-time against the ACC, posting victories over Georgia Tech (67-62) and Pittsburgh (54-50) during the 1960-61 and 1949-50 seasons, respectively. Many of the losses have been close, falling in five games by three points or less.
Utah State has had four coaches post five consecutive victories in their first year of coaching over their first five games, including E. Lowell Romney (5), D. D. Young (5), Ladell Anderson (8), and Stew Morrill (5). Ladell Anderson holds the longest winning streak among first-year head coaches in Utah State history, picking up victories in each of the first eight games of his inaugural season in 1961-62.
Utah State's bench has recorded more points than its opponents' reserves in each game this season. The Aggies hold a 125 to 68 advantage in bench scoring after three games. Their bench has recorded a larger percentage of rebounds that the USU starters this season. The Aggie reserves have recorded 87 rebounds (51.5%) to the starters' 82 rebounds (48.5) after four games.
The Aggies have outrebounded each of its opponents this season and holds a plus-11.5 advantage on the boards so far during the 2015-16 campaign.
Utah State has posted 214 first-half points to the oppositions' 182 so far this season. The Aggies have outscored their opponent by an average of 15.0 points in the first half over the first four games of the season.
Probable Starters
Guard – Senior Darius Perkins
Guard – Sophomore Julion Pearre
Guard – Senior Chris Smith
Guard/Forward – Junior Jalen Moore
Forward – Sophomore Elston Jones
 2. Last Time Out

Duke
When No. 6 Duke needed a spark, the Blue Devils asked their longest, most athletic freshman to spread his arms on defense and create some havoc. Brandon Ingram scored 15 points and played a key role in the defensive switch that helped Duke pull away and beat Yale 80-61 on Wednesday night.
Matt Jones had 17 points and Grayson Allen scored 14 for the Blue Devils (5-1), who jumped into a 1-3-1 zone defense — with the 6-foot-9 Ingram as the front man — to shake off a lethargic start. Freshman Luke Kennard finished with 12 points for the Blue Devils, who finally took control with a 17-2 run during a 5 1/2-minute span that bridged the halves. Duke outscored Yale 42-25 in the second half.
Justin Sears scored 19 points and Makai Mason had 13 points for the Bulldogs (3-2). The preseason favorites in the Ivy League led for all but 90 seconds of the first half but shot just 30 percent after the break.
The clear difference was Duke's switch late in the first half to that zone defense with Ingram disrupting Yale's ballhandlers, getting his 7-3 wingspan into passing lanes and pestering the perimeter shooters.
Yale, which shoots 40 percent from 3-point range, was just 4 of 15 in this one. Duke finished with 12 steals and forced 13 turnovers, turning them into 16 points.
That defensive pressure sparked the game-turning run, with the zone forcing turnovers on consecutive trips down court that Duke turned into transition buckets. Ingram later took a steal coast to coast for a layup that gave the Blue Devils their first double-figure lead at 48-38 with 16:43 to play. Allen capped the decisive run with a layup on the next possession. They eventually pulled away, pushing the lead into the 20's on a jumper with 2 1/2 minutes left by Amile Jefferson, who finished with 12 rebounds.
Notables:
Allen was due for a step back on the stat sheet. He was coming off consecutive 30-point games at Madison Square Garden, scoring 30 against Virginia Commonwealth and a career-best 32 two nights later against Georgetown. In this one, Allen was 4 of 10 from the field and 6 for 6 at the line
The Blue Devils had to work for it, but they managed to extend their streak of nonconference wins at Cameron Indoor Stadium to 119, a string that dates to 2000
They are 98-4 at Cameron during this decade
The Bulldogs were trying to beat a reigning national champion for the second straight season
They knocked off Connecticut last year on a 3-pointer by Jack Montague in the final seconds
Utah State
In its final tune-up before taking on defending national champion Duke, the Utah State men's basketball team easily handled in-state rival Utah Valley 81-55 on Tuesday night at the Dee Glen Smith Spectrum.
Senior guard Chris Smith led all scorers in the game with 17 points, while Lew Evans recorded his first career double-double off the bench with 15 points and 14 rebounds, to help the Aggies (4-0) wrap up a perfect three-game homestand. Junior forward Jalen Moore chipped in 11 points and five rebounds for Utah State.
Former Aggie Konner Frey, who transferred to Utah Valley at the end of the 2014-15 season, led the Wolverines (2-3) with 14 points on 5-of-14 shooting from the field. Dayon Goodman added 10 points off the bench for Utah Valley, while another former Utah State player, Marcel Davis, finished with eight points, six rebounds, and four assists.
Chris Smith, who grabbed six rebounds, was 7-for-10 from the field and Evans was 6-for-11. The Aggies, who shot 54.5 percent on the night, were never threatened in the second half as they led by as many as 29 points.
Utah Valley could not get anything going offensively after halftime. The Wolverines missed 13 of the first 15 shots they took from the field in the second half and were just 7-for-27 during the final 20 minutes of play.
The Aggies used a 20-6 run to surge in front for good. Evans helped key the game-changing spurt as he scored seven points, the final three coming on a 3-pointer from the left wing that gave Utah State a 26-16 lead with 9:00 remaining in the half.
Ten different Aggies scored at least three points in the game, while nine different players had at least one assist, including five by junior guard Shane Rector. Utah State had 19 assists on 30 field goals.
The Aggies improved to 11-0 all-time against the Wolverines, including a 6-0 mark at the Spectrum.
Notables:
3-point goals: 6-15 (Smith – 2-4; Pearre – 1-2; Moore – 1-1; Evans – 1-3; Cureton – 1-1; Perkins – 0-1; Rector – 0-1; Moore – 0-2)
Fouled out:-None
Rebounds: 46-25 (Evans -14)
Assists: 19-12 (Rector – 5)
Total fouls: 20-19
3. Head-to-Head
Sunday's contest is the first time the teams have met on the basketball court. However, Utah State is no stranger to the ACC. Utah State is 2-7 all-time against the ACC, posting victories over Georgia Tech (67-62) and Pittsburgh (54-50) during the 1960-61 and 1949-50 seasons, respectively. Many of the losses have been close, falling in five games by three points or less. The most recent game that was played was during the 1997-98 season with a loss to Florida State.
In terms of a few key offensive and defensive statistical parameters, these two teams are evenly matched. Both are efficient in shooting the ball. Duke is the better 3-point shooting team, however Utah State defends the arc better. The Aggies have the edge in RPG & APG. The Blue Devils force their opponents into making more turnovers per game. Based on stats alone, this game is another toss-up head-to-head.
| | | |
| --- | --- | --- |
| Duke | 2015-16 Regular Season Key Stats Comparison | Utah State |
| 85.5 (+12.3) | PPG (Scoring Margin) | 77.5 (+16.8) |
| 73.2 | Opponents PPG | 60.5 |
| 54.4 | Effective FG% | 54.8 |
| 47.8 | FG% | 49.2 |
| 45.6 | Opponent FG% | 39.4 |
| 37.0 | 3PT FG% | 31.0 |
| 39.2 | Opponent 3PT FG% | 33.3 |
| 36.8 (+5.2) | RPG (Rebound Margin) | 42.3 (+11.5) |
|                              33.7 | Opponent RPG | 32.8 |
| 69.2 | FT% | 65.3 |
| 11.8 | APG | 17.2 |
| 7.1 | SPG (%) | 10.1 |
| 10.6 (+3.2) | Turnovers Per Game (Margin) | 14.0 (-1.2) |
| 19.5 | Opponent TOPG | 16.7 |
| 5.5 | BPG | 3.5 |
4. Four Factors to Winning
[If you wish to learn more about how the four factors are calculated and implemented, a description can always be found here,
https://www.dukeblogger.com/four-factors-winning/
.] [Please note that the graphical depiction is forthcoming.]
Duke has the edge in three of the four factors. When it comes to shooting the ball more efficiently, the Aggies  edge is 56.0% vs. 54.4%. Duke has a large edge in handling the ball is 15.1% vs. 21.0%. The Blue Devils have a significant edge when it comes to getting to the free throw line, 59.1% vs. 29.3%. Finally, Duke has the edge in offensive rebounding (39.4% vs. 33.3%).

5. Key Points to Consider
First, a few points regarding both team's overall profile at this point:
Duke
Highly efficient attack
Defensively challenged, particularly dribble penetration
Has trouble stopping the 3
Handles the ball well (TO%)
Utah State
Highly efficient attack
Stingy defense
6. Endgame
Let me be very clear. Regardless of record, conference, or completion thus far, this may very well be the most dangerous team that Duke has played thus far.
The Aggies are trying to start 5-0 for the fourth time in the past 15 seasons. They come off an 81-55 win over Utah Valley. Utah State are led by senior G Chris Smith (16.8), junior F Jalen Moore (13.3), and junior F Lew Evans (11.3). Moore has reach double-figures in 14 of his last 15 games, and 31 of the past 33.
However, the endgame for The Aggies is that they have the size to keep up with Marshall Plumlee and Amile Jefferson up front. They also have quality guard play and experience, which is a huge factor when you are getting many points at Cameron Indoor Stadium. This is another good Duke team, but it will take them awhile before they are a very good team.
Utah State has opened up with a 4-0 record, but that has been against Utah Valley State (81-55), Union (Tn.), Adams State and Weber State. They will have a much tougher time against Duke on the road, which is coming off an 80-61 win over Yale at home on Wednesday.
The Aggies are coming off an 18-13 season and 11-7 division record in the Mountain West with five returning starters. This appeared to be a perfect situation for new coach Tim Duryea. However, 6-8 sophomore forward David Collette decided to transfer two days before their season began. Colette was recovering from a foot injury, but was expected to contribute. He averaged 12.8 points and five boards last season and was known as an excellent defender. Sophomore Elston Jones (6-9, 240) has had to step up, and has done a solid job, averaging 6.5 points and 4.5 rebounds. Senior guard Chris Smith leads the way with 16.8 points per game, while shooting 60.5 percent from the field and 50 percent from beyond the arc. Lee Evans (6-8, 235) adds 11.2 points and 5.8 rebounds, while shooting 57 percent from the field.
Duke has not quite put it all together yet. Duke is led by sophomore guard Grayson Allen, who averages 22.7 points per game, and shoots 51 percent from the field, 50 percent from beyond the arc, and 91.1 percent from the line. Against Yale, guard Matt Jones led the Blue Devils with 17 points. Freshman forward Brandon Ingram came off the bench to score 15 points, but shot just 1-of-6 from the field. While they don't have three great freshmen this season, they do have the 6-9 Ingram, who is averaging 11.3 points, but is shooting just 38.1 percent from the field, 24 percent from beyond the arc and 53.8 percent from the line. Duke averages 85.5 points per game, shoots 47.6 percent from the field and 37 percent from the three-point line.
The Utah State Aggies are expected to make some noise in the MWC but they still have something to prove as their 4-0 record has been built on soft competition. The Aggies are coming off of an 81-55 rout of Utah Valley where the lead was 13 after 20 minutes with the Wolverines held to 34% shooting. USU countered with 54.5% accuracy that totaled eleven more field goals. Chris Smith scored a contest high 17 points and snagged six boards followed by a 15 point, 14 rebound effort from Lew Evans. Jalen Moore netted eleven points but points were plentiful from a number of sources.
This could be a 25-point win but I am always leery of teams like this, regardless of so-called "soft completion to date. I will be optimistic & state that Duke pulls out a 75-70 win.