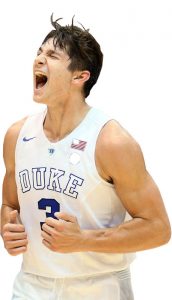 You can blur the background of a photograph by adjusting the aperture, and sometimes those adjustments can magically bring everything else into focus. Grayson Allen, Duke's lone senior, is hoping to get beyond the headlines that have followed him around for the past two years. The incidents and outbursts have been well documented and, at times, they have overshadowed near-hero efforts on the court. In the age of social media and sports outlets much more interested in clicks than substantive sports journalism, they had their villain. Words like "spoiled," "head case" and "mental" were thrown around. It's not to say that Grayson Allen wasn't fully responsible for every bit of it; he was. The hero from the 2015 National Championship game, who willed his Blue Devils to the win, was gone. He was the tripper. A meme. Stripped of his captaincy and possibly supplanting Christian Laettner as the most hated Duke player ever.
Through it all, Allen has seen teammates graduate, get drafted, transfer. He's been suspended, injured, drawn the ire of basketball fans, the media, and his coach at times, and he is now the face of Duke Basketball – good or bad, or perhaps good and bad.

Through the ups and downs, and there have been plenty of both, Duke has been Allen's constant, his solace. Now entering his 4th season, fresh off of surgery and feeling healthy for the first time in a long time, Allen is set to take his place among the best in college basketball with a new team but the same mission. In 2015, Grayson Allen entered the title game as an afterthought who opened eyes with his explosiveness, drive, and competitiveness. In the two years after being a hero, he was labeled a villain, a hopeless unhinged brat coddled by Coach K.  Allen wants to be the player people talk about again, but this time for all the right reasons. With all the focus being on stellar recruiting classes and 5-star players, we all know Duke will only go as far as their senior star will take them. If Allen can return to the form that had him in discussions for player of the year, the player that former Duke forward Justise Winslow called "a dog," Duke will come into this season with a huge advantage.
Grayson is ready to adjust the size of the aperture and hopefully, as the picture develops, words like "brat" and "villain" will fade into the background and words like "veteran," "teacher," and "leader" will materialize. We don't often get second chances in life, less common are third chances, but Grayson Allen has the chance to change the narrative and write his own final act this season.
[x_video_embed type="16:9″][/x_video_embed]
[x_video_embed type="16:9″][/x_video_embed]