Duke looked like what you'd expect a preseason team to look like: sloppy, disjointed and a little rusty. Still the number one team in the land was able to win 90-59 against a scrappy Virginia State team. This team was another great scheduling move by Coach K – this team was the kind of team that typically gives Duke teams fits. A team with a lot of athletic players, able to take off the dribble but Duke's defense held for the most part. Anchored by Marques Bolden in his first time against live non-Duke competition registered 5 blocks, 2 steals and 11 rebounds to go with this 13 points.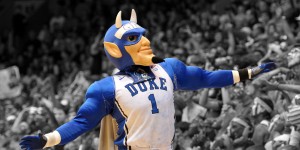 The night, however, belongs to sophomore Luke Kennard who dropped 30 points on 8-17 shooting. Kennard looked much more comfortable on the floor and played with a quiet confidence. Kenanrd hunted for his shot but did so in the flow of the offense.
Matt Jones went down 3 minutes into the game with a hamstring injury so Duke was forced into some non-traditional lineups and may have went deeper into the bench than originally planned. This could very well be a blessing in disguise for players like Chase Jeter, Javin DeLaurier and Jack White. Sometimes depth is acquired by necessity.
There were some real brights spots for this Duke team in addition to a player like Luke Kennard scoring 30, a player who may not even have a staring role on this years team – also freshman Marques Bolden impressed with not only his inside scoring prowess but moreover his discipline on defense. The freshman showed a mature ability to defend the paint and move his feet effectively. Javin DeLaurier was another bright spot as well, the freshman scored 7 points and had 2 blocks in 18 minutes. The freshman looked comfortable on both ends of the floor even blocking a shot and gathering and going the length of the floor for a dunk.
Anyone tuning in expecting to see a finished product was sorely disappointed as there are a lot of things for this Duke team to clean up.
– Duke did not gain, despite a decided size advantage, a huge edge in rebounding. Duke will need to get more from it's guards in that department.
– Turnovers were not Dukes friend. Duke drew even with the Spartans at 16, some of which is due to a lack of solid PG play. Frank Jackson logged 5 turnovers to his 4 assists but also scored 17 points. He will have to fine tune his handle and decision making going forward.
The Blue Devils return to action Friday, Nov. 4, welcoming Augustana (S.D.) to Cameron Indoor Stadium for Duke's final exhibition game.