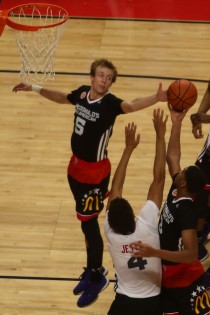 Soon to be heading to the prestigious Duke University, Ohioan Luke Kennard was named last Friday as the Parade National Player of the Year. Hailing from Franklin High School, Luke becomes the third Duke player in three years to receive the accolade, Jahlil Okafor and Semi Ojeleye having received the prestigious honors in 2013 and 2014, respectively.
It's just another rosy day for the exceptionally talented player. Luke Kennard ranked number 2 in the state with 2,764 points, averaging 38.4 points per game as a senior, leading his team to a 26-2 record and 86-11 during his four years at Franklin High School. Kennard scored 50 points in an astounding five games this year, propelling him to a level that many professionals would be envious of. That's not to say that this will be the apex of the Luke's basketball career. The Duke Blue Devils men's basketball team has the fourth-highest number of wins of any NCAA men's basketball program and Luke Kennard will have an exceptionally good chance at going pro if he continues his current arc of improvement, joining high flying players that include Lance Thomas, Carlos Boozer and the ever-excellent Luol Deng.
Deng was in the spotlight back in April when news surfaced that the player would be spearheading the first ever South African NBA game in Johannesburg, an exhibition game taking place on the 1st August. Deng, who plays for the Miami Heat squad, was born in South Sudan, and will be playing as the captain of Team Africa in the Team Africa vs. Team World match, facing off in his captaincy against LA Clippers guard Chris Paul.
The event looks set to massively boost the image of basketball on the continent, where up until now sports such as rugby and soccer have been far more popular. Fans of all colors will be heading to the excellent city, home to all manner of cultural, sporting and entertainment delights, the Montecasino likely being a regular haunt in the days surrounding the match for players and fans alike. If you're heading to Johannesburg, make sure to get some practice in on the flight over at Black Diamond Casino first – courtesy of Yeboyes Casino. You wouldn't want to find yourself at a table with Deng himself, only to lose all of your cash now, would you!
The match isn't purely for the sport though. A percentage of the proceeds will be sent in support of Boys & Girls Clubs of South Africa, SOS Children's Villages Association of South Africa, and the Nelson Mandela Foundation. Let's hope that this is the first of many NBA games on the African continent.