Per Duke Sports Information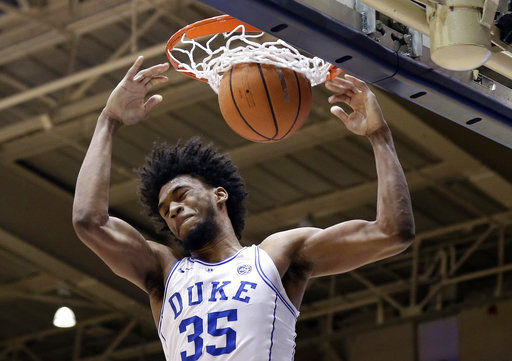 DURHAM, N.C. – Duke freshman forward Marvin Bagley III has been selected as one of four national finalists for the 2018 Citizen Naismith Trophy, which is presented annually to the player of the year in men's college basketball.
The Atlanta Tipoff Club unveiled the four finalists for the 50th presentation of the Citizen Naismith Trophy on Tuesday, which include Bagley, Arizona's Deandre Ayton, Kansas' Devonte Graham, and Villanova's Jalen Brunson. Each were their respective conference Player of the Year.
Celebrating its 50th year by honoring past winners, the Citizen Naismith Trophy has been presented to 45 unique winners at 31 schools over the last 49 years, starting with its first presentation to UCLA's Lew Alcindor, now known as Kareem Abdul-Jabbar, in 1969.
In the history of the award, only two freshmen have won it — Kevin Durant (Texas) in 2007 and Anthony Davis (Kentucky) in 2012. Ayton and Bagley seek to become the third freshman to win the award, and if Bagley wins, he would join seven other players from Duke, the school with the most Citizen Naismith Trophies, the last being J.J. Redick in 2006.
Fans will have a chance to make their mark on this celebratory season with the fan vote. Beginning March 19 and running through March 30, fans will be able to cast their vote for their favorite player by visiting www.naismithtrophy.com/vote to help determine the winner. The fan component makes up five percent of the overall vote.
The 2018 Citizen Naismith Trophy winner will be announced on Sunday, April 1, at the Naismith Awards Brunch at Pearl Stable in San Antonio. The Naismith Awards Brunch will be simulcast on SiriusXM channel 84 and be streamed using Facebook Live through the Naismith Trophy Facebook page.
About Marvin Bagley III
Bagley is just the second player ever in the ACC's 65-year history to sweep the conference for top individual awards in the same season, winning both Player of the Year and Rookie of the Year…The forward from Phoenix, Arizona, leads the ACC in scoring and rebounding…He is one of only two players in the country averaging better than 20.0 ppg, 10.0 rpg and shooting better than .600 from the field… Bagley enters the NCAAA Tournament with 21 double-doubles, 10 of which came in conference play, and scored in double figures in 28 of the 29 games he has played.
No. 9 Duke (26-7) holds the No. 2-seed in the Midwest Region and battles Iona in a first-round game in Pittsburgh on Thursday at 2:45 p.m. ET on CBS.