Game Preview
Duke Blue Devils (33-4] vs. Michigan State (MSU) (27-11] Spartans
Saturday, April 4, 2015 • 6:09 PM (ET) • TBS • Indianapolis, Ind. • Lucas Oil Stadium • NCAA Tournament Final Four
By Randy Dunson
1. Snapshot
Duke
Duke (33-4, 15-3 ACC) faces Michigan State (27-11, 12-6 Big Ten) Saturday, April 4 at Lucas Oil Stadium in Indianapolis. Tipoff is set for 6:09 p.m. (EST) with Jim Nantz, Bill Raftery, Grant Hill, and Tracy Wolfson calling the action for TBS. The Blue Devils were tabbed the No. 1 seed in the South Region. Duke has received a No. 1 seed 13 times, second most in NCAA Tournament history. The Blue Devils are 49-9 (.845) as a No. 1 seed in the NCAA Tournament. Duke is 103-34 (.752) all-time in NCAA Tournament play, including an 86-26 (.768) mark under head coach Mike Krzyzewski. Mike Krzyzewski has led Duke to the Final Four 12 times, tied for the most in NCAA history. Krzyzewski is 8-3 (.727) in national semifinal games. The Blue Devils enter Saturday's game ranked No. 4 in the AP Poll and No. 5 in the USA Today Coaches Poll. Duke is 79-15 (.840) overall when ranked No. 4 in the AP Poll. Duke is playing its 291st consecutive game as a ranked team in the AP Poll. The Blue Devils are 241-49 (.831) in that span. Michigan State is ranked No. 23 in the AP Poll and No. 22 in the Coaches Poll. Duke is 8-2 (.800) all-time against the No. 23 team in the AP Poll. Duke is 9-2 (.818) on the year against ranked opponents, including a 5-1 (.833) mark against teams ranked in the top 10 of the AP Poll. The Blue Devils are 8-2 (.800) in NCAA Tournament play in the state of Indiana. Duke is 7-2 (.778) in Indianapolis, including a 3-1 (.750) mark at Lucas Oil Stadium. Duke completed NCAA Tournament championship runs in Indianapolis in 1991 and 2010. Duke has limited its four NCAA Tournament opponents to 53.5 points per game on 36.8 percent (86-of-234) shooting from the field. The Blue Devils are shooting 50.0 percent (105-of-210) from the field, including 42.9 percent (27-of-63) from three-point range in NCAA Tournament play.
Michigan State
Michigan State is making its ninth trip to the Final Four in school history, including its seventh under Tom Izzo. MSU's seven Final Four appearances in the last 17 seasons rank as the most in the nation. This is MSU's third Final Four in Indianapolis, including capturing the 2000 NCAA Championship. The Spartan's are the fourth team (North Carolina, UCLA, Duke) to appear in seven Final Fours in any 17-year span, and just the third (North Carolina, Duke) since the tournament expanded to 64 teams in 1985. Coach Izzo and Duke head coach Mike Krzyzewski are the only two coaches to lead their teams to seven Final Fours in a 17-year span since the tournament expansion. Overall, the Spartans are making their ninth appearance in a Final Four (1957, 1979, 1999, 2000, 2001, 2005, 2009, 2010, and 2015), good for the eighth most all-time. MSU is 5-7 in Final Four action, having won the national title in 1979 and 2000. Tom Izzo's seven Final Four appearances rank tied for fourth all-time and tied for second among active coaches. UCLA's John Wooden and Duke's Mike Krzyzewski rank tied for first with 12 trips, followed by North Carolina's Dean Smith with 11. Rick Pitino and Roy Williams also have made seven trips to the Final Four. Since Tom Izzo became head coach in 1995-96, no other coach has made as many six trips. This is the third time Izzo has led an MSU team seeded No. 5 or lower to the Final Four, ranking first all-time (No. 5 seed in 2005 and 2010). In the NCAAT, Michigan State's defense is holding opponents to 61.2 points on .339 shooting, including just .237 from 3-point range. Three Spartans are averaging double-figures in scoring, including Travis Trice (19.8 PPG), Denzel Valentine (13.3) and Branden Dawson (11.0). MSU is averaging just 8.0 turnovers. The Spartans are shooting .388 from behind the arc, with Travis Trice (13-32), Bryn Forbes (9-17) and Denzel Valentine (8-23), shooting a combined .417 (30-72).
2. Last Time Out
Duke
In its last outing, No. 2 seed Gonzaga (35-3) had taken a 38-34 lead less than four minutes into the second half, putting the Blue Devils in their largest deficit of this tournament. Young Duke responded with nine straight points and never trailed again. However, Gonzaga later missed a chance to tie the game when Kyle Wiltjer missed an open layup with just less than five minutes to play. Matt Jones, a sophomore starter for the Blue Devils, had 16 points with four 3-pointers. Quinn Cook, the senior guard who was part of Duke's opening-round upset losses in 2012 and 2014, had 10 points. Winslow's 3-pointer from the left wing with 2:28 left stretched the lead to 60-51 in a homecoming for the forward, who turned 19 on Thursday. After coming down awkwardly on a missed layup less than eight minutes into the game, Winslow got his left ankle rewrapped but was not out long. Wiltjer, the transfer from Kentucky who as a freshman was part of the Wildcats' 2012 national championship, had 16 points. Byron Wesley had 10. Duke's go-ahead stretch included a tiebreaking 3-pointer by Matt Jones on an assist from Tyus Jones, who then had a nifty play to get Duke the ball back. Przemek Karnowski had grabbed a defensive rebound before being stripped by Jones, who leaped in the air for the loose ball and dropped it straight down on Karnowski, laying out of bounds. Okafor then made a jumper.
Michigan State
In its last outing, Michigan State escaped Louisville in an overtime game 76-70 to move on to the Final Four. MSU improved to 7-2 in the Elite Eight under Tom Izzo. The Spartans rallied from an eight-point halftime deficit after Louisville had won 94 straight games when leading by six or more points at the half. Denzel Valentine and Travis Trice became the first Big Ten teammates to record at least 15 points, five rebounds, and five assists in the NCAA Tournament regional final or Final Four since Ohio State's Scoonie Penn and Michael Redd did it in 1999. After allowing Louisville to shoot 53.1 percent in the first half, MSU held the Cardinals to 20.0 percent shooting in the second half, as U of L scored just one basket in the half court, with that coming with just 3:38 remaining. MSU improved to 21-4 in the second game of an NCAA Tournament weekend under Tom Izzo. With 11 rebounds, Branden Dawson moved into seventh place in MSU history with 895 career boards. Michigan State played its eighth overtime game of the season, improving to 3-5. The Spartans improved to 4-1 under Tom Izzo in Elite Eight games in which it trailed at halftime.
Duke vs. MSU – Round 1
Very early on in the season on November 18, 2014, Duke defeated Michigan State, 81-71 in the 2014 Champions Classic at Bankers Life Fieldhouse in Indianapolis. Quinn Cook led four Blue Devils in double figures with 19 points. Duke shot 54.0 percent from the floor and turned 13 MSU turnovers into 24 points. MSU shot 50.0 percent from the field, and held an 11-3 edge in second-chance points with a 35-25 edge in rebounding. However, the Spartans shot just .250 from 3-point range. Branden Dawson led MSU with 18 points and nine rebounds, but played just 29 minutes due to foul trouble, while fouls also limited Denzel Valentine (13 points) to 27 minutes. Duke led by just three points (51-48) after two Valentine free throws with 12:19 remaining.
3. Head-to-Head
Duke leads the all-time series against Michigan State, 9-2, including a 6-2 advantage on a neutral court. The last six meetings in the series and eight of the last nine, have all been decided by 10 points or less. The Spartans' last win in the series was a 78-68 victory in the Sweet 16 of the 2005 NCAA Tournament in Dallas. Since then, Duke has won four straight. Duke is 3-1 vs. MSU in the NCAA Tournament. The two teams met previously in the Final Four in 1999, Izzo's first Final Four, with Duke winning, 68-62.
In terms of a few key offensive and defensive statistical parameters, Duke leads MSU in most giving the Blue Devils a statistical edge head-to-head.
| | | |
| --- | --- | --- |
| Duke | 2014-15 Regular Season Key Stats Comparison | Michigan State University |
|                      79.5 (+15.2) | PPG (Scoring Margin) | 71.4 (+8.2) |
| 64.3 | Opponents PPG | 62.2 |
| 56.8 | Effective FG% | 53.4 |
| 50.2 | FG% | 46.7 |
| 42.3 | Opponent FG% | 39.3 |
| 39.0 | 3PT FG% | 38.6 |
| 31.3 | Opponent 3PT FG% | 31.6 |
| 36.9 (+5.6) | RPG (Rebound Margin) | 37.5 (+5.6) |
| 31.3 | Opponent RPG | 31.9 |
| 15.4 | APG | 16.7 |
| 7.2 | SPG | 5.2 |
| 11.0 (1.5) | Turnovers Per Game (Margin) | 11.2 (0.5) |
| 12.5 | Opponent TOPG | 10.8 |
| 3.8 | BPG | 4.6 |
4. Four Factors to Winning
[If you wish to learn more about how the four factors are calculated and implemented, a description can always be found here,
https://www.dukeblogger.com/four-factors-winning/
.]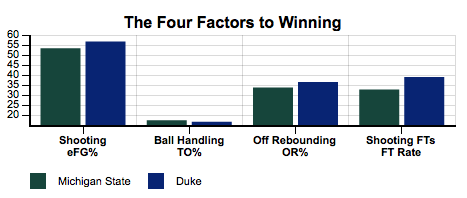 Duke has the edge in all key four factors. Duke has a significant edge in offensive rebounding is 36.5% vs. 33.8%. When it comes to getting to the free throw line, the Blue Devils have the edge at 39.0% vs. 32.8. Duke shoots the ball more efficiently (eFG%) at 56.8% vs. 53.4% and handles the ball better (16.6% vs. 17.4%).

5. Key Points to Consider
First, a few points regarding both teams' overall profile at this point:
Duke
Two main scorers (Cook/Okafor); Jones/Winslow close behind
Makes the most of its possessions
Does not send teams to the line often
Michigan State
Makes the most of its possessions
Hard to score against
Stingy defense
Now, a few key points to consider. These may often carry over to future games but keys specific to a current opponent will always be mentioned.
Free Throw Shooting (Emphasis on Okafor) [I choose to leave this as a key as it applies for all of Duke's remaining games in the NCAAT]

This has been Duke's Achilles Heel at times this year. Unfortunately, Okafor can be a huge detriment here.
Okafor will need to prove he can hit at a respectable rate from the line if Duke is to threaten for the national title.
Update: During the Gonzaga game, there appeared to be a concerted effort to keep the ball out of Jah's hands in the last couple of minutes.

X Factor – Quinn Cook

This is one heck of an X-factor, given that he was second-team all-ACC.
However, in the past three games, Cook has been below his season average of 15.5 points as Justise Winslow has emerged as a high-usage player, and Cook is almost assuredly Duke's fourth-best player.
However, his good play on both ends will be essential to the Blue Devils' success against Michigan State.
First and foremost, he will be tasked with checking Trice, who has been the catalyst for the Spartans' offensive resurgence.

Slowing down his penetration into the lane will be critical to slowing down the Spartans' top-15 offense.

Second, the Blue Devils could obviously use some timely shots, and Cook knocked down three 3s and scored 19 points in the two teams' first matchup this season.
He could very well step up big time in this one.
Okafor Only OK, yet Duke Still Moves On; Great Sign for Duke

Duke's national POY candidate has had an up-and-down tournament.
In the first two rounds against Robert Morris and San Diego State, respectively, he posted offensive ratings of 121 and 137 and scored a combined 37 points on 21-of-27 shooting.
Then, in the Regional's against Utah and Gonzaga—teams with legitimate 7-footers in their frontcourts, Okafor's offensive ratings dipped to 57 and 86 and he failed to score in double figures in either game.
Interesting that Okafor, who was the best freshman in college basketball this season and may well be the No. 1 overall pick in June's NBA Draft, managed just 16 rebounds, 15 points, three blocks, one assist and have five turnovers down in Houston. He was not pedestrian, but he was not outstanding. He did not even make the five-man all-region team.
Michigan State's starting frontcourt features 6'5" Denzel Valentine, 6'6" Branden Dawson and 6'9" center Matt Costello. Duke will need Okafor to regain his regular season form in order to open up shooting windows and driving lanes for its guards against Michigan State's talented backcourt. Duke fans would also feel a lot better about a potential matchup with the giants of Wisconsin and Kentucky if Okafor looks like the All-America he undoubtedly is. Remember, he has performed well against Michigan State once before this season.
So if Duke got by a talented Utah team and an ever more talented Gonzaga team without needing Okafor, it is a big boon. Because if Duke has two more games still coming, I promise you he'll put up at least 25 points, 20 rebounds and five assists, no matter the opponent after Michigan State.

3-point Shooting [Holdover from Utah]

When Duke has struggled, it is because the Blue Devils are not connecting on the three-point shot.
As a team, Duke is averaging around 39 percent from deep, while Michigan State has held opponents to an average of just 31.6 percent from behind the line.
Even with a dominating presence like Okafor inside, when Duke is not hitting 3-pointers, results like its 74-64 loss to Notre Dame in the ACC tournament semifinals can happen.
6. Endgame
[Preface: How Duke Fixed its Defense in the NCAA Tournament]
Prior to the NCAAT, Duke suffered through consistent lapses on the defensive end of the floor. To make a long story short, Duke's perimeter defense was far too porous, they had no intimidating shot-blocking presence at the rim, and their ball-screen defense was, to put it nicely, really, bad. Entering the NCAA tournament, the Blue Devils were right around 60th in adjusted defensive efficiency, according to KenPom.
Things have completely changed in Duke's four NCAA tournament games. Duke has yet to allow more than 0.89 points-per-possession in any of their four games, posting defensive numbers that are more or less on par with what Kentucky has done all season. Seeing the Blue Devils dominate Robert Morris and San Diego State on that end of the floor is not all that surprising, but watching Utah and Gonzaga, who entered the Elite 8 as the nation's fourth-most efficient offense, struggle against these Blue Devils was quite unexpected.
Duke now enters the Final Four ranked 18th in adjusted defensive efficiency.
What happened? How did Duke go from a defensive liability to a team that is very tough to score on? I watched the replay and focused on defensive possessions that Duke had last weekend in Houston, and here is what I came up with:
Quinn Cook's ability on the ball makes Duke very good vs. teams with dominant PGs. One of the most impressive in-season improvements that we have seen this year is with Quinn Cook, a guy that has gone from often being a defensive liability to one of the nation's better on-ball defenders. He is certainly the best that Duke has in their back court, and he has proven it repeatedly. He took away Jerian Grant and Marcus Paige in wins over Notre Dame and North Carolina this season, and he did much of the same to Kevin Pangos and Delon Wright this weekend. Wright was 4-for-13 from the floor with just two assists and two turnovers, while Pangos was 2-for-8 from the field with no assists and three turnovers.
Both Wright and Pangos are key facilitators that create a ton of scoring chances for their team and run their respective offenses. Cook's ability to give them fits was a major reason that Duke's defense was so effective.
Justise Winslow is truly the Chief. Winslow is an awesome defensive player, and his particular skill set makes him so valuable to the Blue Devils given the way they like to defend. He is big, strong, and long enough to defend most power forwards at the college level, but he is also quick and athletic enough to defend just about any perimeter player. What that means is that when Winslow is at the four with three guards on the floor, the starting lineup that Coach K has been using since late February, they can switch 1-through-4 defensively while staying in a man-to-man defense, which is an easy way to take an opponent out of what they want to do offensively.
Duke's 2-2-1 press caused some problems. Duke showed a 2-2-1 press against both Utah and Gonzaga in certain situations, usually after a made free throw that caused some problems for their opponents. A 2-2-1 is not like 'Havoc' or '40 Minutes of Hell', it has used more to chew up clock and to bait impatient teams into throwing dangerous passes. Both the Utes and the Zags had a couple of turnovers when Duke threw the 2-2-1 at them.
The Dome probably helped, too. Both Gonzaga and Utah missed a number of jumpers that they usually hit. Both the Utes and the Zags shot better than 40 percent from beyond the arc this season, and combined, they were 6-for-26 from three in Houston. This is the same dome where Butler and UConn had that horrid, 53-41 national title game. Maybe there is something to that?
As did Jakob Poeltl and Przemek Karnowski. Neither Poeltl or Karnowski can shoot from the perimeter, meaning that Okafor could just hang out in the paint and provide help. He is not a great shot blocker, but when he is standing in front of the rim instead of chasing big men that can shoot out to 15 feet, he does have an effect.
But mostly, it is just execution. After watching the replay, I can definitively tell you that Coach K is not re-inventing the wheel here. This is not a gimmick, it is not him shocking the world with a 2-3 zone like he did at Louisville. It is not as simply explained by shooting in the Dome or that the matchup, one with a dominant point guard that Cook can take away, was good for the Blue Devils.
As weird as this sounds, the biggest change may simply be that Duke is just playing better defensively.
It's little things, simple executions on defense that they had issues with earlier in the year. They are communicating better on their switches. For example, if a guard gets switched onto a power forward, he is able to front in the post and he will have help on a pass over the top. This is such an important part of what Duke does defensively. They play an extended man-to-man and have been switching all exchanges 1-through-4, meaning that any screen involving two players that are not the opposing team's center is an automatic switch. This makes it very difficult for an opponent to run their offense and puts a priority on the ability of playmakers in 1-on-1 or ball-screen actions.
This brings me to my final point. They are doing a better job icing side ball-screens and forcing the ball-handler to one side on high ball-screens. They are also doing a better job of playing to the scouting report, something as simple as going under a ball-screen if the dribbler is a poor shooter. This was the biggest issue for Duke earlier in the season. They would force a team into ball-screen actions and then get lit up because they could not defend those ball-screens.
Endgame
The No. 1 Duke Blue Devils from the South region take on the No. 7 Michigan State Spartans from the East region in the Final Four of the 2015 NCAA Tournament.
Duke (33-4) has been the most impressive team in the NCAA Tournament up to this point. It has yet to be really tested as all four of its games were pretty much decided in the last few minutes. It beat Robert Morris by 29 and San Diego State by 19 in the first two rounds to get things started.
Sure, it only beat Utah 63-57, but that game was not as close as the final score would indicate. The Blue Devils led by 15 late before a mini-rally by the Utes made the final score appear close. They then put together their most impressive performance of the tournament yet with a 66-52 thrashing of Gonzaga in the Elite 8.
While the Blue Devils are known for being one of the best offensive teams in the country, it is their defense that has carried them thus far. They are giving up just 53.5 points per game thus far in the big dance. They held Robert Morris, San Diego State, and Utah all to below 37% shooting, and then Gonzaga to 44%.
Duke is 16-1 in its last 17 games overall with six of its last eight victories coming by 12 points or more. Each of its last nine wins have come by at least 5 points.
Michigan State (27-11) was counted out about six weeks ago when it was sitting at 13-7 and coming off a loss at Nebraska. Well, it has now gone 12-3 in its last 15 games overall with two of its losses coming to Wisconsin. One was by only seven points on the road, while the other was in overtime in the Big Ten Championship.
While three No. 1 seeds are left standing in the big dance, the Spartans are a No. 7 seed that somehow managed to make the Final Four against all odds. It started with a 70-63 win over Georgia in the opener, followed by a 60-54 upset of Virginia in the Round of 32. The Spartans then beat Oklahoma 62-58 in the Sweet 16 before topping Louisville 76-69 in overtime in the Elite 8.
Michigan State has been winning with defense. It has held its four opponents to an average of 61.0 points per game thus far in the tournament. It has gotten enough offense from the likes of Travis Trice and Denzel Valentine to get this far. It has also stepped up big late in games as all four of its contests went right down to the wire. Once again, Tom Izzo has the Spartans playing their best basketball at the end of the season.
When all is said and done, Michigan State has enjoyed a wild ride to Indianapolis, and Izzo is obviously a special coach, but Mike Krzyzewski has the team, the depth, and the athleticism. Throw in the presence and the power of Jahlil Okafor inside, and the Blue Devils will have too much. Look for this to be a tough, half-court battle that sees Duke turn in flawless execution late to the brink of a championship. I see this as a low-scoring affair with Duke prevailing 67-62.