Duke turned on the juice late to hold off a pesky and very game Indiana Hoosiers team 91-81. It was hard to tell if Duke was suffering from the exhaustion of 9 games in 20 days, if the raucous crowd at assembly hall had them shook or Indiana was just playing at a higher level than they have so far this year. Maybe it was all of the above, the perfect storm of events that had Duke looking like team primed for the plucking. Regardless of Dukes level of lethargy or tiredness, Indiana played a helluva game. They were beating Duke at Dukes game outscoring the Devils 24 to 20 in the paint in the first half. Indiana put on a clinic in scrappy play, consistently beating the Devils to loose balls and crucial offensive rebounds to the point where, Duke had an advantage in second chance points but it was merely 4 to the undersized Hoosiers. Duke was a step slow and Indiana fed off of the Bloomington crowd. Duke led at the half by 4 points but Indiana clearly had the momentum as Duke could not pull away.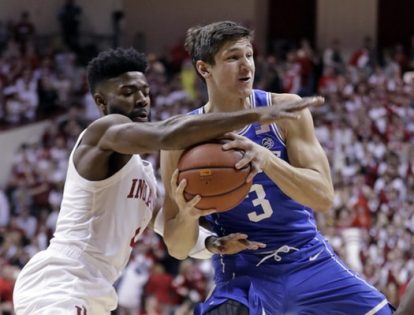 The second half opened with Duke extending the lead to 10 points on a 10-4 run, but Indiana spent the next 6 minutes chipping away and eventually took a 63-59 lead on the Devils at about the 12 minute mark on a Robert Johnson layup. The game stayed within 2 possessions for the majority of the second half with both teams taking swings. The back and forth affair saw the score tied 11 times and the lead change hands 16 times. Gary Trent would give Duke the lead late with an And-1 off of a feed from freshman Marvin Bagley and it would take a late 17-4 run for Duke to finally put away the pesky Hoosiers who come in with a solid gameplay and for 36 minutes had Duke in a slugfest.
Wendell Carter Jr. and Marvin Bagley III both earned double-doubles for the Blue Devils with Carter scoring 18 and pulling down 12 rebounds before fouling out and Bagley scoring 23 points and pulling down 10 rebounds. Grayson Allen, while not shooting efficiently from beyond the arc had a big game for Duke down the stretch hitting on 7-12 shots (2-6 from 3-point range). Allen scored 21 points and dished out 4 assists and played the entire 40 minutes for Duke. Even with the crowd chanting "F*ck You Grayson" Allen seemed, for the most part, controlled and not bothered by the energy of Assembly Hall. Trevon Duval had a much better floor game against the Hoosiers dishing on 6 assists and zero turnovers in 38 minutes. Duval also scored 15 points and was 5-11 from the field.
[x_video_embed][/x_video_embed]
Statistically speaking this wasn't the prettiest game but Duke continues to show that it can win without the 3 point shot of which they only made 3, Duke made only 3 shots from beyond the arc yet still scored 91 points. Duke shot 17.6% from 3 (3-17) yet still ended the game shooting 55% from the field. Duke did not do a very good job of imposing their will on the glass only barely besting the much smaller Hoosiers on the boards 33 to 31. The Hoosiers did a masterful job of spreading Duke out, full well knowing that getting rebounds in space was not a strong suit of the Duke guards. Indiana was overall just quicker to the ball. Both teams did an excellent job of limiting turnovers so much that points off of turnovers was dead even at 5 in the first half. Because the game was close Duke's minuscule edge in points off of turnovers in the second half was another huge reason (along with Marvin Bagley) that Duke was able to pull out a victory – Dukes edge here was 8-4.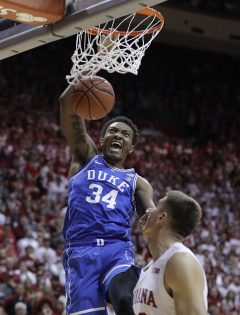 There were several plot points in this first true road victory for the young Devils with this game. Obviously getting a road win, in a rough environment goes along way toward Dukes ultimate tourney resume but also a lot for a group of young freshmen lead by a senior. It tested Grayson Allen and his ability to affect the game offensively but also his ability to pull his guys in and communicate with his teammates on the floor. Duke went exclusively man-to-man in the second half, which is something that the majority of fan base (if you follow social media) was dead set against. Clearly at this point in the season Duke is a much better 2-3 zone team than man-to-man but it was something that I also think that using zone as a crutch can hurt this team going forward. I applaud Coach K for sticking with man-to-man and allowing his guys to figure it out. Each break in the action was a teachable moment, each time-out. Continuing to allow his guys to live or die with that defense helps Duke twofold:
1. It does something psychologically for this team, it tells them not only does our coach have faith in us but we figured it out, we didn't neat to rely on zone to win this game.
2. It controls the narrative that Duke can't win without it. Duke won playing man-to-man, in a game where they were behind and didn't need to rely on going zone to win. Yes there is a lot to be said for zone being the defense that fits Duke's personnel but regardless of that Duke needs to be as versatile as possible to account for upcoming opponents.