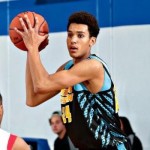 Brendan Bailey
6'8, 180 lbs
American Fork, Utah
American Fork High School
Small Forward
Former ASU commit Brendan Bailey is rising up the ranks with his smooth game, his adeptness at shot-making and his defense. The versatile small forward can do his damage beyond the arc, in the mid-range or on the drive. A very heady player, Bailey could prove to be a match-up problem at the next level with his 6'8, long lean frame. Once at the next level Bailey could see time at the 3 or stretch 4 positions.
Bailey showed great improvement at the NBPA Top 100 Camp – displaying an improved handle, and the ability to create his own shot.
Per Coach Bill: "Brendan has improved his mid-range and his off-the-dribble game is surging, he showed that at the NBA camp. For me, a Justin Jackson type with a more reliable 3 point stroke is a solid comparison."
If the last name Bailey sounds familiar to ACC fans, Brendan is the son of former N.C. State Wolfpacker Thurl Bailey. Thurl led the Wolfpack in scoring and rebounding during their 1983 NCAA Championship run. Bailey then went on to play for the Utah Jazz and Minnesota Timberwolves.
[x_video_embed type="16:9″][/x_video_embed]