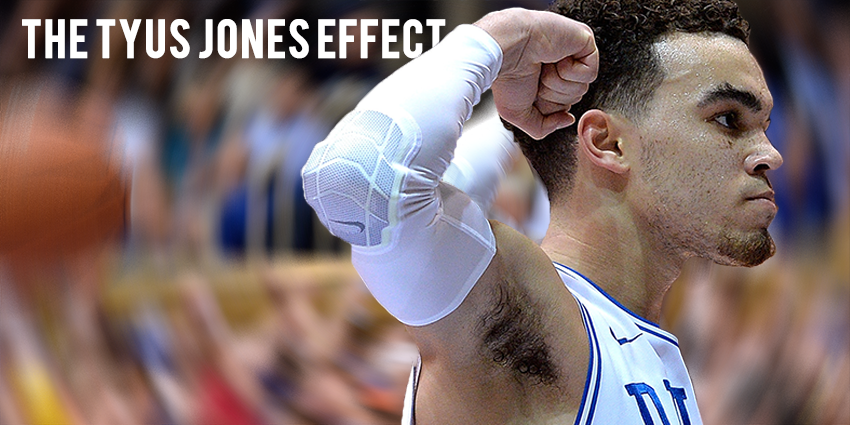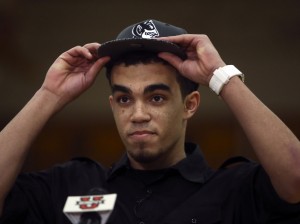 There are a lot of Duke fans wondering and stressing about the future – it's become the norm in college basketball, especially in the one-and-done era. The biggest question on the mind of DukeNation is, "what happens if Tyus Jones leaves?". Tyus Jones clearly has a big decision to make when this season finally ends. Jones is averaging 11.8 points, 5.7 assists and 3.7 rebounds per game.  The season numbers aren't gaudy but those numbers alone are not the true measure of the freshman point guard's effect on his team. The true measure of Jones is how he performs under pressure. Jones plays BIG in big games, like he's been at this for years, like he was born to do it. Against ranked opponents Jones is averaging 17.25 points, 5.5 assists and 4 rebounds. He is a big shot maker and a fearless finisher at the basket. If you don't believe me ask UVA or UNC.
I think we all expected Tyus Jones to put up very good assist numbers, especially with Duke having a strong post presence and a much better array of firepower this year from top to bottom, but what a lot of us, me included, didn't expect was that the young Jones would be able to step up as he has when Duke has been in dire straits – he's been clutch in those situations, seemingly unaffected by the grand stage.
With Duke not recruiting a point guard in the class or 2015 most fans were expecting a doomsday scenario as Duke will lose the only other point guard on the roster in senior Quinn Cook, if Tyus departs as well Duke could be in trouble. Duke has reached out to 2016 prospect Derryck Thornton about reclassifying into the 2015 class but it still remains to be seen whether that strategy will pay off for Coach K and staff.  If Duke is not able in fact does not Duke look to a graduate student transfer ( the new waiver wire in college basketball )?
"I think he's a great guard and I think Coach K is a great coach. He's letting freshman play their game" – Blake Harris (2017 PG Recruit)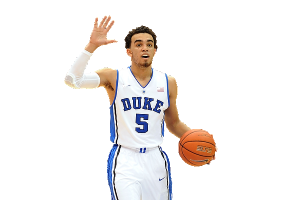 Whether or not Jones decides to take his talents to the next level after this season, his body of work should have a positive effect on Blue Devil recruiting. Several recruits have stated publicly that the freedom and trust that Coach K has placed in the freshman hasn't gone unnoticed. Clearly Tyus Jones arrived on campus with a boatload of ability and no one is saying that Coach K has made Jones into the superstar that he's become in his short time in Durham, but sometimes when it comes to young players it's more about what a coach doesn't do rather than what he does. Coach K gave this freshman the keys to the offense and trusted that from day one he would be able to run it and be successful – he has been, he also trusted that even with a senior point guard in Quinn Cook already on the roster and established, that they could not only co-exist but play together and become one of the best back-courts in America.
Coach K and staff have done a masterful job of not attempting to force fit Jones into some mold of past Duke teams but allow his abilities to dictate the direction of the team. Even with arguably the most talented big man in college on the roster Jones has managed to put his stamp on this Duke team and become not only a star but, along with fellow guard Quinn Cook, the engine that makes this Duke team run smoothly.
"A player that I have been watching is Tyus Jones from Duke. I really like the way he attacks the basket and can finish through contact. He is also very clutch on both the offensive and defensive end. He's a great overall point guard and I believe he is one of the top players in the NCAA right now." – Troy Brown (2017 PG Recruit)
Obviously it's far from a forgone conclusion that Tyus Jones will enter the NBA Draft this year.  It's hard to imagine that with the season Jones has had at Duke this year that point guard recruits aren't licking their chops to step in when he does depart or to play alongside of him should he stay. What could and should bode well for Duke is not only the ability to consistently bring in top flight Point guards like Jones and have him flourish but the ability to have him mesh superbly with the existing talent on hand. Whether Tyus Jones stays or goes he has given Coach K a very strong recruiting tool – as if he didn't have enough already.