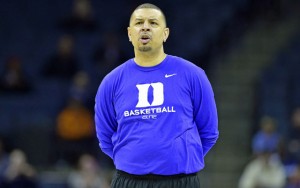 With an ailing Coach K not making the trip Duke would lean on Associate Head Coach Jeff Capel to lead the Devils against a Georgia Tech team similarly struggling in the ACC. Duke came out flat defensively giving up 28 points in the paint to Georgia Tech, relying once again on mostly zone defense in the first half to preserve both energy and fouls. Even with the flaws in Duke's zone Georgia Tech was only able to manage a 4 point lead at the half. Duke was able to hang with the Yellow Jackets by shooting 6-13 from the three-point range. It's been the story line or the plan of late for Duke to do its best to play without fouling in order to be able to increase the defensive intensity in the second half.
Duke came out in the second half with a renewed vigor, quickly taking the opportunity to get in transition and switching from zone to man-to-man defensively. Duke stepped up it's pressure and aggressiveness. Duke also was able to win the points in the paint in the second half and the second chance points were also in Duke's favor 9 to 3. Duke out rebounded the Yellow Jackets in the second half by 7 after being out rebounded 19 to 13 in the first half.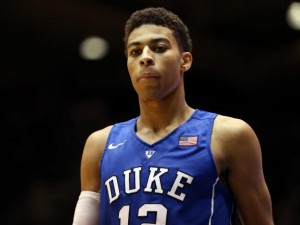 Duke was paced by sophomore Grayson Allen who scored a game high 27 points on 9 of 17 shooting. Allen also pulled down 7 rebounds and shot an impressive 7 of 10 from beyond the arc. Duke got a significant contribution from freshman Derryck Thornton who started the game at point guard. Thornton played with a confidence and swagger and scored 15 crucial points for Duke and also added 3 assists. Thornton was Dukes best slasher, beating his man off the dribble at times and other times catching the defense off-guard and pushing the pace of the play.
In a positive development for Duke was an extended bench even if it was just a couple of extra minutes. Coach Jeff Capel gave freshman Antonio Vrankovic his first minute of ACC action. Chase Jeter also logged 8 minutes and scored 2 points and a rebound but his time was needed and allowed Duke to rest center Marshall Plumlee.
It's hard to say this was a must-win for the Devils, as that is an added pressure a young struggling team does not need but big picture being above .500 in the ACC is a much better place to be, especially with the rough slate of games coming up next for the Blue Devils.