[x_video_embed type="16:9″][/x_video_embed]
Man, what a game. There is no way you can be an ACC fan and not have enjoyed every second of that game. I'm not saying it just because Duke won, I'm saying it because it was a back and forth affair. It was an amazing show of grit by both teams. In the end Duke was able inch out a 2 point victory 92 to 90, and it was every bit a battle for the entire game.

Do I believe these teams are truly evenly matched? No. I do believe Duke is the better team which makes what Carolina did in Cameron that much more impressive. UNC rose to the occasion and took the fight to the Blue Devils and without much help from its leader Marcus Paige who was 2 for 11 for 5 points in the game. Carolina got huge games from other s though. Kennedy Meeks proved a tough match-up for Jahlil Okafor and the rest of the Duke bigs scoring 18 points and 7 rebounds. Brice Johnson also scored 18 points and pulled down 12 rebounds before fouling out of the game. UNC got a great all-around game from forward J.P. Toccata who scored 15 points, 8 rebounds, 7 assists, 3 steals and 2 blocks.
Carolina took control of the game in the second half, getting out in transition against a tired Blue Devil team, feeling the effects of a short bench. Duke trailed by 9 points with 2:41 left in the game and by 7 with 90 secs left and was able to tie the game on a Tyus Jones lay-up to force the game into overtime. In the overtime Duke and UNC volleyed back and forth for the lead but Duke was able to get stops in the waning moments to secure the win.
For Duke, Tyus Jones was the Apple Valley Assassin he has been all season. Jones took over when Duke was struggling on the offensive end, attacking the rim. Jones scored 22 points, and was tied for the second highest rebounder in Duke blue with 7. Jones didn't have his best floor game but did dish 8 assists to 6 turnovers. When it counted though, the freshman was flawless. The freshman scored nine straight points for the Blue Devils, and his lay-up with 27 seconds left tied the game at 81. Tyus Jones' back-court running mate Quinn Cook also scored 22 points  and went 6 of 9 from beyond the arc. As a whole Duke shot 10 of 16 from 3 point range.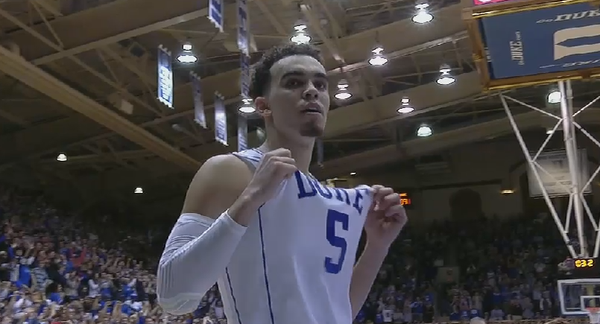 Freshman Jahlil Okafor did not have a monster game for Duke but did have a double-double with 12 points and 13 rebounds. Troubling for the big man is 0 for 6 from the free-throw line. Duke also got double figure efforts from Justise Winslow and Amile Jefferson. Winslow scored 16 points and had 7 rebounds while Jefferson scored 13 and had 6 blocked shots.
UNC dominated Duke on the interior with a 62-40 edge in points in the paint, Duke was also very loose with the ball turning the ball over 16 times which led to a 26-14 edge for UNC in points off of turnovers. UNC also won the battle of second chance points 21 to 13, fast break points 8 to 5 and bench points 32 to 7. Where Duke had a decided advantage was beyond the arc where Duke was 10 of 16 and UNC went 2 of 10. Duke and UNC's instant classic was witnessed by several recruits including Harry Giles, Dennis Smith, Derryck Thornton & Caleb Swanigan.
The Geeker and 3 of the Geeker Dream Team @Biggs_Swanigan @Jhooper_3 @TheReal_HG3 thegeekerreport. com pic.twitter.com/bCyinZhsHC — Eric Vaughn (@evgeeker) February 19, 2015

THE GOOD FOR DUKE:
Mental toughness in the waning moments of this game, this teams tends to pull it together when it needs to.
Duke shot extremely well from 3 point range.
Quinn Cook on both ends of the floor, taking the task of guarding Marcus Paige and when he had to switch made sure to communicate instructions to his teammates.
Tyus Jones stepping up and becoming a force when Duke needed him the most.

THE BAD FOR DUKE:
Shooting 51.4 % from the free-throw line for the game will not make for good post season success.
Turnovers were a huge negative in this game and kept UNC in the game and cost Duke the lead.
While it is a positive that this team fights, and has been able to mount comebacks against ranked teams like UVA and now UNC, the fact is that Duke's inability to defend, be strong with the ball and box out cost Duke the lead against UNC. Duke should have never been behind in this game.
In the end both teams played hard and credit has to go to the Tar Heels for playing probably their best game of the season in a tough environment and to Duke for weathering the storm, another grow-up game for the freshmen who very well could have just hung heads and accepted what looked like a sure loss but instead chose to fight much in the same manner as the UVA game, this team may just have a little something to offer in March.
Duke's guards stealing the game down the stretch probably bodes well for March when that kind of stuff is necessary.

— Ben Swain (@TheBenSwain) February 19, 2015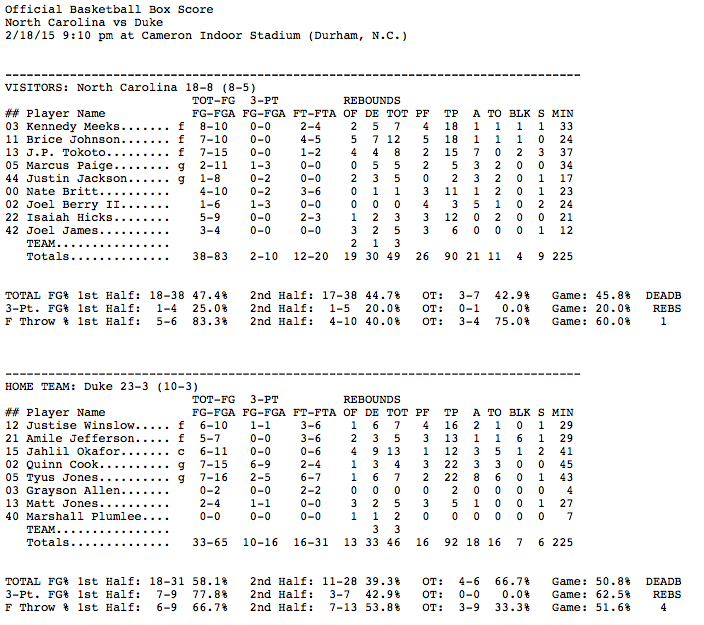 Quotes: Duke 92, North Carolina 90
Thursday 02/19/2015  –  Duke Sports Information
Duke Head Coach Mike Krzyzewski
Opening Statement:
"It was a great game. One team had to win and one team had to lose and it's one possession and we won. I thought both teams played their hearts out. I don't see how both teams could have played any harder than they did. Their inside guys hurt us. We were so trying to stop (Marcus) Paige, (Brice) Johnson and (Kennedy) Meeks and they were something like 15-out-of-20. We couldn't hit a free throw the whole game. We were 16-31. At times we were young. At the start of the second half we missed three inside shots that you should hit. We started thinking about the miss and they transition so well that – boom – they score. That's what happened to us for a couple of weeks in January. Our defense wasn't good, but I thought a lot of it had to do with our reaction to misses. Then we hunkered down and in thelast minute and 38 seconds to be able to tie it was great.Tyus (Jones) really made some great plays for us and we made stops. We had some great defensive exchange to end regulation. In overtime we were 3-for-9 for free throws. I thought we handled that last five seconds really well. We feel ecstatic, we feel fortunate. We certainly know that we played a heck of a team tonight. They were deserving of winning and I thought we were too and that's what made it such a great game."
On Tyus Jones:
"He's good. You start out with that. One of the reasons we waited three years to get him is because I thought he had special qualities, not just special talents. It shows up in big games and big moments. What is interesting is that he passed up a wide open three. (Amile) Jefferson and the guys got on him. The next time he hit it. Sometimes he would rather have someone else do it, but when he took the wheel the car finished in first place. He was tremendous."
On Dean Smith tribute:
"Dean (Smith)'s passing really affected all of us. I thought the way we did it was the best. Roy (Williams) and I are great friends. We both understand that we are the lucky guys to coach these two teams. I'd rather have both teams on a knee, intermingled. I thought that was good. Really touching. You could see (the players) were moved by it. Yesterday when we met, I talked to my team about Coach Smith, about who he was and what he did. At that moment, it wasn't just a moment of silence, it means a lot. I loved the way that went. He was looking down, he may not have liked the end result of the game, but I'm sure he liked the way both teams played."
On Jahlil Okafor:
"He has a sprained ankle. It was a gutty performance by him. We'll see what happens. Sometimes you can play the night of the game because of the adrenaline and everything's moving. We'll see if he's going to be ready for Saturday. We can't practice tomorrow anyway. We'll try and get him a little bit of rest. I would think he's going to play, but I don't know about that. For any kid you worry, but he's special. I was shocked that he wanted to come back in during the first half. Just mentally for him to get over it right then."On
players playing over 40 minutes:
"Our guys are in really good shape, but I think playing at home helped. I think our sixth man really helped give us energy. You kind of forget about being tired. My staff did a good job of saying, 'Forget about tired.'"On coming back from deficits:
"We have done it. When you have done it, you feel like you might do it again. We can score from a number of different positions. When you put the smaller lineup out there, then they can't double onJahlil.  It hurts us defensively somewhat, but it opens it up. We have good players. It's not like we drew up anything. When they came back, that was on them. We just said 'Play. Follow your instincts and play.' And they did."On
Justise Winslow:
"He played really well. I thought that when he got his secondfoul in the first half that he started out great and he finished great. He didn't know when he might come back in the first half and when he did go back in I didn't think he was ready. We're always trying to teach these guys how to react, not just X's and O's. I think that helped him in the second half to be ready and he certainly was. He got that big rebound to end the ball game."On the level of play:
"It's tough for this game to always live up to the hype. I think tonight's game exceeded it. So many of the games have exceeded the hype. Every once and a while one team doesn't do its part – us or them. For the most part, both teams come and play at a high level.  That's what happened tonight. My guys have been really great. I love my team. They were real men down the stretch."
Duke Senior Quinn Cook
"I think the two losses that we had against [N.C.] State and Miami, when we got down we started playing tight.  We started wishing shots in and not shooting with confidence.  Against St. John's, when we were down, we just believed in each other and shot our shots – and at Virginia and Syracuse, in a hostile environment there.  We've been there before and Coach [Mike Krzyzewski], he kept telling us, 'Keep believing.  It's going to be an amazing win.'  I'm just emotional right now.  It was an incredible game to be a part of."
On his defensive performance against Marcus Paige:
"I watch a lot of film on him.  He's one of my favorite players to watch.  He puts on shows, and he can score in a hurry, especially in the second half.  It's a great challenge and my teammates helped me a lot.  We've got to see him again.  He's one of the best players in the country."
"It was up and down.  Basketball is a game of runs, and we made a tremendous run to start the game out, and then [North Carolina] made a tremendous run.  We stayed poised, stayed together, and we didn't splinter.  I don't know – it was incredible."
When asked about the tribute to former North Carolina head coach Dean Smith before the game:
"It was amazing.  I was recruited by Carolina and Coach Williams – [Coach Dean Smith] was his idol.  Just growing up, you hear about what tremendous leadership Coach Smith had, and Coach K was one of his closest friends as well.  I know the loss of Coach Smith hurt those two coaches.  It was just a tremendous, humbling experience."
Duke Freshman Tyus Jones
"This is very emotional, just because of how important this game is, rivalry, how big of a rivalry it is, and to be able just to contribute.  And most importantly, the team won.  I'm so proud of the guys.  It was an unbelievable game, and it just means a lot that we pulled away a victory."
"I'm just trying to make a play.  My brothers believe in me, to have the ball in my hands, and that gives me all the confidence in the world, knowing that they have confidence in me.  That's all I need is their confidence.  I'm just trying to make a play and just being a competitor, hating to lose.  Each guy in this locker room hates to lose, and there was a point – I think it was 79-72 and a time out – and Coach [Mike Krzyzewski] told us, 'We're going to win this game.' And we believe in everything Coach says, so there wasn't one moment where we doubted ourselves.  Even down 10, we know there's still a lot of basketball left so we've just got to believe in one another.  There have been times this year where we've been down and gone on runs, and it's just about believing and having your brothers' back."
"I'm just so blessed, and it's just an honor to wear 'Duke' across my chest, just to represent this program, the tradition of the rivalry.  It was just a blast out there tonight."
"I'm just speechless right now and just happy we won."
Duke Freshman Jahlil Okafor
On the team's mindset when they were down late in the game:
"Coach [Mike Krzyzewski] said we were going to win, so when he says something like that, there's nobody in this locker room who doesn't think he's right."
On the clutch play of his teammates down the stretch:
"It's what Tyus [Jones] does, it's what Justise [Winslow] does, and everybody on this team, especially Quinn [Cook], our captain.  It starts with him – he's the head of our snake and it just trickled down, and Tyus took us home tonight."
When asked about Duke's strong start to the game:
"It was a lot of emotion, a lot of good emotions.  We were really hyped tonight, but they were missing a lot of shots and it was a game of runs.  We weren't expecting to blow North Carolina out – that's not usually how this rivalry goes, but we definitely got off to a really good start."
On Duke's poor play for much of the second half:
"It was on us.  We ended the first half bad, and Coach [Mike Krzyzewski] told us at halftime that when we end the first half bad, we usually start the second half off bad also.  He called it.  But we did our best to try to overcome it.  Everything Coach says usually happens, but we were trying to overcome it.  We got off to a bad second half [start], but we were able to win it."
North Carolina Head Coach Roy Williams
Opening Statement:
"Well, it's extremely disappointing. If you didn't care who won the game, you had to enjoy a great college basketball game. It has certainly been hyped the last couple of days. If you happen to just like college basketball, then you had to enjoy that part of it, but I happen to love North Carolina. So, it's not so agreeable with me. Everybody is going to talk about the missed free throws, but we had mistakes in the first two minutes of the game that counted in the game, as well. For the most part, I really, really enjoyed the toughness and the poise of my team. Yes, we missed some free throws and some wide open shots and a corner that was a three that would have helped, but that is college basketball. It's 18, 19, 20, and 21 year-old kids. We've been through a tough stretch. We've lost three out of four coming in here and I am really proud of my team. They made some big plays. I thought Tyus [Jones] and Justise [Winslow] were really huge for them down the stretch. We had the lead and we throw the ball out of bounds down the court. Kennedy [Meeks] is the best passer I've ever had like that and he just threw it out of bounds. Then, Isaiah [Hicks] turns it over in the press. There were some weird things that happened. They missed some free throws and then we get the ball back and we miss some free throws. It was just two good basketball teams and the best team won tonight."
Biggest positives coming out of the game:
"The first four minutes I thought we were brain-dead. We didn't get off on a rear screen and then they'd get the lob. We just didn't do what we wanted in the first four minutes and then it's an eight, nine, or ten point lead. After that, I really liked the way we settled down. Then we had another two-minute period in there where we just pushed a guy out of bounds and he ends up with a two-shot foul. Then we set an illegal screen, and we work so hard to set legal screens. Then we turned it over and it goes back to 10 or 11 or something. The biggest positive is the way we started the second half. It was a seven-point game at halftime. If they had made a quick run early in the second half then it's really difficult, but I really liked what our team did. Some guys grew up tonight and other guys have got to grow up tonight. It's a marathon and in this league it's a tough marathon."
On the shift in defense against Okafor:
"Late in the game we stopped doubling Jahlil [Okafor] because we didn't want to give them threes because we were ahead. Threes add up quicker than twos. It hurt us. Brice [Johnson] was seven-for-ten, 18 points, 12 rebounds. Isaiah [Hicks] had 12 points, so it hurt us but it wasn't the major part of the game. I don't want anybody fouling out. I hated the fourth foul. His man was setting up a screen on the ball and he got cracked and he reached in and got the foul. We have got to stop making those silly fouls. If we would stop making those silly fouls, then perhaps we would have been in the game. Yeah it hurt us, but the guy we put in did some good things too."
On the tribute to Dean Smith before the game:
"I think it shows the class that this rivalry has. Some people hate, hate, hate, and I want to beat their butts so bad I can taste it. But, there is a great deal of respect between the two programs."
On Joel James:
"Early he gave us some baskets inside and some toughness. Jahlil was just a load and he is going to foul out. If you've got one center, he is going to foul the guy out. Like I said, it was such a weird game. We take the last shot of regulation and it was a dogpile. I thought we got murdered in that, but the officials have to call the game by what they see. It was a physical game and two teams playing their butts off."
"Well, he is invested, I really believe he is. We need everybody to be invested like that. You look down there 12 minutes, five rebounds, six points. You need those kinds of things. There at the end when they were spreading so much his agility is not as good as Kennedy's or Isaiah's."
"They played better than we did today. We get another chance and maybe we will play better that day. But maybe they will play better that day, as well. Like I said, it's a long, long marathon with uphill stretches all the way. With four games in eight days, and then four out of five on the road, it has been tough."