[Preface]
This preview is a tad longer but given that this is the preeminent rivalry in college basketball, I hope readers will understand!
Game Preview
Duke Blue Devils (22-3, 9-3] vs. UNC Tar Heels (18-7, 8-4]
Wednesday, February 18, 2015 • 9:00 PM • ESPN • Durham, NC • Cameron Indoor Stadium,
By Randy Dunson

1. Snapshot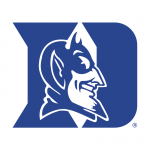 Duke (22-3, 9-3) hosts North Carolina (18-7, 8-4) Wednesday, February 18 at Cameron Indoor Stadium. Tipoff is set for 9:10 PM with ESPN and the ACC Network televising the contest. The Blue Devils enter the game ranked No. 4 in the AP Poll and No. 5 in the USA Today Coaches Poll. Duke is 71-15 when ranked No. 4 in the AP Poll. North Carolina enters the game ranked No. 15 in the AP Poll and No. 16 in the Coaches Poll. Duke is 12-8 all-time against the No. 15 team in the AP Poll. Duke and Kansas are the only teams in the NCAA to rank in the top 10 of the AP Poll (No. 4), USA Today Coaches Poll (No. 5), Ratings Percentage Index (No. 5), and Strength of Schedule (No. 9). Duke is 9-2 against teams ranked in the top 50 of the RPI, including a 3-0 mark against teams ranked in the top 10. Duke is No. 8 overall in the KenPom.com rankings, coming in at No. 2 in adjusted offensive efficiency and No. 57 in adjusted defensive efficiency. North Carolina enters Wednesday's contest ranked No. 10 in the RPI. The Blue Devils are 5-1 on the year against ranked opponents, including a 4-1 mark against teams ranked in the top 10.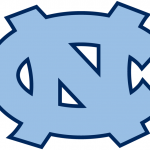 North Carolina will try to bounce back from Saturday's loss at Pitt when it visits Duke on Wednesday night in the first meeting between the schools this season. The Tar Heels will be playing their fourth road game in the last five outings. They have lost three of their last four games overall. ESPN will televise the game nationally at 9 p.m. with Dan Shulman (analyst), Jay Bilas (analyst), and Shannon Spake (reporter) on the call. The ACC Network will televise the game regionally in the ACC footprint with Tim Brando (play-by-play) and Dan Bonner (analyst) on the call. The Tar Heels enter the game with an Atlantic Coast Conference record of 8-4, tied for fourth place with Louisville behind Virginia (11-1), Notre Dame (10-3), and Duke (9-3). Carolina lost, 89-76, at Pitt on last Saturday afternoon, as the Panthers shot 64.9 percent from the floor. In the last two weeks, UNC lost at Louisville (January 31), lost at home to Virginia (February 2), won on the road at Boston College (February 7) and lost at Pitt (February 14).

2. Last Time Out
Duke
In its last outing, Duke had an 80-72 road win over Syracuse Saturday as Jahlil Okafor recorded his ninth double-double with 23 points and 13 rebounds. Okafor went 10-of-15 from the field, including 7-of-7 in the second half of play. Quinn Cook added 17 points and five assists in the win with Justise Winslow (12) and Tyus Jones (11) also scoring in double figures. The Blue Devils shot a season-high 86.4 percent (19-of-21) from the free throw line, including 12-of-12 in the final five minutes of play. Duke trailed by as many as 11 points in the opening half of play before using a 26-7 run over an eight-minute span midway through the game to gain control. Duke's bench outscored the Orange, 15-0, with Matt Jones leading the way with eight points.
Game Notes
Duke started 22-3 during the 2012, 2007, 2003, 2000, and 1999 seasons (since 1996).
The win over Syracuse extended the Duke winning streak to five games.
Duke has won every game this season (7-0) when its three-point percentage has been 46.7 percent or better.
The Blue Devils have won every game this season (5-0) after recording 42 or more rebounds.
Duke has won 80 percent of the time this season (4-1) after committing 15 or fewer turnovers.
Duke has won every game this season (5-0) when opponents record six or fewer free throws made.
This season Duke has won 93 percent of the time (14-1) when Justise Winslow has 12 points or more, 89 percent of the time (8-1) when Tyus Jones plays 35 minutes or more, and 84 percent of the time (16-3) when Quinn Cook has four field goals made or more.
The Blue Devils have recorded more free throws made than their opponents for the past four games.
This is the second win of the season where the Blue Devils came back after being down at halftime.
The top two scorers (Jahlil Okafor and Quinn Cook) accounted for 50.0 percent of the points.
Jahlil Okafor accounted for 30.9 percent of the team's rebounds.

Has led the team in scoring 11 times and in rebounding 14 times in 25 games this season.
Recorded a double-double. It was the ninth of his career.
Marks the 10th 20-point game of his career.
Has 25 straight double-digit point games.

Tyus Jones has three straight double-digit point games.
Justise Winslow has six straight double-digit point games.

Third foul out of the season for him.
UNC
In its last outing, Pitt shot the ball at a blistering rate and defeated Carolina, 89-76, on February 14 in Pittsburgh. UNC lost for the third time in four games. Pitt shot .649 from the floor, the best by a UNC opponent this season (the previous high was .563 by Kentucky). UNC's four turnovers were the fewest in Roy Williams' 12 years as UNC head coach. The previous low was five vs. Florida State earlier this season. It was Carolina's fewest turnovers since committing two on March 13, 1997, vs. Fairfield in the NCAA Tournament (Dean Smith's record-tying 876th win). Brice Johnson had 19 points on 7 of 11 shooting for Carolina. Kennedy Meeks was the only other Tar Heel in double figures with 15 points off the bench. Joel Berry II, Marcus Paige, and Justin Jackson each scored eight points.
Game Notes
The last time UNC started the season 18-7 was 2013.
UNC set season lows for rebounds (31), steals (3), and turnovers (4).
North Carolina has recorded fewer three-pointers than their opponents for the past four games.
The top two scorers (Brice Johnson and Kennedy Meeks) accounted for 44.7 percent of the points.
Johnson has led the team in scoring in seven out of 25 games this season.
J.P. Tokoto has led the team in rebounding in four out of 25 games this season.
Johnson has three straight double-digit point games.

3. Head-to-Head
Carolina leads the all-time series with Duke, 133-105. The Tar Heels have played more games against Duke than against any other opponent. UNC and Duke split a pair of meetings last year with each team winning on its home court. The Blue Devils have won eight of the last 11 meetings in the series (since the start of the 2009-10 season). UNC had won six of seven from 2006-09. Duke has won four of the last five meetings in Durham after Carolina won four in a row over the Blue Devils in Cameron Indoor Stadium from 2006-09. Duke leads the series 51-47 in games played in Durham and 42-35 in Cameron Indoor Stadium. The Tar Heels have won five of the last nine meetings in Durham. Head coach Roy Williams is 5-6 against Duke in games played in Cameron (all while head coach at UNC).
Carolina and Duke are No. 1 and 2 all-time in the ACC in wins, ACC regular-season wins, ACC Tournament wins and NCAA Tournament wins. Either Carolina or Duke have played in the NCAA Final Four 22 times in the last 34 seasons Carolina in 1981, 1982, 1991, 1993, 1995, 1997, 1998, 2000, 2005, 2008 and 2009). The Sporting News called Carolina-Duke "the greatest rivalry in American sport" on February 9, 2009.
In terms of a few key offensive and defensive statistical parameters, Duke has the edge in all of the categories except rebounding, steals, & blocks, which give the Blue Devils a solid statistical edge head-to-head.
| | | |
| --- | --- | --- |
| Duke | 2014-15 Regular Season Key Stats Comparison | UNC |
|                         80.3 (+15.7) | PPG (Scoring Margin) | 78.8 (+11.4) |
| 64.9 | Opponents PPG | 68.3 |
| 56.2 | Effective FG% | 50.7 |
| 49.7 | FG% | 47.0 |
| 42.8 | Opponent FG% | 39.2 |
| 38.1 | 3PT FG% | 32.9 |
| 32.2 | Opponent 3PT FG% | 28.7 |
| 37.8 (+6.9) | RPG (Rebound Margin) | 42.8 (+9.7) |
| 30.9 | Opponent RPG | 32.9 |
| 15.4 | APG | 17.6 |
| 7.0 | SPG | 6.6 |
| 11.2 (+1.5) | Turnovers Per Game (Margin) | 12.8 (-.4) |
| 12.4 | Opponent TOPG | 12.5 |
| 3.7 | BPG | 4.5 |

4. Four Factors to Winning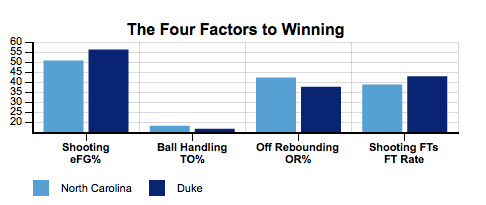 [If you wish to learn more about how the four factors are calculated and implemented, a description can always be found here,
https://www.dukeblogger.com/four-factors-winning/
.]
Duke has the edge over UNC in all factors except one, offensive rebounding. UNC's edge in offensive rebounding is 42.2% vs. 37.6%. When it comes to getting to the free throw line, Duke's edge is 42.9% vs. 38.7%. Duke is shooting the ball more efficiently (eFG%) at 56.2% vs. 50.7% and handling the ball better (16.7% vs. 18.2%).
5. Key Points to Consider
First, a few points regarding both team's overall profile at this point:
Duke
Two main scorers (Cook/Okafor); Jones/Winslow close behind
Makes the most of its possessions
Doesn't send teams to the line often
Highly efficient attack
UNC
Unselfish, balanced offense
Makes the most of its possessions.
Now, a few key points to consider. These may often carry over to future games but keys specific to a current opponent will always be mentioned.
The Ball Must Flow Through Okafor

With Jahlil Okafor having a 66.5 percent shooting rate, it makes sense for Duke to give him the ball as much as possible. The 6'11" freshman center knows his role on offense, and he does not try to mess around.
However, Okafor is only averaging 11.2 shots per game, as a result of opponents doing whatever they can to deny the ball inside or instantly doubling the big man to force turnovers. This latter approach is reaping benefits of late, as Okafor had four turnovers on Saturday at Syracuse and has turned it over at least three times in six of the last seven games.
North Carolina has struggled to defend well on the interior and just gave up 64.9 percent shooting in a loss at Pittsburgh, in which Pitt's forwards made 17 of 23 two-point shots.
Whatever it takes, Duke needs to make sure Okafor gets his maximum touches. That means more possessions that lead to shots or setting him up to pass out of the double-team to an open teammate.

Contain Marcus Paige

He is nowhere near North Carolina's best shooter from a statistical standpoint, but if there is one player who Duke needs to ensure does not get hot, it is Marcus Paige.
The junior guard is having a disappointing year, shooting 40.0 percent from the field and 37.5 percent from three-point range. He has made only eight of 27 threes over the past four games, and without his outside contributions, UNC has dropped three of four.
Paige is the kind of player who can get hot in a hurry, though, and this often happens in the second half. Duke is well aware of this after watching Paige score all 13 of his points in the final 20 minutes of Carolina's home win over the Blue Devils last February.

The Jefferson 'Slump

Amile Jefferson is the forgotten piece of Duke's lineup, the only starter who plays fewer than 25 minutes and averages single digits in scoring. The junior forward doesn't need to contribute much, not with the weapons around him on the court, but Saturday's two-point, three-rebound performance was hard to watch. His only basket came in the first two minutes of the game, and he logged just 14 minutes with guard Matt Jones replacing him in the starting five for the second half.
Jefferson averages 7.8 points and 6.7 rebounds while shooting 62.8 percent, yet he has been far below those averages over the last six games. With UNC being a more frontcourt-oriented team, Jefferson's role as one of just three forwards and centers that Duke uses is pivotal to Wednesday's game plan.

Like in Real Estate…Defense, Defense, Defense

Look back at every Duke loss this season, and there is a prevailing theme—defense or, rather, the lack thereof.
North Carolina State, Miami (Florida) and Notre Dame all shot at least 52 percent. The only other opponent to hit 50 percent was Michigan State, back in mid-November.
Since the Blue Devils lost at Notre Dame on January 28, they have ramped up the defensive intensity, and not surprisingly this has translated into victories. During their five-game win streak, the Devils have not let a opponent shoot better than 46.4 percent, and against the tougher opponents that rate has been far lower.
Notre Dame was held to less than 40 percent in the rematch at Duke, while wildly efficient Virginia suffered its first loss by hitting only 41 percent against the Blue Devils.
North Carolina shoots 47.0 percent and looks to push the tempo almost as much as Duke does. This could make for a track meet, but Duke should also try to make stops.

Absolutely Must Finish Strong

I will continue to posit this until the day I die in Coach K's use of motion stall (my terminology) with multiple minutes left with & single digit leads is DOWNRIGHT DANGEROUS (almost cost us the Syracuse game among others)
North Carolina has been a second-half team. Good or bad, the Tar Heels' results this season have been heavily influenced by their performance down the stretch.
Last time out, the Tar Heels were already down 14 at the half at Pittsburgh and then proceeded to see the deficit quickly jump to more than 20 and stay there for much of the rest of the game. It almost looked like the Heels had quit, at least defensively, similar to in the second half of recent losses to Louisville and Virginia.
UNC has shown a tendency to sulk and slump its shoulders when things are not going well. Duke must feed off this and try to put the game away before Marcus Paige attempts to bring the Heels back in the final minutes.
6. Key Matchups
Point Guard
From the outset of this comparison, we are dealing with mismatches, as Marcus Paige is better suited as a shooting guard. However, because of North Carolina's lack of experience and depth in the backcourt, he has to run the offense and create for himself. Tyus Jones does not have that kind of burden, as the weapons he has to work with are far more diverse.
The fact that Paige leads the Tar Heels in both scoring and assists drives home their offensive struggles, and when the junior gets cold, as has been the case quite often this year, others have not stepped up. Paige might try to defer to others and let the game come to him, but that has not always worked.
The 6'1″ Jones, on the other hand, has played far beyond his age all season. Though his shooting percentage is lower than what you would expect from someone only taking seven shots per game, he makes up for it with his ability to get to the line and with a 3-1 ratio of assists to turnovers.
Edge: Duke

Shooting Guard
J.P. Tokoto has started games for the Tar Heels, but not the last two. Normally handling a sort of "point forward" position, the 6'6″ junior has come off the bench and been replaced in the starting lineup by Nate Britt. This has been partly due to matchups and because of his massively enigmatic play this season.
Tokoto is still playing starter's minutes, but he is made just three of 12 shots in these past two contests. He has cut down on his turnovers, though, which was a big part of his problem.
Quinn Cook is essentially a second point guard on the court, but he has deferred most of those duties to Tyus Jones in order to free himself up to do what he does best (and what he seems to enjoy doing the most): shoot three-pointers. The 6'2″ senior's 65 made threes and 166 attempts are both more than any other two Duke players, but he has mostly avoided becoming too much of a heat-check machine and has taken the best shot available.
Edge: Duke

Small Forward
The only spot on the court where freshmen will be regularly matching up against each other, both Justin Jackson and Justise Winslow have shown flashes of what they're capable of and what made them both 5-star prospects. Each are capable of big things, Jackson had three straight games with 14 or more points in late January while Winslow notched three consecutive double-doubles between January 31 and February 7, but also end up disappearing.
Which one, if either, will show up on Wednesday? It will likely depend on who they are matched up against and the other players on the floor.
The 6'6″ Winslow often serves as the backup at the 4 when Amile Jefferson sits, which would put a much smaller defender on the 6'8″ Jackson. His athleticism would make this even more of a mismatch and could lead to Jackson breaking out for a big performance.
Edge: Even

Power Forward
Amile Jefferson is a starter in name only, as his role with Duke has tailed off over the last few weeks. This has been despite the Blue Devils rotation going down to just eight players after Rasheed Sulaimon was dismissed from the team.
The 6'9″ junior is coming off a season-low 14 minutes at Syracuse, and in his past six games, he has only averaged 3.8 points and 4.2 rebounds.
Brice Johnson, on the other hand, might be North Carolina's most consistent player this season, and that is saying something because the 6'9″ junior has made plenty of disappearing acts. When he shows aggressiveness, which usually involves taking more shots and crashing the boards, Johnson is at his best.
He has made 23 of his last 39 shots over the past three games, this after taking just two shots in the overtime loss at Louisville.
Edge: UNC

Center
There has been no player who has been able to outplay Duke freshman Jahlil Okafor, which is why most teams end up doubling him as soon as the ball is fed to him in the post. But even then, the 6'11" Okafor usually has an advantage, assuming he does not lose the ball before he can get into position to turn to the basket.
Okafor is coming off one of his toughest matchups against Syracuse senior Rakeem Christmas and he came out with 23 points and 13 rebounds. More importantly, though, he held Christmas to 5-of-17 shooting in one of his best defensive efforts yet (2 of those 5 were 'gimmees' as they were made when the game was on ice).
UNC's Kennedy Meeks will not be nearly as difficult to deal with, especially with the way the 6'9″ sophomore has been playing lately. Meeks was benched in favor of 6'8″ sophomore Isaiah Hicks the past two games but likely will be in there against Okafor as the Tar Heels' biggest (and thickest) player.
Meeks responded well to the benching on Saturday at Pittsburgh, scoring 15 points in 19 minutes on 6-of-8 shooting, but his defense was severely lacking.
Edge: Duke

7. Endgame
One of the constants of college basketball's most revered rivalry has been the importance of the games involving Duke and North Carolina in deciding the ACC regular-season champion. Often, including five times in seven seasons from 2006-12, the winner of the regular-season finale settled first place between the Blue Devils and Tar Heels. But rarely does the first meeting of the season all but eliminate the loser from any chance of winning the title. Yet that is the case Wednesday night for the 239th meeting between the two teams, who will face each other again in three weeks for the traditional season ending battle (March 7 in Chapel Hill).
The continued excellence of first-place Virginia (11-1) and the strong surge of second-place Notre Dame (now 11-3 after Tuesday night's home game vs. Wake Forest) leaves fading No. 15 North Carolina at surging No. 4 Duke as virtually an elimination game for the loser of the battle between third-place Duke and tied for fourth North Carolina. Only once in the 62-year history of the ACC (N.C. State in 1973 and '74, Maryland in '75) has three consecutive years passed without either the Blue Devils or Tar Heels winning at least a share of the regular-season title, but this could be the second time.
The way the defending champion Cavaliers (30-3 in ACC play the past two seasons) and Notre Dame are playing, it is hard to imagine a scenario in which Wednesday's loser could rally to the top following either a fourth league loss for Duke or a fifth for the Tar Heels with just five league games remaining.
The teams enter the game heading in different directions, Duke has won five straight and eight of its last nine, while UNC has dropped three of its last four.
Still, the Tar Heels may be able to challenge the top-ranked Blue Devils with their high-flying offense. Guard Marcus Paige leads the way with 13.9 points per game this season, though he has not played up to his potential as of late. He has been known to step it up a notch against the nation's big dogs, averaging 15.3 points per game against ranked opponents.
Paige also leads North Carolina with 4.2 assists per game. Dishing out the dimes should help North Carolina spread out Duke's defense. The Tar Heels are the nation's top passing team with 17.6 assists per game.
North Carolina has a couple of capable scorers in forwards Brice Johnson and Kennedy Meeks as outlets for his passes. Johnson has two double-doubles over the past five games, while Meeks has averaged 11.2 points per game. Johnson and Meeks should be even more productive on the defensive end. Johnson has five blocks in the past three games, while Meeks has two.
Jahlil Okafor stood proud and tall as Duke bested Syracuse, 80-72, on Saturday. The 6'11" freshman center scored 23 points and grabbed 13 rebounds for his ninth double-double of the season. He hit all seven shots he attempted in the second half to lift Duke to the win.
Okafor stands a good chance of once again having a dominating against North Carolina. He is averaging 18.2 points and 8.8 rebounds per conference home game this season. He has also averaged a double-double against ranked teams in the ACC with 17.5 points and 10.8 boards per game. In its last four games, North Carolina has allowed opposing starting centers to shoot a combined 67 percent from the field.
Quinn Cook and his outside shot should aid in opening up the paint against North Carolina. He has shot 42 percent from three-point range over his last three games. Cook may be help Duke build a lead by burying some timely threes against the Tar Heels. North Carolina was outdone by Pittsburgh's three-point shooting (53 percent) on Saturday.
Duke may even be more difficult to handle considering Tyus Jones' affinity for dishing out dimes in his last three games (25). Jones should be able to find the open passing lanes against North Carolina, who have allowed a whopping 20.3 assists per game over its last three.
In addition, even though both teams are playing with major deficits, Duke has the edge with the likes of Amile Jefferson, Justice Winslow, and as of late, Marshall Plumlee, Matt Jones, and Grayson Allen serving as a strong supporting cast.
If Duke runs the ball hard through Okafor all night, hits its three pointers, and contains Marcus Paige, they should come away with a hard-fought victory (82-72).