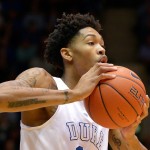 Duke managed to get their first road win of the ACC season against the Boston College Eagles 81-64 despite playing one if its sloppiest games of the season. Duke turned the ball over 16 times in the contest to match the 16 committed by BC. Duke did however manage a slight lead in points off of those turnovers (22-18). Duke also left an inordinate amount of points at the free throw line in the second half shooting only 11-20 and 19 of 30 for the game.
Early in the game Duke had a hard time scoring against the BC zone, but live ball turnovers by BC gave Duke a first half edge of 13 to 3 in points off of turnovers to account for their halftime lead.
Duke managed in the second half to push their lead to 19 points but several sloppy plays allowed for a 10-0 run to keep BC within striking distance. Eventually time ran out on the BC run as Duke managed to play them basket for basket down the stretch.
Duke was paced by freshman Brandon Ingram who scored a game high 25, on 9-18 shooting, Ingram also pulled down 9 rebounds and had 3 assists. Ingram has seemed to thrive in his role as a sort of point forward. Ingram has been excellent at discerning his advantages against defenses and either taking his man outside or inside if he has a size advantage. Duke also got 17 apiece from Grayson Allen and Luke Kennard, both shot over 50% from the floor and dished 7 assists between them. Matt Jones rounds out the Duke double figure scorers with 16 on 50% shooting. Jones also played stellar defense, even blocking leading BC scorer Eli Carter on an attempt right before the half.
Duke was never truly in danger in this game but the performance definitely left a lot to be desired.
Pluses:
Getting the first road win in the ACC
Duke shot the ball well at 55%
Minuses:
16 turnovers will turn Coach K gray
shooting 55% from the free throw line in the second half will get you beat in a lot of ACC games.
Duke's defense was not great, for the second game in a row an opponent missed a good amount of open looks at the basket.