Happy New Year!
Game Preview
Duke Blue Devils (11-2, 0-0] vs. Boston College Eagles (7-6, 0-0]
 Saturday, January 2, 2016 • 4:30 PM • Chestnut Hill, MA • Conte Forum
 By Randy Dunson [Note: Please direct comments, suggestions, etc. to @RandyDunson.]
 Team Overviews
#15/12 Duke is 27-8 in ACC openers under head coach Mike Krzyzewski, including a 10-4 mark when opening league play on the road. Duke has the best winning percentage (.838) and second-most wins (196) in the NCAA since the start of the 2009-10 season.
Duke employs one of the nation's most lethal offensive attacks, ranking second nationally in adjusted offensive efficiency (119.1) and third in the NCAA in scoring offense (88.9). Duke has scored nearly a quarter of its points this season at the free throw line (22.8 percent). The Blue Devils have made 59 more free throws (264) than its opponents have attempted (205).
With five ball handlers in its seven-man rotation, Duke ranks among the national leaders in turnover average (9.6) and turnover percentage (13.5 percent of offensive possessions). Duke is averaging an ACC-best 8.6 three-point field goals per game. Matt Jones ranks in the top five in the ACC in both threes per game (2.8) and three-point percentage (.456). Duke leads the ACC and ranks 22nd nationally with an average of 5.8 blocks per game as Marshall Plumlee is averaging a career-best 2.1 per contest.
Grayson Allen's average of 20.8 points per game ranks fifth by a player in the six major conferences. He is coming off a career-high 33-point performance against Long Beach State. Since December 15, Brandon Ingram has averaged 20.3 points, 8.8 rebounds, and 2.3 steals. In 139 minutes played during that stretch, he has committed just one turnover.
Notables:

Probable Starters
Guard – Sophomore Grayson Allen
Guard – Junior Matt Jones
Guard –Freshman Guard Derryk Thornton
Forward – Freshman Brandon Ingram
Center – Grad Student Marshall Plumlee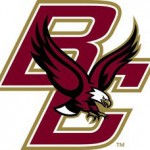 Boston College has won four-straight games after dropping six in a row. It beat New Hampshire in overtime on Wednesday, 72-67. Duke has won nine of its last 10 outings, including a 103-81 victory vs. Long Beach State on Wednesday. This will be Duke's first true road game of the season. The Blue Devils have won 18 of 20 meetings between the two programs. The last BC win came back in February 15, 2009 at home when Duke was ranked #6.
Boston College is the only team in the ACC to have a guard rank in the top 10 in scoring in each of the last three seasons. Olivier Hanlan finished in the top five in each of his three seasons at The Heights. Hanlan finished fifth in scoring as a freshman in 2012-13 (15.4), third in 2013-14 (18.5) and then led the ACC last season (19.5) as a junior.
That trend is continuing this year as graduate student Eli Carter currently ranks sixth in the league in scoring at 17.2 points per game. #15/12 Duke is 27-8 in ACC openers under head coach Mike Krzyzewski, including a 10-4 mark when opening league play on the road.
Notables: NA
Probable Starters
Guard – Freshman Jerome Robinson
Guard – Grad Student Eli Carter
Forward – Freshman Ervins Meznieks
Forward – Freshman A.J. Turner
Center – Senior Dennis Clifford
Last Time Out
Duke
In Duke's last game, Grayson Allen finally found some open lanes to the basket, and he burst through them. All those drives added up to the highest-scoring game of his career. Allen scored 24 of his 33 points in the second half to lead No. 15 Duke past Long Beach State 103-81 on Wednesday. Matt Jones added 21 points, Derryck Thornton had 18 and Brandon Ingram finished with 14 in the final nonconference game for the Blue Devils (11-2).
Duke overcame some poor early shooting from 3-point range by shooting 65.6 percent in the second half, hitting 28 of 32 free throws and pulling away with a 25-6 run that bridged the halves.
A.J. Spencer scored 20 points and Noah Blackwell had career highs of 19 points and four 3-pointers for the 49ers (6-9).
The Blue Devils' zone defense helped them lead for almost 15 minutes in the first half, and they finished with a 42-31 rebounding advantage. However, the 49ers had 18 turnovers that Duke turned into 24 points.
Allen was eight of 15 from the field and kept drawing contact and getting to the foul line, hitting 15 of 17 from there while surpassing his previous career-best of 32 points set against Georgetown last month in New York. He helped Duke flip a six-point deficit into a double-figure lead with the big run that started late in the first half and ended in the second.
The Blue Devils hit 11 of 12 free throws during a 2 1/2-minute stretch early in the burst before Allen dunked on Spencer and Thornton capped the run with a contested jumper that made it 51-38 with 17 1/2 minutes to play.
Notables:
The Cameron Crazies chanted Marshall Plumlee's name after he came up huge at both ends of the floor in the span of a few seconds

His authoritative behind-the-head dunk gave Duke its largest lead to that point, 70-55, with about 11 1/2 minutes left, and then he swatted Roschon Prince's shot to bring the fans to their feet

After scoring 70 points in the first half against Elon, Duke put up 61 in the second half against Long Beach State
The Blue Devils, who shoot 39 percent from 3-point range, made just three of their first 12 attempts from long range in the first half before hitting 8 of 15 in the second
Duke is 11-0 when scoring at least 79 points and 0-2 when scoring 75 or fewer.
Maryland transfer Nick Faust finished with 10 points in his first game at Cameron Indoor Stadium since February 2014, when Duke beat the Terrapins 69-67 on a missed hook shot at the buzzer by Maryland
In three visits with the Terps, all losses, Faust averaged 10.3 points
Boston College
Graduate student Eli Carter finished with a season-high 28 points while adding five rebounds and four assists. He scored 20 points in the second half and overtime, and had seven of the 12 points in the overtime session.
Freshman Jerome Robinson added 14 points and five rebounds. Senior Dennis Clifford posted 10 points, seven rebounds and matched a career high with four blocks. Freshman Ervins Meznieks also scored 10 points.
After UNH's Jacoby Armstrong hit a jumper late in overtime, Carter converted on an and-one to push BC's lead to 70-67 with 16 seconds left.
Boston College scored eight unanswered points over 1:54 to take a 15-6 lead at the 13:31 mark. Carter and Robinson hit 3-pointers in that stretch. With the Eagles on top, 17-8, New Hampshire went on a 10-2 run to cut the BC lead to 19-18 with 7:37 left in the half.
The Wildcats closed the half with nine unanswered points to take a 29-27 lead at the break. It was their first lead of the game. UNH led, 50-49, when BC scored seven unanswered points to regain a 56-50 lead with 3:40 left in regulation.
The Wildcats responded with seven of their own to take that lead back. Jaleen Smith hit a 3-pointer with eight seconds left to force overtime. After UNH's Jacoby Armstrong hit a jumper, Carter converted on an and-one to push BC's overtime lead to 70-67 with 16 seconds left.
New Hampshire took its first lead of the game at the buzzer at halftime when Jaleen Smith hit a 3-pointer.
Notables:
The Wildcats' bench outscored BC's, 24-7.
Ties: 9
Lead Changes: 14
Largest Lead: BC by 11 1st-12:59; UNH by 4 2nd-17:38
BC led for: 31:40
UNH led for: 7:35
Game was tied for: 5:42
Head-to-Head
Duke leads the overall series 18-2. The two teams first met on December 21, 1979 with Duke winning in OT 70-64. They last met at Cameron on January 3, 2015 with Duke winning 85-62.
In terms of a few key offensive and defensive statistical parameters when looking at these two teams head-to-head, Duke has a significant edge across the board. Of interest, are Scoring Margin (Duke ranks 12th to BC's 181st), Effective FG%, 3PT FG&, Rebound Margin (Duke at 81 vs. 258 for BC), FT%, & Turnover Margin (BC ranked 133rd vs. Duke at 22nd). This game weighs heavily in favor of Duke terms of statistics.
| | | |
| --- | --- | --- |
| Duke | 2015-16 Regular Season Key Stats Comparison | Boston College |
| 88.9 (+18.7) | PPG (Scoring Margin) | 67.5 (+2.3) 12-181 |
| 70.2 | Opponents PPG | 65.2 |
| 54.3 | Effective FG% | 49.7 |
| 47.4 | FG% | 43.1 |
| 42.9 | Opponent FG% | 40.6 |
| 38.9 | 3PT FG% | 32.6 |
| 35.8 | Opponent 3PT FG% | 35.2 |
| 40.5 (+6.1) | RPG (Rebound Margin) | 34.8 (-2.5) 81-258 |
|                              34.8 | Opponent RPG | 37.3 |
| 72.5 | FT% | 63.5 |
| 13.5 | APG | 13.7 |
| 7.0 | SPG (%) | 8.7 |
| 9.5 (+3.9) | Turnovers Per Game (Margin) | 11.5 (+1.0) 22-133 |
| 13.2 | Opponent TOPG | 12.4 |
| 5.8 | BPG | 4.1 |
| 16.8 | Fouls Per Game | 18.2 |
Four Factors to Winning
[If you wish to learn more about how the four factors are calculated and implemented, a description can always be found here,
https://www.dukeblogger.com/four-factors-winning/
.] [Please note that the graphical depiction is forthcoming.]
Duke has a decided edge in all of the four factors. When it comes to shooting the ball more efficiently, the Blue Devils have the edge over the Eagles at 54.3% vs. 49.73%. Duke has a significant edge in handling the ball at 13.5% vs. 17.5% and another significant edge when it comes to getting to the free throw line, 44.3% vs. 31.9%. Finally, Duke has an overwhelming edge in offensive rebounding (39.3% vs. 22.3%)
Key Points to Consider
First, a few points regarding both team's overall profile at this point:
Duke
Difficulty defending dribble penetration
Finds ways to score
Good ball control team
Does not send teams to the line often
Boston College
Now, a few key points to consider (refer to the Endgame). These may often carry over to future games but keys specific to a current opponent will always be mentioned.
[I decided to leave these points of reference as is going into ACC play. Once we have a game under our belt, particularly on the road, then I will update accordingly.]
Soon the calendar switches to 2016 and we say goodbye to the bulk of non-conference play and get down to the nitty gritty of ACC play. In addition, with this change, there will be room for further team adjustments to ensure Duke will have a shot to be a top tier team in the AAC, particularly with Amile Jefferson out for an indeterminate amount of time.
Following are a few things that Duke might consider doing in 2016, at least early on until more is known about the healing process of Amile's foot. The team hopes to have Jefferson back at some point this season, but foot injuries can be tricky. We already know that the Blue Devils are going to be smaller and thinner without their heart and soul in the lineup. Each of these items may provide Duke that bit of edge that can help drive the Blue Devils through the early part of the ACC season.
Share the Ball
Duke has made 358 field goals in its first 12 games, but only 156 of those have come as the result of an assist

The team's 42.9 percent assist rate is the 11th-worst among 351 Division I teams, and only Penn State shares the ball less among power-conference teams

Despite having one of the country's top-scoring offenses, sitting 15th at 87.8 points per game, the Blue Devils are getting most of their points despite much ball movement

Much of this has to do with Duke lacking a true point guard in the lineup, as freshman Derryck Thornton has only started four games, but that is now changing

Sophomore Grayson Allen is the team leader in assists, with 39, while also being Duke's top scorer. Thornton started the December 19 overtime loss to Utah in New York City, but he had only four assists in 42 minutes
Limit Fouls Committed While Defending
I have addressed this several times, but Duke's depth issue also means having to resort to playing zone defense instead of Coach Krzyzewski's traditional man-to-man approach

At times during the first two months of this season, the Blue Devils went to the zone when opponents were tearing apart the man-to-man, but now it will become the rule instead of the exception

The zone will keep players from tiring as quickly, which is imperative when the rotation only includes six or seven players

However, in order for it to be fully effective, Duke has to guard without being called for fouls. The Blue Devils commit 17 fouls per game, with four foul-outs
Three of those were from senior center Marshall Plumlee.

Plumlee is the player Duke can least afford to lose because freshman Chase Jeter is the only replacement available unless you count moving Brandon Ingram to the four spot

Regardless, the frontcourt must play 'light'
Limited Contact Practice
One might think that such a concept is silly, but the foot injury that has sidelined senior forward Amile Jefferson means Duke is down to just seven players in its rotation

In addition, that is only if you include freshman Chase Jeter, who is playing less than nine minutes per game
Also, there is the what I call the 'mystery' surrounding Sean Obi's playing time

In addition, there are only two walk-on players and potential redshirt Justin Roberson who can provide 'quality' practice minutes for the 10 scholarship players to practice against
With so little depth, particularly in the frontcourt, this puts the Blue Devils in the danger zone if another injury comes along. Jefferson got hurt during a practice, breaking his right foot while going after a loose ball in a hiatus practice on December 12
That might be the last time any of Duke's key player go full bore during practice, for fear of getting hurt. Injuries that happen during games are unavoidable, but with the thin lineup one might expect that the Blue Devils are steering clear of full-speed and full-contact practices
Find Meaningful Minutes for Chase Jeter
Rated by 247Sports as the 15th-best player in the 2015 recruiting class, Chase Jeter may someday live up to that ranking. For now, he's a long way away from being even close to a key contributor for Duke
While I disagree, one reporter noted that Jeter "isn't yet capable of playing and thinking with the speed and physicality high-major basketball requires," which infers why he is seen limited action in Duke's biggest games

That might not be avoidable as the season progresses, especially if Jefferson's foot injury keeps him out longer than the low-end prediction of a month (it will be more than a month in my opinion)
The upcoming games against Boston College and Virginia Tech will be great for giving the 6'10" Jeter an opportunity to develop, games where he could be left on an island in hopes he will learn through live action
By the time the meat of the ACC schedule comes around in mid-January, though, if Jeter is not seeing significant minutes, do not expect to see much more the rest of the year
Endgame
The Boston College Eagles come into this game with a 7-6 record and are currently 13th in the ACC. The Eagles come into this game on a 4 game win streak with their most recent game being a 72-67 win over New Hampshire. Through 13 games, this season the leading scorer for Boston College is Eli Carter who is averaging 17.2 points per game and 4.8 rebounds and 4.5 assists. Jerome Robinson is second on the team with 12.2 points per game and 4.4 rebounds and 3.1 assists.
The Duke Blue Devils will come into this game with a 11-2 record and are 5th in the ACC. Duke has won 2 out of their past 3 games with their most recent game being a 103-81 against Long Beach State. Through 13 games, this season the leading scorer for the Blue Devils has been Grayson Allen who is scoring 20.8 points per game and 5.1 rebounds. Brandon Ingram is second on the team with 15.7 points per game and 5.8 rebounds.
Duke is the far better team here and should not have any trouble beating Boston College. I think Boston College can keep it close it the beginning of the game but expect Duke to pull away in the second half. Duke wins 75-65.