Game Preview
Duke Blue Devils (12-0, 0-0] vs. Boston College (BC) Eagles (7-4, 0-0]
Saturday, January 3. 2015 • 4:00 PM • RSN/NESN • Durham, N.C. • Cameron Indoor Stadium
By Randy Dunson
1. Snapshot
Duke
Duke (12-0) opens ACC play against Boston College (7-4) Saturday, January 3. Tipoff is set for 4:05 PM with RSN televising the contest. The Blue Devils look to begin the season with 13 straight wins for the ninth time in school history and eighth time under Mike Krzyzewski. Duke enters the game ranked No. 2 in the AP Poll and the USA Today Coaches Poll. The Blue Devils are 118-18 when ranked No. 2 in the AP Poll. Boston College is unranked in both polls. The Blue Devils have won 40 consecutive games at Cameron Indoor Stadium, the fourth longest streak in both Duke and ACC history. Duke is celebrating the 75th anniversary of the opening of Cameron Indoor Stadium Saturday, The Blue Devils are 824-153 (.843) at the venue, including a 36-27 win over Princeton Jan. 6, 1940 to open the building. Saturday's game marks the ACC opener for both schools. Duke is 26-8 in ACC openers under Mike Krzyzewski.
BC
Boston College will hit the road for the first time since November 23 when it travels to Cameron Indoor Stadium on Saturday to take on #2/2 Duke. The game will be televised on RSN/NESN with Wes Durham and Mike Gminski on the call. The Eagles went 5-1 in their six-game December homestand. They beat UMass Lowell on Monday afternoon, 70-47. This will be the first true road game for BC this season. It has played four neutral site games and went 1-3 in those contests. Duke has opened the season with 12-straight wins and all of them have been by double digits. Boston College has never won at Cameron Indoor Stadium.
 2. Team Seasons Thus Far
Duke Blue Devils
In its last outing, Jahlil Okafor made his final nine shots from the field and was 11-of-13 overall en route to a 24-point effort to lead Duke to an 84-55 win over Wofford Wednesday, December 31. Okafor added a game-high eight rebounds to go along with two blocks and two steals. Justise Winslow scored 16 first half points, while Quinn Cook (15) and Amile Jefferson (10) also reached double figures. The Blue Devils shot 70.8 percent (17-of-24) from the field and outscored Wofford, 43-21, in the second half. Duke was 8-of-16 from three-point range with Cook (3-of-6) and Winslow (2-of-4) combining to go 5-of-10 from long range.
Game Notes
Duke started 12-0 during the 2012, 2010, 2005, 2004, 2002, and 2001 seasons (since 1996)
The win over Wofford extended the Duke winning streak to 12 games
Duke beat the spread by seven points. That makes the 7th time this season the Blue Devils have beaten the spread
This was the sixth blowout win this season (a win by 20 or more points). Over the past five seasons, Duke has been on the winning end of 62 blowout games
The Blue Devils have recorded more rebounds than their opponents for the past nine games
This is the seventh game at home this season–Duke has a 33.9 average scoring margin against opponents at home
Tyus Jones recorded a team season high in steals with four
The top two scorers (Jahlil Okafor and Justise Winslow) accounted for 47.6 percent of the points
The top two rebounders (Jahlil Okafor and Justise Winslow) accounted for 44.1 percent of the rebounds
Jahlil Okafor has led the team in scoring six times and in rebounding 7 times in 12 games this season
Quinn Cook has three straight double-digit point games
This marks the fifth 20-point game of Jahlil Okafor's career
Jahlil Okafor has 12 straight double-digit point games
Overall, several notable highlights, trends, and highlights continue to emerge as the season progresses:
Team Highlights
The Blue Devils are one of six remaining undefeated teams in the NCAA. Duke is the only team in that group to win each game by 10 or more points
Duke has won each of the first 12 games by 10 or more points, marking the first time in program history it has accomplished that feat
The Blue Devils have trailed for just 5:55 through the first 12 games of the season. Duke's largest deficit this season has been four points
Duke is seeking its first 13-game win streak since the start of the 2012-13 season. Duke opened that season with 15 consecutive victories
Duke is averaging 93.3 points per game while shooting 57.1 percent from the field, including 67.3 percent on its two-point field goal attempts, in seven games at Cameron Indoor Stadium
The Blue Devils have a +33.9 scoring margin in those contests
Duke is averaging 39.5 points in the paint per game and has scored 40 or more points in the paint six times
The Blue Devils have won seven straight ACC home openers and are 24-10 in ACC lid lifters under Mike Krzyzewski
Individual Player Highlights
Freshmen Tyus Jones, Jahlil Okafor, and Justise Winslow have started all 12 games for the Blue Devils. Mike Krzyzewski has started three or more freshmen in a game 47 times at Duke, including 27 times during the 1982-83 season. The trio combines to average 41.7 points, 17.2 rebounds and 9.1 assists per game
Okafor has been outstanding at Cameron Indoor Stadium averaging 22.4 points, 9.4 rebounds, 1.7 assists, and 1.7 blocks per game. He is 70-of-90 (.778) from the field at home and has made eight or more field goals in all seven contests
Okafor has the highest field goal percentage (.685) in the NCAA among players attempting 10 or more shots per game. Okafor has shot over 70.0 percent from the field in eight of Duke's 12 games
Quinn Cook is averaging a career-high 14.5 points per game while also posting career bests in field goal percentage (.496), three-point field goal percentage (.403), three-point field goals (2.58 3PPG) and free throw percentage (.958)
Okafor and Amile Jefferson each rank in the top 10 of the ACC in rebounds at 8.8 RPG and 8.1 RPG, respectively. The last time Duke had two players average 8.0 rebounds or better for a season was 1994-95 when Cherokee Parks (9.3 RPG) and Erik Meek (8.3 RPG) accomplished the feat.
T. Jones is averaging 13.8 points, 4.7 rebounds, 5.7 assists, and 1.8 steals per game over the past six contests. He is 20-of-38 (.526) from the field and 34-of-41 (.854) from the foul line in that stretch. Jones has four double figures scoring games, including a pair of 20-point efforts, in that span
Okafor has scored 20 or more points in three of the past four games. He is averaging 22.0 points per game on 36-of-47 (.766) shooting to go along with 11.0 rebounds per game in that stretch.
Quinn Cook has made at least one three-point field goal in each of the past 22 games. He is shooting 41.4 percent (53-of-128) from behind the arc in that stretch. Cook is second in the ACC in three-point field goals (2.58 3PG) this season
Duke's starting frontcourt of Okafor and Jefferson combines to average 27.7 points and 16.9 rebounds per game, while shooting 67.3 percent (140-of-208) from the field.
BC
In its last outing, graduate student Aaron Brown scored a season-high 22 points on 9-for-12 shooting to lead Boston College to a 70-47 win over UMass Lowell on Monday afternoon. He also had four assists. Brown ignited the decisive second-half run by scoring BC's first eight points after halftime. He scored 13 of the Eagles' first 19 points in the second half. Junior Dennis Clifford matched a career high with 19 points, going 9-for-11 from the foul line. It was the second time he went 9-for-11 from the charity stripe this year. Junior Olivier Hanlan contributed 10 points, five rebounds, and three assists. Senior Patrick Heckmann matched a career high with six assists. Brown sparked a 10-2 opening run in the second half to push the lead to 39-24. He scored BC's first eight points of the half. He and classmate Dimitri Batten scored 17 of BC's first 19 points in the half. Brown scored 13 of those points. The Eagles controlled the game the rest of the way as the lead never went under 13 points.
Game Notes
Boston College started 7-4 during the 2009, 2006, and 1997 seasons (since 1996)
Boston College has won every game this season (4-0) after committing 11 or fewer turnovers
The Eagles have won 80 percent of the time this season (4-1) after recording seven or more three-pointers
BC has won every game this season (4-0) when opponents record 19 or fewer field goals made
BC has won every game this season (4-0) after holding an opponent to under 39.6 percent field goal percentage
This season Boston College has won 100 percent of the time (5-0) when Olivier Hanlan has five rebounds or more
The Eagles set season highs for field goal percentage (55.6) and three-point percentage (58.3)
The last time BC had a three-point percentage of 58.3 percent or higher was March 14, 2013 against Georgia Tech
BC set a season low for rebounds (23)
The Eagles have recorded more assists than their opponents for the past six games
This is the seventh game at home this season–BC has a 11.3 average scoring margin against opponents at home
Aaron Brown accounted for 31.4 percent of the team's points
Aaron Brown has led the team in scoring in five out of 11 games this season
Olivier Hanlan has five straight double-digit point games
This marks the fifth 20-point game of Aaron Brown's career
Aaron Brown has six straight double-digit point games
Aaron Brown had a career high with nine field goals made
Dennis Clifford had a career high with 19 points
Dimitri Batten had a career high with a 100 percent field goal percentage
Overall, several notable highlights, trends, and highlights continue to emerge as the season progresses:
Boston College has proven to be one of the tallest teams in the country this season. The Eagles rank sixth in the nation in height according to Ken Pomeroy (as of 11/23), weighted by minutes played. Kentucky leads the nation at 79.4 inches and Florida State is second at 79.0. BC checks in at 78.7 inches.
The Eagle's roster is also loaded with a lot of college basketball experience. Of the 16 players, two are graduate students, six are seniors, and three are juniors. • According to StatSheet.com, BC is the seventh-most experienced team in the country and the only team in the top 10 from the ACC. Upper classmen have accounted for 89 percent of the scoring, 90 percent of the assists, 85 percent of the minutes and 84 percent of the rebounds. All 55 starts have come from juniors, seniors, and graduate students.
Team Highlights
Last year, Boston College played just four non-conference home games last year — this year it will play eight at Conte Forum.
There are no true road non-conference games on the schedule. BC faced Massachusetts at the
TD Garden again this year and it played three games in the Puerto Rico Tip-Off.
The 2014-15 schedule features 12 teams that advanced to either the NCAA Tournament or the NIT — with 10 of those teams playing in the NCAA Tournament.
Boston College returns 66 percent of its scoring from last season, which ranks third in the conference behind North Carolina and Virginia.
The Eagles also return 60 percent of its rebounding, which ranks seventh in the ACC.
Hanlan also leads the team in that category by averaging 3.4 per game.
BC returns 60 percent of its starts from last season, which is sixth. It had 95 of its 160 starts come
back this year.
Player Highlights
This will be the final year for five seniors who have been in the roster for the last four seasons: forward John Cain Carney, center KC Caudill, guard Patrick Heckmann, guard Lonnie Jackson, and forward Eddie Odio; together, they have played in 345 games and made 129 starts in their careers
Jackson has averaged 8.0 points per game over his career and is a 39 percent shooter from beyond the arc
Heckmann has similar numbers with 7.4 points per game while also shooting 36 percent from 3-point land
Odio and Caudill have also seen significant time on the court. Odio has averaged 3.3 points in his first three seasons while Caudill has averaged 1.8
Cain Carney has appeared in 21 contests
Boston College welcomed three newcomers to the 2014-15 roster, two fifth-year transfers and a freshman
Graduate student Dimitri Batten graduated from Old Dominion this past summer while classmate Aaron Brown came from Southern Miss
Junior guard Olivier Hanlan was named to the All-ACC Third Team by both the coaches and the Atlantic Coast Sports Media Association (ACSMA) last year
Hanlan ranked third in the ACC in scoring (18.5), sixth in free throw percentage (.811) and seventh in field goal percentage (.447); he scored in double figures in 30 of the 32 regular-season games and had 12 games of 20 or more points; in conference action, he ranked second in scoring (18.4) and fourth in field goal percentage (.460)
Junior center Dennis Clifford hopes to be fully healthy for the 2014-15 season after battling knee issues the last two years; during his freshman season, Clifford played in all 31 games and made 25 starts. He averaged 26.9 minutes, 9.1 points and 4.7 rebounds

3. Head-to-Head
Boston College's record against Duke is 2-17. They first on played December 21, 1979 at the at the Providence Civic Center and lost 70-64 in OT. Their last meeting was at the Conte Forum on February 8, 2014 with another loss of 89-68. The losing streak currently stands at 18.
In terms of a few key offensive and defensive statistical parameters, Duke predominates in all except for SPG and BPG, which gives the Blue Devils a significant statistical edge head-to-head.
| | | |
| --- | --- | --- |
| Duke | 2014-15 Regular Season Key Stats Comparison | BC (BC) |
| 85.3 (+24.5) | PPG (Scoring Margin) | 67.7 (+5.2) |
| 60.5 | Opponents PPG | 62.5 |
| 59.6 | Effective FG% | 51.0 |
| 52.9 | FG% | 44.9 |
| 41.0 | Opponent FG% | 42.8 |
| 38.2 | 3PT FG% | 28.4 |
| 27.4 | Opponent 3PT FG% | 29.4 |
| 37.8 (+8.9) | RPG (Rebound Margin) | 33.3 (+3.0) |
| 29.2 | Opponent RPG | 30.5 |
| 17.3 | APG | 12.9 |
| 8.6 | SPG | 8.1 |
| 11.0 (+3.2) | Turnovers Per Game (Margin) | 14.0 (+1.9) |
| 14.3 | Opponent TOPG | 15.9 |
| 3.7 | BPG | 3.2 |
4. Four Factors to Winning
[If you wish to learn more about how the four factors are calculated and implemented, a description can always be found here,
https://www.dukeblogger.com/four-factors-winning/
.]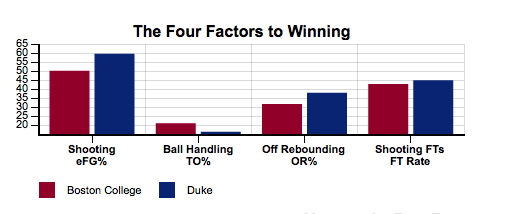 Duke holds a strong edge in all but one of the factors. When looking at eFG%, it is 59.6% to 50.1%. In terms of handling the ball, the Blue Devils have the edge in (16.2% vs. 21.0%). In offensive rebounding, the edge is 37.9% vs. 31.7%). Duke has only a slight edge when it comes to getting to the free throw line (44.9% vs. 42.8%).
5. Key Points to Consider
First, a few points regarding both team's overall profile at this point:
Duke
Highly efficient attack
Stingy defense
Commits few fouls
BC
Two main scorers (Brown/Hanlan)
Stingy Defense
Now, a few key points to consider (refer to the Endgame). These may often carry over to future games but keys specific to a current opponent will always be mentioned.
Contain Brown and Hanlan
Freshmen response to hostile environments
Effective bench
Start games better
Rebounding
Defensive intensity for 40 minutes
6. Endgame
At this time last year, Duke saw a six-game win streak in ACC openers end. The way the second-ranked Blue Devils are playing, it's hard to see them suffering that same fate this season.
Duke and its star-studded freshmen have produced the nation's second-best field-goal percentage as they look to take advantage of visiting Boson College's defensive woes Saturday.
The Blue Devils are seeking a ninth 13-0 start while looking to extend the nation's longest home win streak to 41 games. Duke is one of six remaining unbeaten teams, though it's the only one to win every game by at least 10 points. It's the first time it has won 12 straight to start the season by double digits. "We're going to ACC play the way we want to go," star center Jahlil Okafor said.
Okafor joins Justise Winslow and Tyus Jones as freshmen starters for the Blue Devils, and he's quickly become a candidate for national player of the year honors. He is shooting a Division I-leading 68.5 percent for a Duke team at 52.9 percent to trail only No. 14 Notre Dame (55.4). "If you don't double Jah, it's going to be tough," coach Mike Krzyzewski said. "And if you double him, he's going to pass out. We have guys who can shoot."
The Blue Devils turned in identical 55.8 percent shooting performances in wins by 86-69 over Toledo on Monday and 84-55 over Wofford on Wednesday.
"We're excited. We all go to 0-0," Krzyzewski said. "Four of these guys have never been on this journey so they'll be surprised at how rigorous it is. But these two games have really gotten us in conference mode."
Duke fell 79-77 to the Fighting Irish in last season's ACC opener, but should have an easier time this weekend. Boston College (7-4) went 4-14 in conference play a season ago, resulting in Jim Christian replacing Steve Donahue as coach. The Eagles are allowing opponents to shoot 42.8 percent – the ACC's second-worst mark. Duke leads all major conference teams by averaging 93.3 points at home.
Christian has plenty of experience at his disposal with four seniors complementing leading returning scorer Olivier Hanlan in the starting lineup. "The ACC is an unbelievable conference from No. 1 all the way down to No. 15," Christian told Boston College's official website. "You have to be at the top of your game every single day in order to succeed. Our experience and mentality are two important factors as we begin league play at one of the toughest venues in the country."
The Eagles' top scorer this season is newcomer Aaron Brown, who averages 16.1 points after previously playing at Temple and Southern Mississippi. Brown scored 11 points for the Owls when they upset a fifth-ranked Duke team 78-73 on January 4, 2012, and he started in a loss at Cameron Indoor Stadium the season before. Hanlan is averaging 19.0 points in three meetings with Duke, scoring 25 in an 89-68 home loss Feb. 8. Quinn Cook, the Blue Devils' second-leading scorer at 14.5 points per game, scored 21 in that contest.
Duke has won 17 of 19 meetings, including all seven at home.
Even though this is the ACC and anything can happen, given the way some teams have played Duke this year, I think that they will come away with a win.
We end this section by looking at five key questions that Duke faces going into the ACC season. Several of them you have seen before. They obviously apply to this current game as well.
How will the freshman respond to road environment?
This is a question that every team is asking as conference play begins. For Duke, how will Jahlil Okafor, Justise Winslow, and Tyus Jones respond to playing in tough road environments? More specifically, how will they respond when Duke is struggling or even down? Yes, they did play on the road against a very good Wisconsin team, but what about when playing at NC State, Wake Forest, or Virginia? There is no doubt that these three are the best players on the team (along with Quinn Cook), but they are also 18-19 years old. They are young men. Young men can be rattled by signs or chants by an opposing student section. This is where guys like Quinn Cook, Amile Jefferson, Rasheed Sulaimon, and company need to make sure the younger players are calm and not getting distraught when things aren't going their way. Okafor, Winslow, and T. Jones haven't had many struggles so far, even against the better teams that Duke has played. Will these freshmen stay collected when in hostile environments?
Can the bench be more effective?
The Duke bench has struggled mightily so far this season and heading into ACC play, it is a big question mark for the number two team in the nation. As most know, the starters scored every point in the win against UConn in East Rutherford. That won't bode well against the likes of Virginia, UNC, or Louisville. To key on some guys coming off the bench, Rasheed Sulaimon and Matt Jones are two players who need to step up for the Blue Devils. Much has been said about how Sulaimon has declined since his stellar freshman season. He has been forcing his play too much, looking out of control in his dribble drives, and getting ahead of himself (traveling, shuffling his feet before the drive). Sulaimon needs to play within himself and not try to do too much. Matt Jones' contribution to the team needs to be for him to knock down threes and play solid defense. His shot as of late hasn't been falling, but when it does, it forces defenses to rotate towards him. This opens up his ability to drive to basket, which he does well too. Jones needs to defend without fouling, which was an issue for him in the Wofford game as he had three fouls in the first half. There is no question that the bench needs to contribute more for Duke by scoring, providing energy, and being reliable replacements when the starters are tired or in foul trouble.
Can Duke start games better?
This has been a big issue for the Duke ever since their first break after the 80-70 win over Wisconsin. They have been starting games slow, almost expecting their opponents to roll over after an early deficit. They started slow against Toledo and Wofford, but then were able to dominate in the second half, blowing out the Rockets and Terriers. Being as talented as Duke is, they can rebound at halftime and come back to dominate weaker teams. However, heading into conference play, this will prove difficult for the Blue Devils. They need to start games with the same intensity, especially defensively, that they do after Coach K has spoken to them in locker room after 20 minutes of play. If they don't, there will be teams who can easily take advantage of this and give Duke fits. Strong starts are key to winning and taking crowds out of the game when on the road.
Will the defense step up?
This question is a direct follow on from the previous one. Can defensive intensity help with Duke's slow starts? The offense has been there all year, especially when Okafor touches the ball in the post, but the defense has truly been the real 'Duke defense seen in the second half. The Blue Devils have been allowing dribble drives and open shots early on in the first half of games as of late this season. Sure, they have been able to recover and play tough defense later, mainly in the second half. However, for Duke to become an even more dominant team, they must play better defense. It isn't necessarily one or two players, but the team as a whole. When all five players on the floor are committed to shutting down their assignments, the team defends better. Something to look for against ACC opponents is whether or not Duke can apply pressure and defend well.
Can Duke rebound?
This question isn't pointed at just the big men. Yes, Jefferson, Okafor, and Plumlee can all box out and grab rebounds at an efficient rate, but the team as a whole needs to rebound better. Now, this isn't the issue that was evident last year, but it's worth bringing up. Two seasons ago, Steve Wojciechowski talked about how when guards rebound, it is an instant start to a fast break. Not only that, but it helps out the big men, showing that they don't need to grab every rebound. Cook, Winslow, Matt and T. Jones, and others need to crash the boards, but do so intelligently. All five players on the floor need to box out and grab rebounds. It has been seen too much as of late, opponents flying in with ease to grab offensive rebounds, leading to second and even third chance opportunities. This was more than evident in the Wofford game as the tape clearly showed. If Duke doesn't rebound, Montrezl Harrell, Kennedy Meeks, Desmond Hubert, Anthony Hill, Mike Tobey, and others will take advantage and make Duke pay dearly.