Game Preview Duke Blue Devils (14-0, 2-0] vs. NC State Wolfpack (11-5, 2-1]
Sunday, January 11. 2015 • 1:30 PM • CBS • Raleigh, N.C. • PNC Arena  
By Randy Dunson
1. Snapshot
Duke Duke (14-0, 2-0) travels to Raleigh to face NC State (11-5, 2-1) Sunday, January 11 in its second consecutive ACC road game. Tipoff is set for 1:30 p.m. with the CBS televising the contest. The Blue Devils look to begin the season with 15 straight wins for the seventh time in school history (all under Mike Krzyzewski). Duke enters the game ranked No. 2 in the AP Poll and the USA Today Coaches Poll. The Blue Devils are 120-18 when ranked No. 2 in the AP Poll. NC State is unranked in both polls.   The Blue Devils have had a 20+ point scorer in nine straight games. Jahlil Okafor has topped the 20-point mark in six of the past nine contests. Duke has led at the half in all 14 games and has not trailed by more than a basket in the second half of play. Duke has lost three straight games and is 9-5 all-time at PNC Arena. The Blue Devils are 7-4 at the venue against NC State and 2-1 in NCAA Tournament play.   NC State Sunday's game vs. No. 2 Duke is the second game of a stretch that sees NC State play three consecutive games with ranked opponents, all in an eight-day stretch. After playing at No. 3 Virginia on Wednesday, this is the first time since 1992 NC State has played two teams in a row ranked in the AP top 5. After playing Duke (RPI 5), NCSU will take on No. 18/17 UNC-Chapel Hill (RPI 21). NC State is currently No. 43 in the RPI with the No. 8 strength of schedule. The Pack currently owns three top-75 wins (Boise State, Tennessee, Pittsburgh) and can climb college basketball's rankings with good showings in the upcoming games.   As the ACC has transformed in membership over the years, so too have traditional rivalries. NC State and Duke played each other twice each year from the 1923-24 season until 2005-06. In a series dating back to 1911, this season marks just the eighth time the two schools will meet just once in the regular season. Sunday's game is the 240th edition of the NC State-Duke rivalry.
2. Team Seasons Thus Far
  Duke Blue Devils In its last outing, Justise Winslow scored a season-high 20 points and added seven rebounds, three assists, and two blocks to lead Duke to a 73-65 road win over Wake Forest Wednesday. Jahlil Okafor recorded his third double-double of the year with 12 points and 11 rebounds, while Quinn Cook (12) and Rasheed Sulaimon (10) also scored in double figures. The Blue Devils posted a 39-31 rebounding margin, including a 9-4 edge on the offensive glass. Duke's execution in the final five minutes of play was outstanding as the Blue Devils were 5-of-5 from the field and 7-of-8 from the foul line to close out the game.     Game Notes
Duke started 14-0 during the 2012, 2010, 2005, and 2004 seasons (since 1996).
The win over Wake Forest extended the Duke winning streak to 14 games.
The Blue Devils have recorded more rebounds than their opponents for the past 11 games.
The top two scorers (Justise Winslow and Jahlil Okafor) accounted for 43.8 percent of the points.
The top two rebounders (Jahlil Okafor and Justise Winslow) accounted for 46.1 percent of the rebounds.
Jahlil Okafor has led the team in rebounding in nine out of 14 games this season.
Quinn Cook has five straight double-digit point games.
This marks the first 20-point game of Justise Winslow's career.
Justise Winslow has three straight double-digit point games.
Jahlil Okafor recorded the third double-digit rebound game of his career.
Jahlil Okafor has 14 straight double-digit point games.
Jahlil Okafor recorded a double-double. It was the third of his career.
Rasheed Sulaimon had a career high with a 100 percent three-point percentage.
Overall, several notable highlights, trends, and highlights continue to emerge as the season progresses:   Team Highlights
The Blue Devils are one of three remaining undefeated teams in the NCAA (joined by Kentucky and Virginia).
The Blue Devils have trailed for just 11:19 through the first 14 games of the season. Duke's largest deficit this season has been six points.
Duke is seeking its first 15-game win streak since the start of the 2012-13 season. Duke opened that season with 15 consecutive victories before falling to NC State, 84-76, at PNC Arena.
Duke has outrebounded its opponent in 13 of 14 games on the year and owns a +8.3 rebound margin. Michigan State is the only team to outrebound the Blue Devils this season.
The Blue Devils are shooting 54.7 percent (205-of-375) from the field in the second half of play, including 82.1 percent (55-of-67) shooting from Jahlil Okafor. Okafor is 30-of-33 (.909) from the field after halftime over the past seven games.
Duke is 233-66 (.779) in the month of January under Mike Krzyzewski. The Blue Devils have won seven straight and 38 of their last 50 games in the month.
Individual Player Highlights
Freshmen Tyus Jones, Jahlil Okafor, and Justise Winslow have started all 14 games for the Blue Devils. Mike Krzyzewski has started three or more freshmen in a game 49 times at Duke, including 27 times during the 1982-83 season. The trio combines to average 41.6 points, 17.8 rebounds and 8.9 assists per game.
Okafor has scored 20 or more points in six of the past nine games and is averaging 20.7 points on 73.0 percent (73-of-100) shooting from the field in that span.
Winslow is averaging 16.3 points, 7.0 rebounds, and 3.0 assists per game over the past three contests. He is 17-of-34 (.500) from the field, including 6-of-13 (.462) from three-point range, in that stretch.
Quinn Cook is averaging a career-high 14.4 points per game while also posting career bests in field goal percentage (.469), three-point field goals (2.5 3PG) and free throw percentage (.968). He has scored in double figures 13 times this season.
Okafor has the highest field goal percentage (.681) in the NCAA among players attempting seven or more shots per game. Okafor has shot over 70.0 percent from the field in eight of Duke's 14 games.
Cook has made at least one three-point field goal in each of the past 24 games. He is shooting 39.9 percent (57-of-143) from behind the arc in that stretch. Cook is second in the ACC in three-point field goals (2.5 3PG) and sixth in three-point percentage (.380) this season.
Rasheed Sulaimon has made five consecutive three-point field goals and is 7-of-10 (.700) from behind the arc over the past four games. He has scored in double figures six times this season, including each of the past two games.
T. Jones is averaging 11.8 points, 4.4 rebounds, 5.1 assists, and 1.8 steals per game over the past eight contests. He is 23-of-50 (.460) from the field and 39-of-46 (.848) from the foul line in that stretch. Jones has four double figure scoring games, including a pair of 20-point efforts, in that span.
A freshman has led the Blue Devils in scoring in 11 of 14 games. Jahlil Okafor has paced the offensive attack seven times, while Tyus Jones and Justise Winslow have each led Duke in scoring two times. The rookie trio has also accounted for nine of Duke's 10 20-point games on the Year (Okafor 6, Jones 2, and Winslow 1).
  NC State In its last outing on Wednesday, January. 7, NC State took on No. 3 Virginia and lost to the Cavaliers 61-51 in conference play. The Wolfpack are still looking for their first win over an AP-Ranked team this season (0-2). The Wolfpack got a team-high 14 points and three rebounds from Ralston Turner. Kyle Washington got a double-double with 13 points and 10 rebounds. For the Cavaliers, Justin Anderson finished with a game-high 16 points and nine rebounds. Game Notes
NC State started 11-5 during the 2013, 2010, 2009, 2007, 2004, 2003, 2002, and 1998 seasons (since 1996).
NCSU beat the spread by 4.5 points. That makes the 7th time this season the Wolfpack have beaten the spread.
Prior to this game, NCSU played 34 Top 25 opponents in the last five seasons with a record of 7-27.
NC State has lost 100 percent of the time this season (0-3) after recording 29 or fewer rebounds.
NCSU set season lows for free throws made (2) and total points (51).
NC State has recorded fewer steals than their opponents for the past nine games.
The top two scorers (Ralston Turner and Kyle Washington) accounted for 52.9 percent of the points.
Kyle Washington accounted for 34.4 percent of the team's rebounds.
Ralston Turner has led the team in scoring in six out of 16 games this season.
Kyle Washington has led the team in rebounding in six out of 16 games this season.
Kyle Washington recorded the fifth double-digit rebound game of his career.
Kyle Washington recorded a double-double. It was his second this season and third of his career.
Kyle Washington had a career high with 10 rebounds.
Overall, several notable highlights, trends, and highlights continue to emerge as the season progresses:   Team Highlights Wolfpack Getting Defensive
Through three ACC games, the Wolfpack has turned in three solid defensive efforts.
On December 6, NC State held Wake Forest to .386 shooting and forced the Deacons into 11 turnovers.
The Pack suffocated Pittsburgh on January 3, holding the Panthers to 50 points on .327 shooting.
While NC State did fall 61-51 at Virginia on Wednesday, NC State held the Cavs to .411 shooting in a game that was, until some late free throws by Virginia, a defensive battle played in the 60s.
Schedule Tough
According to ESPN, NC State has the eighth-toughest schedule in the nation.
Mark Gottfried will tell you last year's tough schedule was the difference in NC State playing in the NCAA Tournament instead of the NIT.
NC State's 2013-14 schedule was ranked 21st toughest in the nation.
Gottfried has adopted a similar philosophy this season, scheduling nine teams who played in the 2014 NCAA Tournament.
ESPN tabbed NC State's non-ACC schedule as the 26th toughest in the country.
Player Highlights Cat, Trevor and Ralston Lead the Attack
NC State is led by its three-guard attack, with Trevor Lacey, Ralston Turner, and Cat Barber combining for 41.6 points and 11.5 rebounds per game.
Lacey is fifth in the ACC in scoring with 16.7 points per game.
Turner, the team's leading long-range shooter, scores 13.1 points per contest.
Barber, State's starting point guard, is scoring 11.8 per game and leads the team in assists.
Length and (Less) Width
BeeJay Anya is one of the largest players in college basketball.
He has actually trimmed down considerably, having lost nearly 60 pounds since last season.
However, it is his wingspan that sets him apart.
He has a measured wingspan of 7-9, the longest wingspan recorded for a non-7-foot player in the NBA Draft Express database for basketball prospects.
Only 7-6 Mamadou N'Ddiaye has a longer wingspan.
Ralston Passes 1,000
Fifth-year senior Ralston Turner passed the 1,000-point mark for his career in the season opener.
He enters Sunday's game with 1,208 career points, 589 of which have come at NCSU.
Turner has made 402 field goals in his career (195 at NC State), 211 of them from 3-point range.
He has made 116 treys at NC State.
Turner, in his fifth year after playing two seasons at LSU before coming to State, averaged 10.5 points per game last season.
Trevor Approaching 1,000
Trevor Lacey enters Sunday's game vs. Duke with 896 career points (646 of which came during two seasons at Alabama).
Lacey has tallied 250 career points at NC State.
|3. Head-to-Head
Duke leads the series 141-98. They hold a 3-0 winning streak. In their last meeting, Duke beat State 75-67 in the 2014 tourney.   In terms of a few key offensive and defensive statistical parameters, Although Duke's stats have decreased/increased (where appropriate) since beginning ACC play, they still have an edge over State in most all categories, which give the Blue Devils a significant statistical edge head-to-head.
| | | |
| --- | --- | --- |
| Duke | 2014-15 Regular Season Key Stats Comparison | NC State |
| 84.4 (+23.5) | PPG (Scoring Margin) | 71.4 (+2.1) |
| 60.9 | Opponents PPG | 62.4 |
| 58.7 | Effective FG% | 51.4 |
| 51.8 | FG% | 45.8 |
| 41.3 | Opponent FG% | 38.5 |
| 36.9 | 3PT FG% | 36.9 |
| 26.4 | Opponent 3PT FG% | 31.5 |
| 37.9 (+8.3) | RPG (Rebound Margin) | 38.6 (+6.1) |
| 29.6 | Opponent RPG | 32.6 |
| 16.7 | APG | 10.8 |
| 8.0 | SPG | 3.7 |
| 11.2 (+3.2) | Turnovers Per Game (Margin) | 11.6 (+1.1) |
| 13.9 | Opponent TOPG | 10.0 |
| 4.1 | BPG | 6.1 |
4. Four Factors to Winning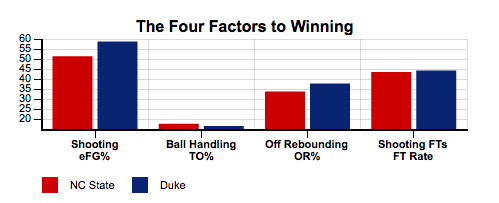 [If you wish to learn more about how the four factors are calculated and implemented, a description can always be found here,
https://www.dukeblogger.com/four-factors-winning/
.]   Duke holds a significant edge in eFG% and FT rate and a smaller edge in the other two factors. When looking at eFG%, it is 58.7% to 51.4%. In terms of handling the ball, the edge is 16.5% vs. 17.7%. In offensive rebounding, the edge is 37.8% vs. 33.7. Finally, when it comes to getting to the free throw line (44.2% vs. 43.5%).

5. Key Points to Consider
First, a few points regarding both team's overall profile at this point: Duke
Makes the most of its possessions
Hard to score against
Commits few fouls
NC State
Stingy defense
Two main scorers (Lacey/Turner)
Highly efficient attack
Does not force many turnovers
Now, a few key points to consider (refer to the Endgame). These may often carry over to future games but keys specific to a current opponent will always be mentioned.
Freshmen response to hostile environment

Addressed overall last week
PNC Arena has been unkind to Duke when facing State

Effective bench production

Sulaimon was the only effective bench player against Wake
Need even more production when the well goes dry

Must get off to a quick start

A no brainer once again
Particularly playing away from home, revving the engine quickly crucial
6. Endgame
As a preface to this section, I almost picked State to pull off the upset and hope that does not come back to haunt me. The Duke Blue Devils enter this matchup as the favorites to win the ACC title. The same thing cannot be said about the North Carolina State Wolfpack, but that does not mean they will not give the Blue Devils a fight. With that said, Duke has yet to lose a game in the 2014-15 college basketball season. North Carolina State, on the other hand, has lost a total of five games, which includes an ACC loss to the Virginia Cavaliers in their last contest. Needless to say, if the Wolfpack plan to make the NCAA tournament this year, they need a big win or two in the conference. Luckily, the ACC is jam-packed with powerhouses. There is this one player named Jahlil Okafor and not only is he the best player on Duke's squad, he is arguably the best player in college hoops. He will enter this ballgame averaging 18.9 PPG and 8.9 RPG. He is not alone, though, as the Blue Devils are filled with future NBA players. NC State is not as fortunate, but it does have Trevor Lacey, who is averaging 16.7 points per contest. Not only will Lacey and company have to be efficient on the offensive side of the ball, but they will have to stop players like Okafor, which can be done as proven in the Wake game. The Wolfpack get a little boost since they will be playing in front of their fans, but there are way too many weapons on Duke's team. If a team stops Okafor, it has to worry about stopping Quinn Cook, Justise Winslow and so many others next. Rasheed Sulaimon, who is only putting up 7.4 PPG, can drain threes like it is his job (45.5 percent from behind the arc). For the record, he very well could be a star if this Duke team was not so talented. In the end, the Blue Devils will extend their winning streak to 15 games in a tightly fought battle.