Game Preview
Duke Blue Devils (12-2, 1-0] vs. Wake Forest Demon Deacons (9-4, 0-1]
 Wednesday, January 6, 2016 • 7:00 PM • ESPNU • Winston Salem, NC • Lawrence Joel Coliseum
 By Randy Dunson [Note: Please direct comments, suggestions, etc. to @RandyDunson.]

Team Overviews
Duke will visit Wake Forest on Wednesday looking to open ACC play with consecutive road victories for just the second time under head coach Mike Krzyzewski (also 1999-00). Duke is 230-123 (.652) in road games during Coach K's tenure, including a 164-101 (.619) mark in ACC road contests.
Duke employs one of the nation's most lethal offensive attacks, ranking second nationally in adjusted offensive efficiency (119.6) and fourth in the NCAA in scoring offense (88.4). Duke has scored nearly a quarter of its points this season at the free throw line (22.9 percent). The Blue Devils have made 64 more free throws (283) than its opponents have attempted (219).
With five ball handlers in its seven-man rotation, Duke ranks among the national leaders in both turnover average (10.1) and turnover percentage (14.1 percent of offensive possessions). Duke is averaging an ACC-best 8.6 three-point field goals per game. Matt Jones ranks fourth in the ACC in three-point field goals per game (2.8). Duke ranks second in the ACC and 25th nationally with an average of 5.6 blocks per game as Marshall Plumlee is averaging a career-best 1.9 per contest.
Grayson Allen's average of 20.6 points per game ranks fifth by a player in the six major conferences. Duke is 17-0 in his career when he scores in double figures. Brandon Ingram has eclipsed the 20-point mark in five of Duke's last seven games. Since Dec. 15, Ingram has averaged 21.2 points, 8.8 rebounds, and 2.0 steals.
Notables:
Probable Starters
Guard – Sophomore Grayson Allen
Guard – Junior Matt Jones
Guard –Freshman Guard Derryk Thornton
Forward – Freshman Brandon Ingram
Center – Grad Student Marshall Plumlee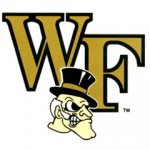 Wake Forest opens its home ACC schedule with a visit from reigning NCAA Champion Duke. The Deacs are looking to win their ACC home opener for the fourth time in the past five years. Wake is 7-18 all-time (4-8 at home) against reigning NCAA Champions, with the last victory coming at North Carolina in 2009-10. The Deacs are 2-6 against the Blue Devils as reigning National Champions, with wins coming in 1992 (at home) and 1993 (at Duke).
The Deacons are 1-3 against ranked opponents this season, defeating Indiana and losing to Vanderbilt, Xavier, and Louisville. Wake Forest's three non-conference games against ranked foes were its most since 2004-05. A win against Duke would mark the first time Wake Forest defeated two top-15 teams in a season since 2008-09, when the Deacs defeated three.
Wake Forest is 7-0 this season in games decided by six points or less, defeating UMBC, Indiana, UCLA, Rutgers, Arkansas, Coastal Carolina, and LSU after going 5-6 in those contests last season. The Demon Deacons' nine wins this season have come by a total of 46 points, with the largest margin of victory coming by 10 points in the 81-71 win over UNC Greensboro on December 15. Wake Forest is the only team in the top 60 of the RPI to have all its wins this season be by 10 points or less
The Demon Deacons host NC State next Sunday for the first of two meetings between the teams this season. The home team has won the last seven matchups in the series.

Notables: NA
Probable Starters
Guard – Senior Codi Miller-McIntyre
Guard – Sophomore Mitchell Wilbekin
Guard – Freshman Bryant Crawford
Forward – Senior Devin Thomas
Forward – Dinos Mitoglou


Last Time Out
Duke
Grayson Allen intercepted a pass and went in for a dunk so emphatic that the ball, after passing through the net, bounced off his head and wound up a half-dozen rows back in the stands. The Duke guard fell to the court with a thud.
"(He's) powerful, and then he's fearless. So he goes with a little bit of a reckless abandon," coach Mike Krzyzewski said after the 15th-ranked Blue Devils beat Boston College 81-64 in the Atlantic Coast Conference opener for both teams.
Allen had 17 points, nine rebounds and five assists for the Blue Devils (12-2), and Brandon Ingram finished with 25 points and nine rebounds. Duke fell behind by six points early in its first true road game of the season before scoring 20 of the next 25 points. Luke Kennard added 17 points, and Matt Jones had 16 to help Duke beat BC for the 10th consecutive time. Eli Carter scored 19 points for Boston College (7-7, 0-1), and Jerome Robinson had 15 points and seven rebounds.
BC led 12-6 with 7 minutes gone in the game before Derryck Thornton made a jumper on an assist from Allen and then Jones made a 3-pointer to cut the deficit to one point. Allen then stole the ball from Robinson and took it in for a dunk to give Duke its first lead of the game. Allen was slow to get up after landing hard among the media sitting courtside.
It was 18-17 Duke before the Blue Devils made eight consecutive free throws. Duke scored the last five points of the first half to take a 37-24 lead.
The Eagles ran off 10 straight points in the second half to cut a 21-point deficit to 57-46. However, after Duke called timeout, Allen hit a free throw and then had another steal that led to a three-point play.
Notables:
Ingram was one point off his career high

He entered the game averaging 21.3 points and 8.2 rebounds in his past six games
The 6-foot-9, 190-pound forward has topped the 20-point mark and led the Blue Devils in five of the past seven games
One of seven freshmen on the roster, Ingram got his first taste of an ACC road game

The Blue Devils improved to 19-2 against BC
Duke is 28-8 in ACC openers under Krzyzewski
The Blue Devils made just 3 of 13 attempts from 3-point range in the first half
Duke is 19-0 when Allen scores in double figures since the start of last season
BC last beat Duke on Feb. 15, 2009, when the Blue Devils were ranked sixth in The AP's Top 25
Wake Forest
The Wake Forest men's basketball team fell to No. 18-ranked Louisville, 65-57, in the teams' ACC opener at the KFC Yum! Center in Louisville, Ky. on Sunday night. The game was the first meeting between the teams in Louisville. The Demon Deacons fell to 9-4 on the season, while the Cardinals upped their record to 12-2.
Devin Thomas (14 points and 10 rebounds) and Konstantinos Mitoglou (10 points and 10 rebounds) each recorded double-doubles, while freshman Bryant Crawford chipped in 14 points and a team-best seven assists in his first-career ACC game.
After a back-and-forth opening five minutes that featured eight lead changes, the Cardinals reeled off 10-straight points to gain an 18-9 lead. The Deacons trimmed the gap to 23-20, but the hosts went on to stake themselves to a seven-point cushion at the break, 35-28. Devin Thomas paced the Deacs with nine points and six rebounds after the first 20 minutes.
In the second half, the Cardinals stretched their lead back to nine with just over 13 minutes to play. However, an 8-0 run by Wake Forest that included back-to-back 3-pointers by Mitoglou and Mitchell Wilbekin brought the visitors back within one.
With 2:31 left on the clock, Crawford sunk a shot from beyond the arc to knot the score at 56, but a Donovan Mitchell layup on Louisville's next trip down the court proved to be the game-winner.
Wake Forest opens its ACC home schedule Wednesday against reigning NCAA Champion Duke and hosts NC State next Sunday
Notables:
Devin Thomas and Konstantinos Mitoglou each posted double-doubles on Sunday, marking the third time this season both players have been in double figures in points and rebounds this season

They both had double-doubles against UMBC and Richmond

• Thomas, who now has seven double-doubles this season, is the ACC's active leader in career rebounds (897), career double-doubles (28) and career double-figure rebounding games (36)
Mitoglou has three double-doubles this year after having just one last year as a freshman
Bryant Crawford led the Deacons with seven assists

He has had seven or more assists four times this year, including two nine-assist efforts, and has led the Deacs in that category in eight of 13 contests

Rondale Watson, who had not had multiple assists in a game before Sunday, dished out a career-best five assists against the Cardinals
Off the fast break, the Deacs outscored Louisville, 12-0
Wake Forest fell to 1-3 against ranked teams and now has the same record this year when trailing at the half
The game was the first for the Deacons in Louisville since they played in the 1962 Final Four

Wake Forest lost to Ohio State in the national semifinal before topping UCLA in the third-place game

Louisville's 10-0 run in the first half matched the most-consecutive points conceded by the Deacons this season
The Deacs' 65 points against were the fewest they've conceded in a game in 2015-16

Their 57 points scored were also a season-low
Head-to-Head
The Blue Devils lead the series 165-78 (Duke leads 46-39 at Wake and 13-11 at the Coliseum). Duke won both meetings last season, 73-65 in Winston-Salem, and 94-51 in Durham. Wake has won six of the last 11 meetings in Winston-Salem, all when Duke was in the top 10, including twice when the Deacs were unranked.
In terms of a few key offensive and defensive statistical parameters when looking at these two teams head-to-head, they match-up fairly well with the exception of a few key stats. As noted above, Duke ranks 25th nationally in BPG at 5.6. Wake is not far behind at 5.3 BPG (40th). Of interest, are Scoring Margin (Duke ranks 9th to the Deacons 219th), Effective FG%, 3PT FG&, Rebound Margin (Duke at 44th nationally vs. 84th for Wake), FT%, & Turnover Margin (Deacs ranked 322nd vs. Duke at 27th). This game weighs in favor of Duke terms of statistics.
| | | |
| --- | --- | --- |
| Duke | 2015-16 Regular Season Key Stats Comparison | Wake Forest |
| 88.4 (+18.6) | PPG (Scoring Margin) | 77.0 (0) 9-219 |
| 69.8 | Opponents PPG | 77.1 |
| 54.8 | Effective FG% | 49.5 |
| 47.9 | FG% | 44.0 |
| 42.9 | Opponent FG% | 44.4 |
| 38.6 | 3PT FG% | 32.9 |
| 36.0 | Opponent 3PT FG% | 34.0 |
| 40.4 (+6.3) | RPG (Rebound Margin) | 39.9 (4.6) 44-84 |
|                              34.1 | Opponent RPG | 35.3 |
| 71.8 | FT% | 68.7 |
| 13.4 | APG | 13.5 |
| 7.1 | SPG (%) | 10.3 |
| 9.9 (+3.6) | Turnovers Per Game (Margin) | 14.5 (-2.9) 27-322 |
| 13.4 | Opponent TOPG | 11.5 |
| 5.6 | BPG | 5.3 |
| 16.9 | Fouls Per Game | 20.7 |
Four Factors to Winning
[If you wish to learn more about how the four factors are calculated and implemented, a description can always be found here,
https://www.dukeblogger.com/four-factors-winning/
.] [Please note that the graphical depiction is forthcoming.]
Duke has an edge in all of the four factors. When it comes to shooting the ball more efficiently, the Blue Devils have a significant edge over the Demon Deacons at 54.8% vs. 49.5%. Duke also has a significant edge in handling the ball at 14.1% vs. 19.8% and a slight edge when it comes to getting to the free throw line, 45.2% vs. 48.0%. Finally, Duke has another slight edge in offensive rebounding (38.6% vs. 35.2%)
 Key Points to Consider
First, a few points regarding both team's overall profile at this point:
Duke
Difficulty defending dribble penetration
Highly efficient attack
Doesn't turn it over much
Commits few fouls
Wake Forest
Up tempo offense
Makes the most of its possessions
Easy to score against
Doesn't force many turnovers
Now, a few key points to consider (refer to the Endgame). These may often carry over to future games but keys specific to a current opponent will always be mentioned.
[I decided to wait until Duke has played three ACC games before delving into more specific keys. This will be after the Virginia Techs game at Cameron.]
 Endgame
The Duke Blue Devils look to keep rolling after winning 10 of their last 11 games. The Duke Blue Devils are averaging 88.4 points on 47.9 percent shooting and allowing 69.8 points on 42.9 percent shooting.
Grayson Allen is averaging 20.6 points and 3.6 assists while Brandon Ingram is averaging 16.4 points and six rebounds. Matt Jones is dishing 2.3 assists and Marshall Plumlee is grabbing 7.1 rebounds. The Duke Blue Devils are shooting 38.6 percent from beyond the arc and 71.8 percent from the free throw line. Duke is allowing 36 percent shooting from deep and is forcing 13.4 turnovers per game. The Duke Blue Devils have won six straight road games.
The Wake Forest Demon Deacons look for a statement win after winning five of their last seven games. The Wake Forest Demon Deacons are averaging 77 points on 44 percent shooting and allowing 77.1 points on 44.4 percent shooting. Devin Thomas is averaging 16.4 points and 10.2 rebounds while Bryant Crawford is averaging 13.9 points and five assists. Konstantinos Mitoglou is the third double-digit scorer and John Collins is grabbing 4.8 rebounds. The Wake Forest Demon Deacons are shooting 32.9 percent from beyond the arc and 68.7 percent from the free throw line. Wake Forest is allowing 34 percent shooting from deep and are forcing 11.4 turnovers per game. The Wake Forest Demon Deacons have won eight of their last 11 home games.
Wake Forest is not deep enough to hang with this Duke team on the offensive end. The Blue Devils can hit you from many spots while the Demon Deacons rely heavily on Thomas to bail them out. I see the Blue Devils winning by double digits.