Man, I really don't have words for this game, Duke went down 6 to 0 early and from there it was just a beat down of Notre Dame. Duke most definitely leveled up, ate the mushroom, chomped down the power pellets and chased away the ghosts of the one that got away at Notre Dame. I thought the line for this game was absurd, 10.5 I believe it was, but a Duke win by 30 (90-60)? No way. Well I guess I was wrong.
Duke went completely bonkers in the first half effectively ending this game early. Duke shot 7 of 8 from beyond the arc in the first half for 87.5% and 81% from the floor as a whole and free throws finally weren't an issue with Duke going 9 of 12 in the first half. Duke got double figure efforts in the first half from freshman Justise Winslow who scored 11 on his way to 19, he also added 11 rebounds for his 3rd straight double-double. Winslow also had 4 assists. Matt Jones came out firing for Duke and scored 15 first half points and 17 for the game for Duke. Jones was 3 of 5 from beyond the arc for the game. Duke ended the half with a 50-24 lead and really never looked back.
The second half saw Duke continue to dominate the Irish in every facet. Duke was tough and quick to the ball and even when the shooting fell off from the hot first half numbers Duke used a ratcheted up defensive effort to keep Notre Dame in check. Duke recovered well and really played one of its best defensive games of the year, against the top offensive team in the nation. Go figure. Even in transition defense, which Duke seemed to struggle in this year, Duke hustled back well enough to stop and force Notre Dame to regroup and execute in the half court. Duke only allowed 2 fast break points for the entire game against Notre Dame. Duke won the rebounding battle handily 40-26 yet Notre Dame had an advantage in second chance point 21 to 14 but who cares about that when you are hitting on all cylinders. The last stat I will mention is bench points because it has been my worry ever since Rasheed Sulaimon was dismissed. Matt Jones has been a revelation for Coach K off the bench, scoring 17 this game and if I remember correctly 11 the game before, and one will have to assume that as Grayson gets acclimated to playing more minutes he may very well be able to aid Matt in that statistic.
This game was fun, that's what it was. I think I can speak for all Duke fans watching – it was just a pleasure to see Duke perform at a high level, a level some of us may have doubted possible a couple of weeks ago. It was a masterful performance by several Duke players and the team in general. Jahlil Okafor scored a team high 20 points on 9 for 11 shooting and also pulled down 10 rebounds. The insane amount of moves this freshman possesses is just that, insane. He has such a good feel for the defense when he is on and engaged and being as young as he is the hope is that he continues to put together games where he dominates.
Just as dominant as Jahzilla was in the scoring column, fellow freshman Tyus Jones was nearly perfect in his floor game. Tyus went 3 of 4 from the floor for 12 points, 4 of 6 from the free throw line but his most impressive stat was his 7 assists to 0 turnovers and a steal. Tyus made smart play after smart play and kept this offense loose and flowing.
A welcomed sight for Duke fans was Grayson Allen not only getting meaningful minutes but making an impact on the game. Allen scored 5 points, grabbed 2 rebounds and had an extremely athletic block on a Notre Dame player that as you will see was vine worthy.
All in all this was more than just exacted revenge for a game Duke basically let slip away but it is what this team can look like when it puts all the phases of the game together. Hopefully it is something this team can bottle up and continue to use going forward because if this team can get this sort of effort and fire every night then the rest of the ACC really better watch out.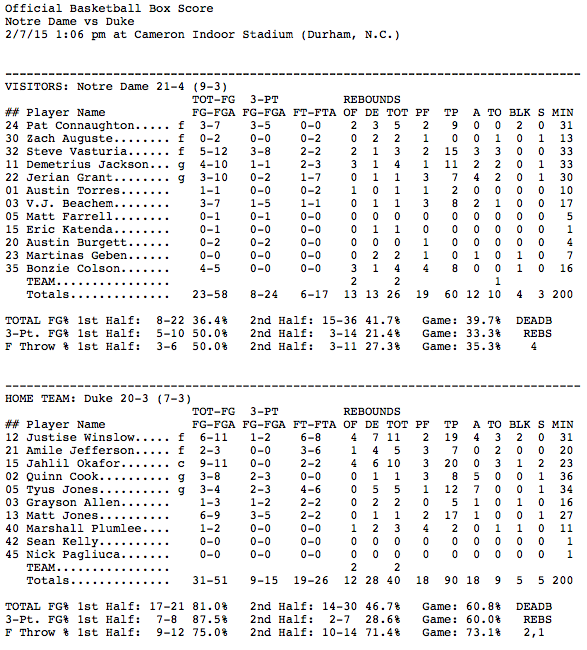 Grayson block:
Winslow block:
Okafor move:
Okafor move: