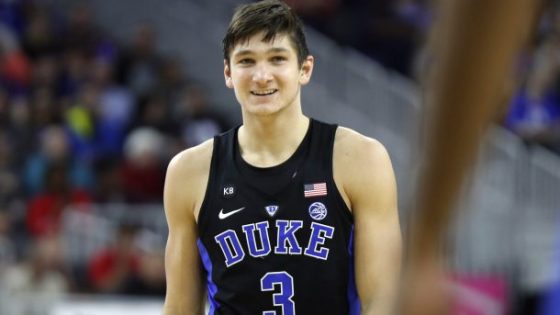 Notre Dame for all intents and purposes has owned Duke in the Mike Brey era so even with the Fighting Irish on a 2 game slide most assumed at home Notre Dame would rebound for a win against Duke. Duke had other plans. The Blue Devils calmly and efficiently entered South Bend and left with a win. Duke was unflappable and seemed to quell every run by the Irish with one of their own.
Duke took a 12 point lead into the half but Notre Dame opened the half with a run and eventually cut the Duke lead down to 1 but Duke responded with a Grayson Allen 3 pointer.  There was a definite sense that this team was different that the one from the past couple of weeks. Duke did not fold and hit timely shots when they needed them and down the stretch Duke was perfect from the foul line the only miss coming earlier when Amile Jefferson missed a free throw subbing for an injured Tatum.
Duke was paced by Grayson Allen who scored 21 points on 6-13 shooting, Allen bailed Duke out over and over in the second half keeping his composure despite the raucous crowd targeting the junior guard each time he touched the ball. Jayson Tatum, who shook off his 5 turnovers to help Duke when it mattered, scoring 19 points and putting down a game high 14 rebounds. Luke Kennard followed up his 34 point performance at Wake Forest with 16 points on 5 of 11 shooting before fouling out in the second half.  Matt Jones also added 16 points on 5-6 shooting. Duke was markedly better defensively against Notre Dame holding the Irish to 33.3% shooting from 3 point range and 42.9% overall. Duke also out-rebounded Notre Dame 38 to 26.
This win brings Duke closer to .500 on the road in the ACC (2-3) and with a 3 game homestand next up for the Devils they have the opportunity to better their standings in the ACC.
Pluses:
Duke shot 51.9% from the field
36 points in the paint for Duke
Duke 38-26 rebounding advantage
23-24 from the free throw line
Minuses:
Notre Dame had 22 points off of Duke's 15 turnovers