[Preface]
I dedicate this preview to former Duke player, junior Rasheed Sulaimon, who was dismissed from the team for unknown reasons on January 29, 2015. I feel that he was an integral player for the team and was the top player off the bench for the Blue Devils regardless of KenPom ratings. A breakdown of his contributions to the team and thoughts about his dismissal will be shared in a separate piece, "Ode to Rasheed Sulaimon" soon.
Game Preview
Duke Blue Devils (17-3, 4-3] vs. Virginia Cavaliers (19-0, 7-0]
Saturday, January 31, 2015 • 7:06 PM • ESPN • Charlottesville, VA • John Paul Jones Arena
By Randy Dunson
1. Snapshot
Duke
Duke (17-3, 4-3) travels to Charlottesville to face Virginia (19-0, 7-0) Saturday, January 31 at the John Paul Jones Arena. Tipoff is set for 7:06 PM with Dan Shulman (play-by-play), Jay Bilas (analyst) and Shannon Spake (sideline) calling the action for ESPN. The Blue Devils enter the game ranked No. 4 in the AP Poll and USA Today Coaches Poll. Duke is 66-15 when ranked No. 4 in the AP Poll. Virginia is ranked No. 2 in both polls. Duke is 15-26 all-time against teams ranked No. 2 in the AP Poll. The Blue Devils have won 41 of their past 63 games when both teams have been ranked in the top 10 of the AP Poll. Duke is 3-1 on the year against ranked opponents with all four contests occurring away from Cameron Indoor Stadium. Saturday's game marks Duke's sixth road game in an eight-game stretch. The Blue Devils are 4-2 on the year in true road games.
Virginia
Virginia (19-0) is off to its best start since the 1980-81 season when that team led by legendary center Ralph Sampson started 23-0. UVA has started 7-0 in ACC play for the first time since the 1980-81 team started 12-0. The Cavaliers rank first nationally in scoring defense at 49.2 points per game. Virginia is first in the ACC at 7-0, while Duke is tied for sixth at 4-3. The Cavaliers have won 14 of their 19 games by 11 or more points. Virginia's Tony Bennett and Mike Tobey, and Duke's Jahlil Okafor and Justise Winslow helped Team USA to the gold medal at the 2013 FIBA U19 World Championship in Prague, Czech Republic.
2. Last Time Out
Duke
In its last outing, a late scoring drought and sub-par free throw shooting by the Blue Devils led to a 77-73 road loss to Notre Dame Wednesday. Duke finished 10-of-20 from the free throw line and was outscored 24-10 over the final 11 minutes of play. Jahlil Okafor recorded a double-double with 22 points and 17 rebounds, while Quinn Cook added 15 points, including 13 in the opening half of play. Tyus Jones and Justise Winslow also scored in double figures with 14 and 13 points, respectively. The freshman trio of Jones, Okafor, and Winslow combined for 31 of Duke's 34 second half points. Recently dismissed Rasheed Sulaimon was one of only three bench players to see action, playing for 12 minutes and scoring 3 points, one rebound, and two steals. Notre Dame shot 51.8 percent from the field for the game. Duke is now 0-3 on the year when the opposition shoots over 50 percent from the field.
Game Notes
Duke started 17-3 during the 2011, 2009, and 2006 seasons (since 1996).
Prior to this game, Duke played 47 Top 25 opponents in the last five seasons with a record of 32-15.
When the opposition records 77 or more total points this season, Duke has lost 100 percent of the time (0-3).
When the opposition shoots a field goal percentage of 51.8 percent or better this season, Duke has lost 100 percent of the time (0-3).
When the opposition shoots a three-point percentage of 44.4 percent or better this season, Duke has lost 100 percent of the time (0-3).
This is the second loss of the season where the Blue Devils opponent came back to win after being down at halftime.
Jahlil Okafor recorded a team season high in defensive rebounds with 12.
Jahlil Okafor accounted for 30.1 percent of the team's points.
Jahlil Okafor accounted for 44.7 percent of the team's rebounds.
Jahlil Okafor has led the team in scoring nine times and in rebounding 13 times in 20 games this season.
Quinn Cook has three straight double-digit point games.
Tyus Jones has four straight double-digit point games.
This marks the eighth 20-point game of Jahlil Okafor's career.
Jahlil Okafor has 20 straight double-digit point games.
Jahlil Okafor recorded a double-double. It was the seventh of his career
Virginia
In its last outing, Justin Anderson scored eight of his 12 points during a late 12-0 run to send No. 2 Virginia to a 50-47 victory at Virginia Tech. Virginia Tech went on a 16-0 run after Malcolm Brogdon (8 points) opened the second half with a 3-pointer for the Cavaliers, who have won five straight games against the Hokies in Blacksburg. Darion Atkins chipped in nine points, and Anthony Gill added eight
points and seven rebounds for Virginia. London Perrantes had a game-high seven assists for Virginia, which outrebounded Virginia Tech 33-21. Adam Smith led the Hokies with 15 points.
Game Notes
The win over Virginia Tech extended the Virginia winning streak to 19 games.
The Cavaliers have won two close games this season (a win by five or fewer points). Since 2009, Virginia is 21-29 in close games.
UVA set a season low for field goals made (17).
The Cavaliers have recorded more assists than their opponents for the past four games.
Virginia has turned the ball over less than their opponents for the past four games.
The top two scorers (Justin Anderson and Darion Atkins) accounted for 42.0 percent of the points.
Justin Anderson has led the team in scoring in 10 out of 19 games this season.
Anthony Gill has led the team in rebounding in eight out of 19 games this season.
3. Head-to-Head
UVA meets Duke for the 167th time overall and 72nd time in Charlottesville in a series that dates back to 1910-11. Virginia is 50-116 all-time vs. Duke, including a 72-63 win in the 2014 ACC Tournament final on March 16 in Greensboro, NC. Duke posted a 69-65 win over Virginia during the 2013-14 regular
season in Durham. The Cavaliers have won two of the last three games vs. Duke, including a 73-68 win behind Joe Harris' 36 points in the last meeting between the teams in Charlottesville in 2012-13. Head coach Tony Bennett is 2-6 all-time against Duke at UVA.
In terms of a few key offensive and defensive statistical parameters, Although Duke's stats have decreased/increased (where appropriate) since beginning ACC play, they still have an edge over Virginia in many categories, which give the Blue Devils a slight statistical edge head-to-head.
| | | |
| --- | --- | --- |
| Duke | 2014-15 Regular Season Key Stats Comparison | Virginia |
| 81.2 (+16.6) | PPG (Scoring Margin) | 68.3 (+19.2) |
| 64.6 | Opponents PPG | 49.2 |
| 56.3 | Effective FG% | 52.8 |
| 49.6 | FG% | 47.3 |
| 42.7 | Opponent FG% | 34.1 |
| 37.7 | 3PT FG% | 39.5 |
| 30.0 | Opponent 3PT FG% | 29.9 |
| 38.1 (+734) | RPG (Rebound Margin) | 36.1 (+10.8) |
| 30.8 | Opponent RPG | 27.3 |
| 15.5 | APG | 13.7 |
| 15.5 | SPG | 4.9 |
| 11.4 (+1.5) | Turnovers Per Game (Margin) | 9.0 (+1.1) |
| 12.9 | Opponent TOPG | 10.1 |
| 3.6 | BPG | 4.6 |
4. Four Factors to Winning
[If you wish to learn more about how the four factors are calculated and implemented, a description can always be found here,
https://www.dukeblogger.com/four-factors-winning/
.]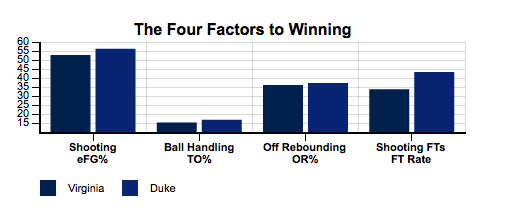 Duke has the edge in three of the four factors. When it comes to shooting the ball more efficiently, the edge is 56.3% vs. 52.8%. The edge in offensive rebounding at 37.2% vs. 36.1%, and finally when it comes to getting to the free throw line, Duke is at 43.3% vs. 33.8%. Virginia handles the ball better (15.3% vs. 16.8%).
5. Key Points to Consider
First, a few points regarding both team's overall profile at this point:
Duke
Makes the most of its possessions
Hard to score against
Doesn't send teams to the line often
Virginia
Very methodical on offense
Two main scorers (Anderson/Brogdon)
Makes the most of its possessions
Hard to score against
Guards the paint well
Now, a few key points to consider (refer to the Endgame). These may often carry over to future games but keys specific to a current opponent will always be mentioned.
Can Virginia ContainOkafor?

Past opponents have tried defending Okafor a variety of ways, often employing double teams.
In Bennett's Pack-Line defense, trapping the post is a staple of the Cavaliers' scheme. Its unlikely UVA would get away from that double-team approach tonight.
"Obviously, we trap the post," Bennett said. "There's no big mystery there."
The challenge Okafor presents, more than any other big man in the league, is his ability to pass out of double teams.

How Duke Attacks Virginia's Defense

Virginia and Kentucky are an easy 1-2 as the best defensive teams in the country.
The Cavaliers do their work by giving opponents precious few possessions and few great shots.
Virginia is second in the nation in defensive field goal percentage from two-point range (26.9 percent) and effective field goal rate. On top of that, Virginia keeps teams off the offensive glass.
Therefore, the question for Duke is how to score on the pack-line defense.
Getting the ball to Jahlil Okafor in the post may be tough, even for a freshman point guard as outstanding Tyus Jones.
Duke will need Quinn Cook (39.6 percent from 3) and Justise Winslow, who may be busting out of his slump, to knock down jumpers.

Pivotal Player: Justin Anderson, Virginia

Anderson may end up the ACC player of the year, a remarkable feat considering he averages only 13.9 points per game.
Here is why: he is ridiculously efficient and he is Virginia's MVP.
Anderson is shooting 48.4 percent from 2-point range and 51.9 percent from 3 (on 81 attempts).
Only a week after an aberrant 0-of-8 day from the floor against Boston College, Anderson carried the Cavs late in the second half of the come-from-behind win over Virginia Tech on Sunday.

Biggest Question: What Impact willRasheed Sulaimon's Dismissal Have?

Dismissals of key players at this stage of the season are no small matter.
Sulaimon's role had dwindled over the years, but his 7.5 points per game and defense is not a negligible loss for the Blue Devils.
His performance indicates Duke will miss him, but the comments made by Mike Krzyzewski indicate he may have been a detriment to chemistry. What will we see Saturday?

6. Endgame
The 4th ranked Duke Blue Devils had their three game winning streak snapped and dropped to 17-3 (4-3 ACC) on the season after losing 77-73 to the 8th ranked Notre Dame Fighting Irish this past Wednesday. Duke allowed Notre Dame to shoot 51.8% from the field and 44.4% (8-18) from beyond the arc in the loss. Leading the way for the Blue Devils was Jahlil Okafor who had a double-double with 22 points and 17 rebounds. Duke is ranked 7th in the RPI Standings and has played the 8th ranked SOS. On the season, the Blue Devils have been led by Jahlil Okafor (18.7 PPG, 9.4 RPG, and 1.5 BPG) and Quinn Cook (14.4 PPG, 3.4 RPG, and 2.8 APG). Offensively, Duke is averaging 81.2 PPG (ranked 11th) on 49.6% shooting (ranked 8th). The Blue Devils average 7.6 three-pointers per game (ranked 66th) and have a 1.37 assist/turnover ratio (ranked 26th). Defensively, Duke is allowing their opponents to average 64.6 PPG (ranked 144th) on 42.7% shooting (ranked 181st). The Blue Devils average 38.05 total RPG (ranked 42nd) and have a rebound margin of 7.3 (ranked 19th). Duke dismissed Rasheed Sulaimon (7.5 PPG, 2.0 RPG, and 1.8 APG) from the team on Thursday.
The Blue Devils need to re-establish themselves as national contender. Duke is 3-3 since its 14-0 start, leaving the Blue Devils looking very vulnerable. Guards at NC State, Miami, and Notre Dame have thrived against Duke in the last three weeks, and St. John's, too, gave Duke trouble for most of Sunday's game. A team that once looked like it could contend for the national title is suddenly facing a handful of adversity from on-court play to personnel changes. Beating Virginia on the road would immediately re-establish Duke's bona fides.
The 2nd ranked Virginia Cavaliers stayed perfect on the season (19-0, 7-0 ACC) after defeating the Virginia Tech Hokies, 50-47, this past Sunday. Virginia held Virginia tech to 26.3% (5-19) shooting from beyond the arc and outrebounded the Hokies by a 33-21 margin in the victory. Leading the way for the Cavaliers was Justin Anderson who had 12 points, 6 rebounds, 3 assists, and 2 steals. Virginia is ranked 3rd in the RPI Standings and has played the 11th ranked SOS. On the season, the Cavaliers have been led by Justin Anderson (13.9 PPG, 4.4 RPG, and 1.9 APG) and Malcolm Brogdon (13.3 PPG, 3.5 RPG, and 2.7 APG). Offensively, Virginia is averaging 68.3 PPG (ranked 155th) on 47.3% shooting (ranked 33rd). The Cavaliers are shooting 39.5% from beyond the arc (ranked 22nd) and commit only 9.0 turnovers per game (ranked 3rd). Defensively, Virginia is holding their opponents to an average of 49.1 PPG (ranked 1st) on 34.1% shooting (ranked 2nd). The Cavaliers average 27.42 defensive RPG (ranked 10th) and have a rebound margin of 10.8 (ranked 3rd).
If Virginia can defeat Duke, the Cavaliers would have a legitimate claim as the current power in the ACC. Virginia won the ACC regular season a year ago and defeated Duke for the conference tournament title. Virginia is not the draw for the casual fan like Duke, North Carolina, Louisville, and Syracuse, but it is tough to argue against a team that keeps winning. During the last two seasons, Virginia is 23-2 in the ACC with the only losses coming on the road in overtime to Maryland and on the road by four against Duke.
According to KenPom (which I hate BTW!), the Cavaliers are 87% to win this game. Playing at home, in front of a packed JPJ crowd will certainly help. It might even be enough to counteract Duke's FT rate. Duke is 5th in the nation in giving up FTs, not a great combination for a Virginia team that does not always get to the line often enough.
Bottom line, if the Cavaliers shoot the three reasonably well and keep Duke off the offensive glass, they should win the game easily. If they do only one of those two things well, they will still have a good shot to win the game. However, if they cannot shoot and they struggle on the glass, this game will be tough to win. Given all of the uncertainty surrounding this game, I have to wimp out and call it a tossup!