Game Preview
Duke Blue Devils (31-4] vs. Utah (26-8] Runnin' Utes
Friday, March 27, 2015 • 9:45 p.m. (EST) • CBS • Houston, Texas • NRG Stadium
By Randy Dunson
1. Snapshot
Duke
Duke (31-4, 15-3) faces Utah (26-8, 13-5 Pac-12) Friday, March 27 at NRG Stadium in Houston. Tipoff is set for 9:45 p.m. (ET) with Jim Nantz, Bill Raftery, Grant Hill, and Tracy Wolfson calling the action for CBS. The Blue Devils were tabbed the No. 1 seed in the South Region. Duke has received a No. 1 seed 13 times, second most in NCAA Tournament history. Duke is 101-34 (.748) all-time in NCAA Tournament play, including an 84-26 (.763) mark under head coach Mike Krzyzewski. The Blue Devils enter Friday's game ranked No. 4 in the AP Poll and No. 5 in the USA Today Coaches Poll. Duke is 77-15 (.837) overall when ranked No. 4 in the AP Poll. Duke has seven wins against the rest of the NCAA Tournament Sweet 16 field with five of the seven wins coming by 10 points or more. Duke is 7-2 on the year against ranked opponents, including a 4-1 mark against teams ranked in the top 10 of the AP Poll. The Blue Devils are 4-4 in NCAA Tournament play in the state of Texas, including a 3-1 mark in Houston (2-0 at NRG Stadium in 2010).
Utah
The No. 5 seed Utah men's basketball team plays No. 1 seed Duke for a chance to advance to the Elite Eight on Friday, March 27. The game will tip at approximately 8:45 ET on CBS from NRG Stadium in Houston. Utah (26-8) received 14 points from Brandon Taylor and Delon Wright added 12 as it beat No. 4 seed Georgetown 75-64 on Saturday night to earn the team's first Sweet 16 berth in a decade. The Utes opened the tournament last Thursday with a 57-50 victory over No. 12 seed Stephen F. Austin. During the 1990s and into the 2000s, the Utes were a perennial NCAA Tournament participant under coach Rick Majerus, advancing in 11 of his 14 seasons at the helm. The Utes won a national championship in 1944 and are one of seven teams recognized by the NCAA to have reached the Sweet 16 every decade since the 1950's (Kentucky, Kansas, Indiana, North Carolina, Louisville, and Syracuse).
Duke and Utah have met once before in the NCAA Tournament. Vic Bubas' Blue Devils topped Jack Gardner's Utes in the 1966 national third place game, 79-77, at Cole Field House in College Park, Md. Utah is 2-5 against current ACC teams in NCAA Tournament play. The Utes are trying to reach the Elite Eight for the first time since 1998 and the eighth time in school history. Utah is playing in the Sweet 16 for the first time since 2005 and making its first tournament appearance since 2009.
2. Last Time Out
Duke
In its last outing, Duke recorded a 68-49 win over SDSU to advance to the Sweet 16 for the 24th time in program history. Jahlil Okafor scored 26 points on 12-of-16 shooting from the field and added six rebounds, two assists, and three blocks in the win. Justise Winslow filled the stat sheet with 13 points, 12 rebounds, five assists, three blocks and four steals. He has collected 10 or more rebounds in each of the past three games. Quinn Cook added 15 points and five rebounds against the Aztecs. Duke shot 54.5 percent (30-of-55) from the field as Okafor, Winslow and Cook combined to go 24-of-39 (.615) from the floor.
Utah
In its last outing, Brandon Taylor scored 14 points and Delon Wright added 12 and the fifth-seeded Utes beat No. 4 Georgetown 75-64 on Saturday night to earn the team's first Sweet 16 berth in a decade. The Utes have not advanced to the Sweet 16 since 2005, when they fell as the No. 6 seed to No. 2 Kentucky. The team is making its first tournament appearance since 2009. L.J. Peak led Georgetown (22-11) with 18 points. Jordan Loveridge's long jumper gave Utah a 57-53 lead late, but the Utes could not quite pull away from the physical Hoyas. After Peak's layup brought Georgetown within 61-57 with 3:06 left, Taylor nailed a 3-pointer for Utah. Dakarai Tucker's layup stretched Utah's lead to 66-59 at the 1:40 mark and Georgetown could not catch up.
3. Head-to-Head
Duke leads the overall series 2-1. The Blue Devils topped Utah, 79-77, in the consolation game of the 1966 NCAA Tournament. Jack Marin led the Blue Devils with 23 points, while Mike Lewis posted a double-double with 14 points and 11 rebounds. Bob Verga (15) and Steve Vacendak (11) also scored in double figures in the Blue Devil win. Two of the three games in the series have been decided by fewer than five points. The last meeting between the two teams came in the opening round of the 1970 NIT Championship.
In terms of a few key offensive and defensive statistical parameters, Duke has the edge in all of the categories except steals per game, which give the Blue Devils a solid statistical edge head-to-head.
| | | |
| --- | --- | --- |
| Duke | 2014-15 Regular Season Key Stats Comparison | Utah University |
|                      80.4 (+15.5) | PPG (Scoring Margin) | 71.7 (+14.8) |
| 64.8 | Opponents PPG | 56.9 |
| 57.4 | Effective FG% | 56.4 |
| 50.7 | FG% | 48.7 |
| 42.4 | Opponent FG% | 38.3 |
| 38.9 | 3PT FG% | 40.8 |
| 31.6 | Opponent 3PT FG% | 31.4 |
| 37.3 (+6.2) | RPG (Rebound Margin) | 34.4 (+4.7) |
| 31.1 | Opponent RPG | 29.7 |
| 15.9 | APG | 14.1 |
| 7.2 | SPG | 5.9 |
| 11.2 (1.2) | Turnovers Per Game (Margin) | 11.5 (.1) |
| 12.4 | Opponent TOPG | 11.6 |
| 3.8 | BPG | 5.0 |

4. Four Factors to Winning
[If you wish to learn more about how the four factors are calculated and implemented, a description can always be found here,
https://www.dukeblogger.com/four-factors-winning/
.]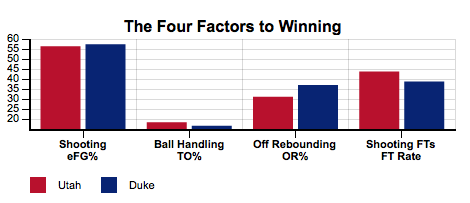 Duke has a slight edge over Utah in all factors except one. Duke has a significant edge in offensive rebounding is 37.0% vs. 31.1%. When it comes to getting to the free throw line, Utah has an edge of 43.8% vs. 38.8%. Duke is shooting the ball more efficiently (eFG%) at 57.4% vs. 56.4% and handling the ball better (16.7% vs. 18.4%).
5. Key Points to Consider
First, a few points regarding both teams' overall profile at this point:
Duke
Two main scorers (Cook/Okafor); Jones/Winslow close behind
Makes the most of its possessions
Does not send teams to the line often
Utah
Methodical on offense
Highly efficient attack
Stingy defense
Doesn't send teams to the line often
Now, a few key points to consider. These may often carry over to future games but keys specific to a current opponent will always be mentioned.
Free Throw Shooting (EmphasisonOkafor) [I choose to leave this as a key as it applies for all of Duke's remaining games intheNCAAT]

This has been Duke's Achilles Tendon at times this year. Unfortunately, Okafor can be a huge detriment here.
Okafor will need to prove he can hit at a respectable rate from the line if Duke is to threaten for the national title.
Post Play

Included in the rumor mill list about the NCAA tournament players who will be joining the NBA in June are Okafor and Utah center Jakob Poeltl.
Can Poeltl stop Okafor?
What will work in the Utes favor is their size down low and having Delon Wright who can lock down nearly any perimeter player on defense, and that will come in handy against the likes of Tyus Jones, Justice Winslow, and Quinn Cook for Duke.
For Duke their goal will just be to keep dominating in all facets and pounding it down low to their go-to low post weapon Jahlil Okafor.

Defense

Duke's defense, particularly transition, has been called into question at times.
Overall, the suspect transition defense may not matter as Utah likes to keep a slow pace, which might work into Duke's favor

3-point Shooting

When Duke has struggled, it is because the Blue Devils are not connecting on the three-point shot.
As a team, Duke is averaging just a hair under 39 percent from deep, while Utah has held opponents to an average of just 31.4 percent from behind the line.
Even with a dominating presence like Okafor inside, when Duke isn't hitting 3-pointers, results like its 74-64 loss to Notre Dame in the ACC tournament semifinals can happen
The Blue Devils shot 3-of-17 from behind the arc despite getting 28 points from Okafor.

Guard Play

ESPN's Eamonn Brennan, was asked which Sweet 16 player is the most un-guardable, based on matchups? He answered, "Delon Wright is one of the best pick-and-roll players in college basketball. That statement could be argued given the bag of tricks Tyus Jones brings to the table.
However, when Duke's defense has struggled, it has struggled from the outside in, allowing straight penetration and drives off screens to turn into 4-on-3 situations.
In addition, Wright is a size mismatch for almost all of the Blue Devils' guards.
6. Endgame
Can Utah neutralize Duke's transition game? Will Duke get frustrated by the slower pace that Utah prefers to play at? Following are my answers & much more pertinent details regarding this matchup.
It is Duke's incredible offense and somewhat suspect defense going up against the best overall point guard in college basketball, Utah's Delon Wright. The Utes were one of the 12-15 best teams in the country through the first 75 percent of the season. They've corrected their ways in reaching the Sweet 16, but if Utah's going to give the country the Duke upset, it wants to see, it'll have to be more than just Wright. Duke's freshmen trio of Jahlil Okafor, Justise Winslow, and Tyus Jones are a thing to watch when they're clicking. Utah's defense is top-10 good. It would be nice to see Winslow defend Wright, and for Okafor to go up against another impressive freshman big man, Utes Jakob Poeltl.
The Utah Utes have won four of their last six and are coming off a win over Georgetown. On the season, Utah is averaging 71.3 points on 48.2 percent shooting and is allowing 57.2 points on 38.3 percent shooting. Senior guard Delon Wright is averaging 14.7 points and 5.2 assists while junior guard Brandon Taylor is averaging 10.5 points and 2.5 rebounds. Junior forward Jordan Loveridge is the third double-digit scorer and Freshman forward Jakob Poeltl is grabbing 6.7 rebounds. The Utah Utes have five players averaging at least 7.4 points, and they're shooting 70.2 percent from the line and 40.8 percent from deep. Defensively, Utah is allowing 31.2 percent shooting from deep and has given up 67 or less points in four straight games.
The Duke Blue Devils have lost once since February and are coming off a win over san Diego State. On the season, Duke is averaging 80.4 points on 50.7 percent shooting and is allowing 64.8 points on 42.4 percent shooting. Jahlil Okafor is averaging 18.1 points and 8.7 rebounds while Quinn Cook is averaging 15.8 points and 2.7 assists. Justise Winslow is grabbing 6.3 rebounds and Tyus Jones is dishing 5.8 assists. The Duke Blue Devils have four double-digit scorers, and they're shooting 68.9 percent from the line and 38.9 percent from deep. Defensively, Duke is allowing 31.6 percent shooting from deep and has given up 56 or less points in five of its last seven games.
I look for Utah to make a concerted effort in slowing the pace of the game down, and focusing on neutralizing the offensive transition game of Duke. Utah can ill afford a track meet with Duke if they're to have a reasonable chance of winning. The good thing about Duke is they have the ability of adjusting to any style, and are successful in do so on the majority of occasions. However, the difference maker for me is Okafor, as I don't see anybody on Utah being able to control him with the way he's playing at the moment. It should be a close game, but look for Duke to win 66-59.